Autumn Design Trail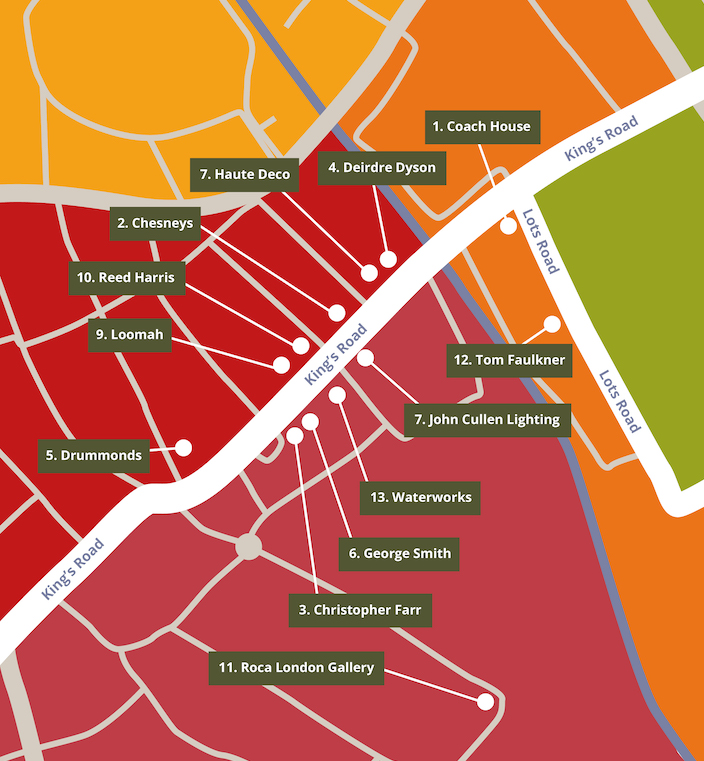 Chelsea Design Quarter is pleased to announce our first Autumn Design Trail, in partnership with the BIID, is taking place from 1st – 12th November 2021.
The CDQ members will be collaborating with with a mixture of interior designers, artists, florists, and craftspeople to create window displays, installations and exhibitions in their showrooms.
Please click on CDQ Partner names below to learn more about their collaborations:
Chesneys & artist Bethany Holmes
Christopher Farr & artist Kate Blee
Coach House & florist Fiona Fleur
Deirdre Dyson & paper artist Richard Sweeny
Drummonds & artist Nancy Daniell
George Smith & interior designers Sims Hilditch
Haute Deco & artist Aga Skiba
John Cullen Lighting & photographer Max Milligan
Loomah & Celine Interiors
Reed Harris & fine artist Imogen Orr
Roca London Gallery – Power House exhibition
Tom Faulkner & textile artist Aiveen Daly
Waterworks & interior designers Salvesen Graham
Visitors will be able to scan a QR code at each location to read further information about the collaboration – including such things as the background of the partnership, information about the installation, collaboration or display and information about the unique materials and products used.
EVENTS
Wednesday 3rd November
6.30pm
Roca London Gallery
"Meet Your Neighbours" is the opening night preview event for the "Power House: The Architecture of Data Centres" exhibition at Roca London Gallery opening on Thursday 4th November.
RSVP here.
Thursday 4th November
2pm – 4pm
Deirdre Dyson
As part of the "Cut, Pleat, Repeat" exhibition that paper artist Richard Sweeney has created for the Deirdre Dyson showroom there will be opportunity to meet the artists – Richard Sweeney and Deirdre Dyson. The exhibition compliments the "Paper & Stone" collection released earlier this year that will also be on display.
RSVP is essential: RSVP@deirdredyson.com
Tuesday 9th November
12.30pm – 3pm
Reed Harris
Reed Harris invite you to pop in to their showroom to take a closer look at the incredible work of fine artist Imogen Orr. Imogen will be on hand to talk about her work, her background and training how she approaches commissions. Light refreshments will be available, so please do drop by.
3.30pm – 5.30pm
Loomah
Join Loomah and Noor Charchafchi, founder & CEO of Celine Interior Design for a glass of champagne and an opportunity to learn more about the collaboration Noor will also be talking about her experience of collaborating with other companies within the interiors industry.
5.30pm – 7.30pm
Christopher Farr
Christopher Farr with artist Kate Blee.
Kate Blee with directors Matthew Bourne and Michal Silver share insights from 30 years of collaborating on rugs and cloth, uniting heritage textile craftsmanship with contemporary design vision.
RSVP: Jess@cfarr.co.uk
Wednesday 10th November
12pm – 2pm
Haute Deco
Window artist Aga Skiba will be in conversation with Founder of Haute Deco, Marie-Veronique Swannell. Join them for lunch as they discuss their collaboration with an opportunity to preview the latest collection of colours of door knobs.
RSVP: rsvp@hautedeco.com
6pm – 7.30pm 
Chesneys
"Lessons from Lockdown: How the pandemic has affected the world of design and interior design"
Hosted by Giles Kime of Country Living with Paul Chesney (Founder & CEO of Chesneys), Samantha Todhunter (Founder & CEO of Samantha Todhunter Design) and Tom Faulkner (Furniture Designer and Founder of Tom Faulkner Furniture) in lively discussion on this subject.
Please RSVP to: events@chesneys.co.uk