Autumn Design Trail 2023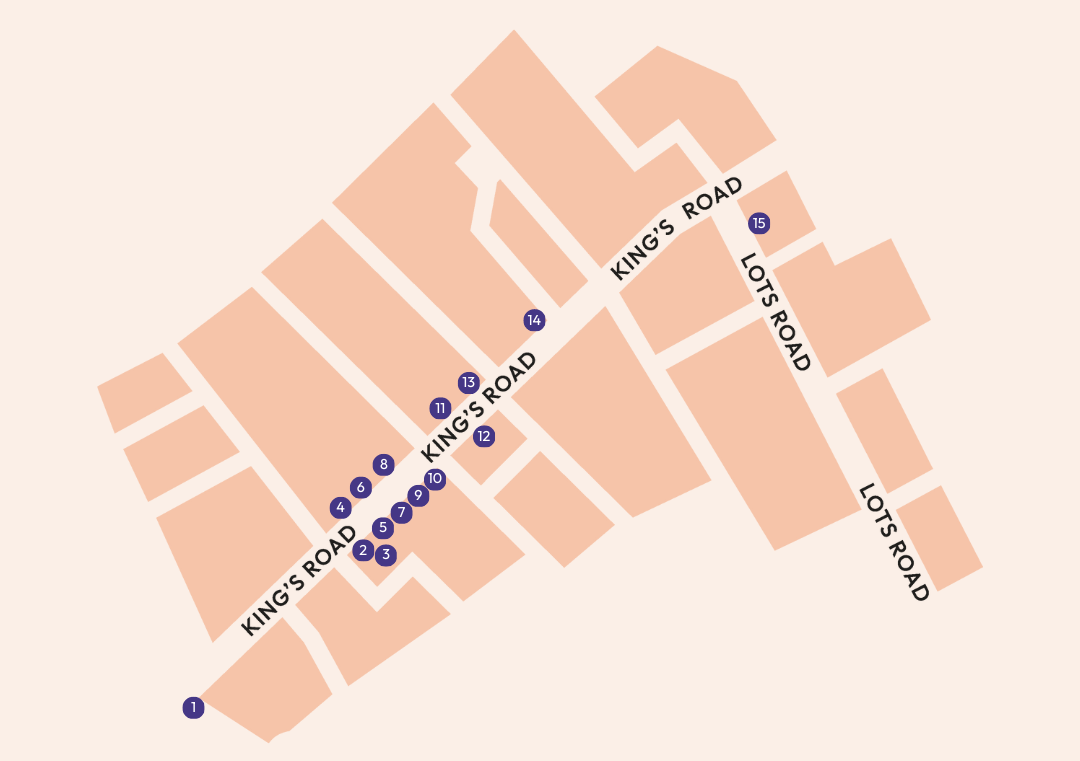 The Chelsea Design Quarter annual Autumn Design Trail will be taking place from 1st – 15th November.  The theme for this years event is 'Art, Artists & Artisans', with a range of different disciplines on display from marbling to mosaics and fine art to contemporary art. See map above and details below.
We are delighted that once again we will be partnering with the BIID on this event and thank them for the continued support.
There are 15 stops on the trail this year running from the where the King's Road meets Waterford Road to the top of Lot's Road and we hope that you will visit them all, but as an added incentive this year we are holding a prize draw to win membership for one person to either The Tate or Royal Academy. Full details of how to enter can be found here.
Please contact cheleseadesignquarter@gmail.com for further information.
1. Fired Earth – Virtual Reality 4D interactive bathroom featuring new Designers Guild collection. 96-98 Waterford Road, SW6 2HA.
2. Knots Rugs – Showcasing their collaboration with marbling artist Nat Maks. 595 King's Road, SW6 2EL.
3. Mublo – 'Moving Water' with Jackie and the Fish & Belgian artist Gigi.
4. Havwoods – Showcasing new products including wall cladding, veneers & acoustic panels. 595 King's Road, SW6 2DX.
5. George Smith – 'The Art of Fabric Marbling' with Susi Bellamy.  587-598 King's Road, SW6 2EH.
6. Loomah – Artist Anna Hymas. 592 King's Road, SW6 2DX.
7. Christopher Farr – Showroom styled by interior designer Lauren Elliott.  585 King's Road, SW6 2EH.
8. Reed Harris – Displaying works by mosaicist Francia Hunt. 586 King's Road, SW6 2DX.
9. Waterworks – A collection of oil paintings by artist Rachel Labovitch. 579 King's Road, SW6 2EH.
10. Humphrey Munson –  A look at the artisinal skill of the La Cornue range cookers. 583 King's Road, SW6 2EH
11. Guinevere Antiques – A display of antique glass boxes. 574 – 580 King's Road, SW6 2DY
12. John Cullen Lighting –  John Cullen Lighting will be hosting a series of extraordinary art, craft and design objects by Curio. 561-563 Kings Road, SW6 2EB
13. Chesneys – An exhibition of works by abstract artist Bethany Holmes. 570 King's Road, SW6 2DY
14. Deirdre Dyson -An exhibition with sculptor Helen Solly. 554 Kings Road, SW6 2DZ
15. Pooky – Celebrating their collaboration with GP&J Baker. 533 Kings Road,  SW3.