Stephenson Wright and Jan Erika at Deirdre Dyson
To celebrate the launch of the Chelsea Design Quarter Designer's Page in November, CDQ member Deirdre Dyson Carpet Gallery has collaborated with interior design duo, Stephenson Wright and artist, Jan Erika to create a special themed window display which will be in place until 29th November at 554 King's Road, London.
Deirdre Dyson's striking Mandarin carpet design hangs from the atrium as a central piece, flanked by bespoke drops of hand-painted wallpaper by Jan Erika and Stephenson Wright's new hand-painted Plink & Plonk side tables, part of the new Parcel collection just previewed at Decorex.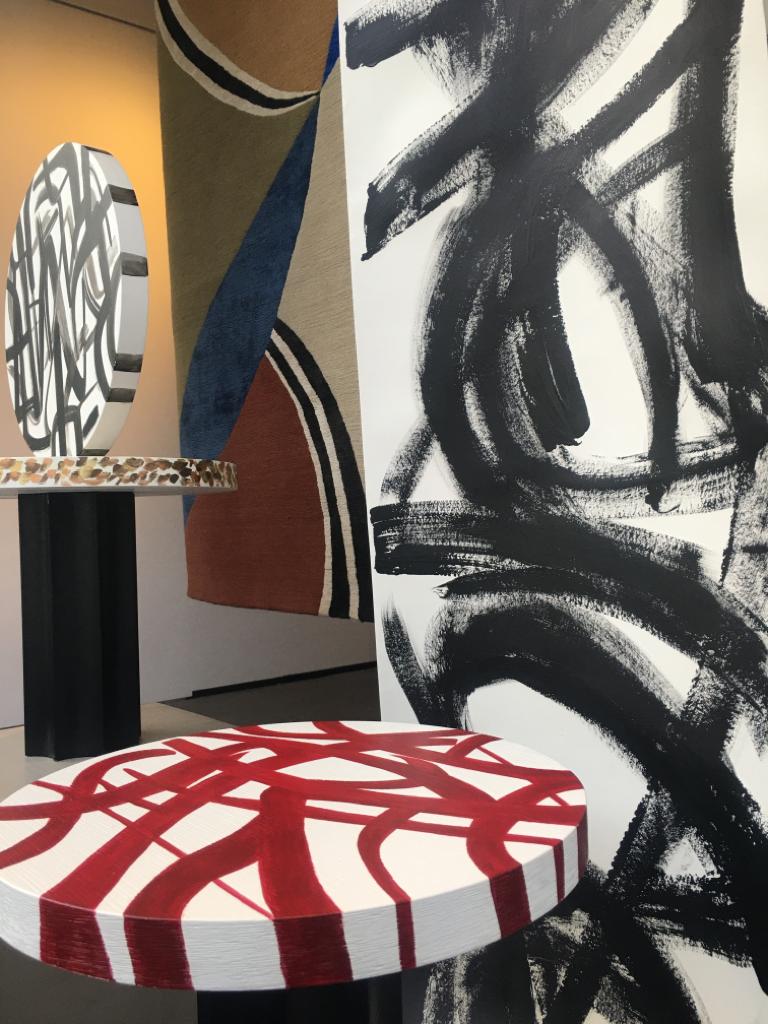 To further commemorate the CDQ initiative, the design brands have donated items to the CDQ raffle in aid of Glass Door.  Deirdre Dyson have put together a gift pack including 2 x candles and candle sticks, a signed copy of Deirdre Dyson's "Walking on Art" hardback book, a signed and framed Jan Erika artwork, a limited edition box set of cards and a bottle of Dyson white wine.  Stephenson Wright have donated a bottle of artisan gin that has been hand painted by Jan Erika.
The window is very striking – so make sure you take a detour on your way to the launch of the designers page and draw of the raffle at Tom Faulkner tomorrow evening.  Tickets are available on the door if you haven't had a chance to buy one already.  Contact chelseadesignquarter@gmail.com for further information.