Q&A with Nicky Dobree
Nicky Dobree is an award winning interior designer who runs a design practice in London specialising in luxury ski chalets, villas and contemporary residential interiors.  She has recently completed her first hotel project in Andalucia, Spain.
Televising her battles in 2004 to bring cutting edge design to the mountains, she opened the world to new possibilities in chalet design.  The project was followed by Grand Designs Abroad and was described by Kevin Mc Cloud as the "ultimate James Bond pad".  She has since completed many projects both here in London and across Europe. She offers a discerning service to national and international private clients working with an extensive network of skilled craftsmen.  She creates eye catching interiors with a strong sense of place.  Fusing modern lines with traditional vernacular she introduces contemporary details to timeless effect.  Ultimately her designs have the hall marks of classic elegance and enduring comfort be it a ski chalet, a hotel or a private home 
We are delighted to welcome Nicky to the Top 5 Picks and took the opportunity to sit down with her ahead of sharing her picks next week.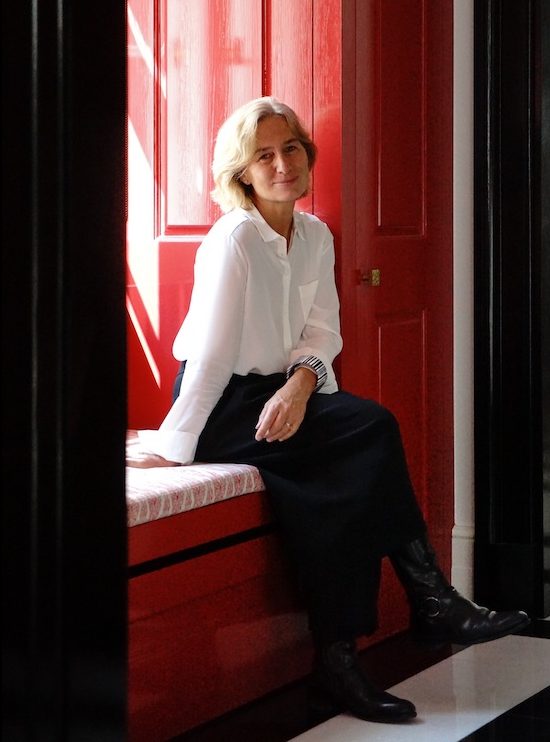 Nicky, thank you for taking the time to talk with us.  Firstly – tell us a little about your background and how you ended up designing and renovating that farm house in France?
As a child we moved constantly so we were always making a transient home feel like home.  I guess that was where my love of interiors really started.   I was lucky to travel extensively, grew up speaking French, with a passion for skiing and the mountains as did my husband too.   It was therefore only natural that we would gravitate to the alps to find our ultimate  retreat from our busy London lives.  Ferme de Moudon has been just that. A wonderful place for us to disconnect and reconnect.
After the success of that project, how did you go about establishing your own studio?
I was already working as a designer, initially 8 yrs for Taylor Howes (or TMH in those days in the South Dome at Chelsea Harbour)  before setting up on my own in 2003.  The business started in the basement our house until we could no longer it. We are now in a studio based in Pimlico.
Do you have any advice for someone who is thinking about setting up their own design business?
Don't think that it is easy!  Be sure to have gained sufficient experience within the industry before you do so.  Employ a good accountant and support team and be prepared for a lot of hard work. It will take over your life.
Your portfolio has grown from alpine farm houses and ski- chalets to villas, hotels and residential designs.  Do you have a favourite type of project?
I love them all for different reasons.  I am very fortunate to have the opportunity of working with such diverse architectural styles and they each have their challenges but they each bring their rewards.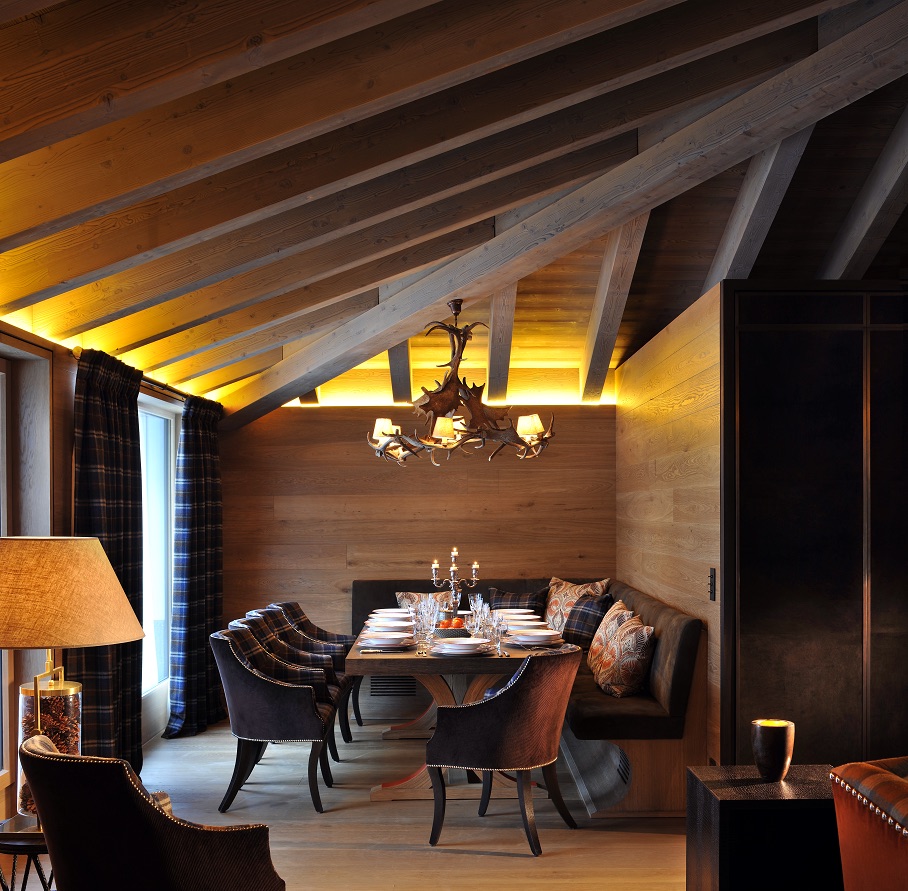 Ferme de Moudon
Are there any stand out projects you are especially proud to have in your portfolio?
I think that it would have to be Ferme de Moudon and Plaza 18 two very different projects but 2 firsts.  Ferme de Moudon was the first chalet that I designed and Plaza 18 the first hotel.  They both brought to the market something different.  With the chalet it broke the tradition of the conventional cookie cutter chalet and became the new benchmark for luxury chalet design.  With the hotel it brought a new style of hotel to the traditional Andalucian pueblo blanco.
Are there any interior design projects that you would either love to have done, or would like to do?
I have really enjoyed designing Plaza 18.  The concept of a home hotel really works.  I would like to do more like that.  In a world that is increasingly interconnected and homogeneous, creating character and individuality is paramount.  I love spaces that evoke feeling yet still retain their sense of place.
I would also love to design an African safari lodge!
How much do you engage with Social Media?  How has its growing influence impacted your design process, if at all?
I have a love hate relationship with social media. It has become an essential tool of the business and is a wonderful resource.  It can however be hugely time consuming and at times stressful with the constant pressure to post.  Nothing though can beat getting out and about.   If we suddenly didn't have it tomorrow, I certainly would not miss it!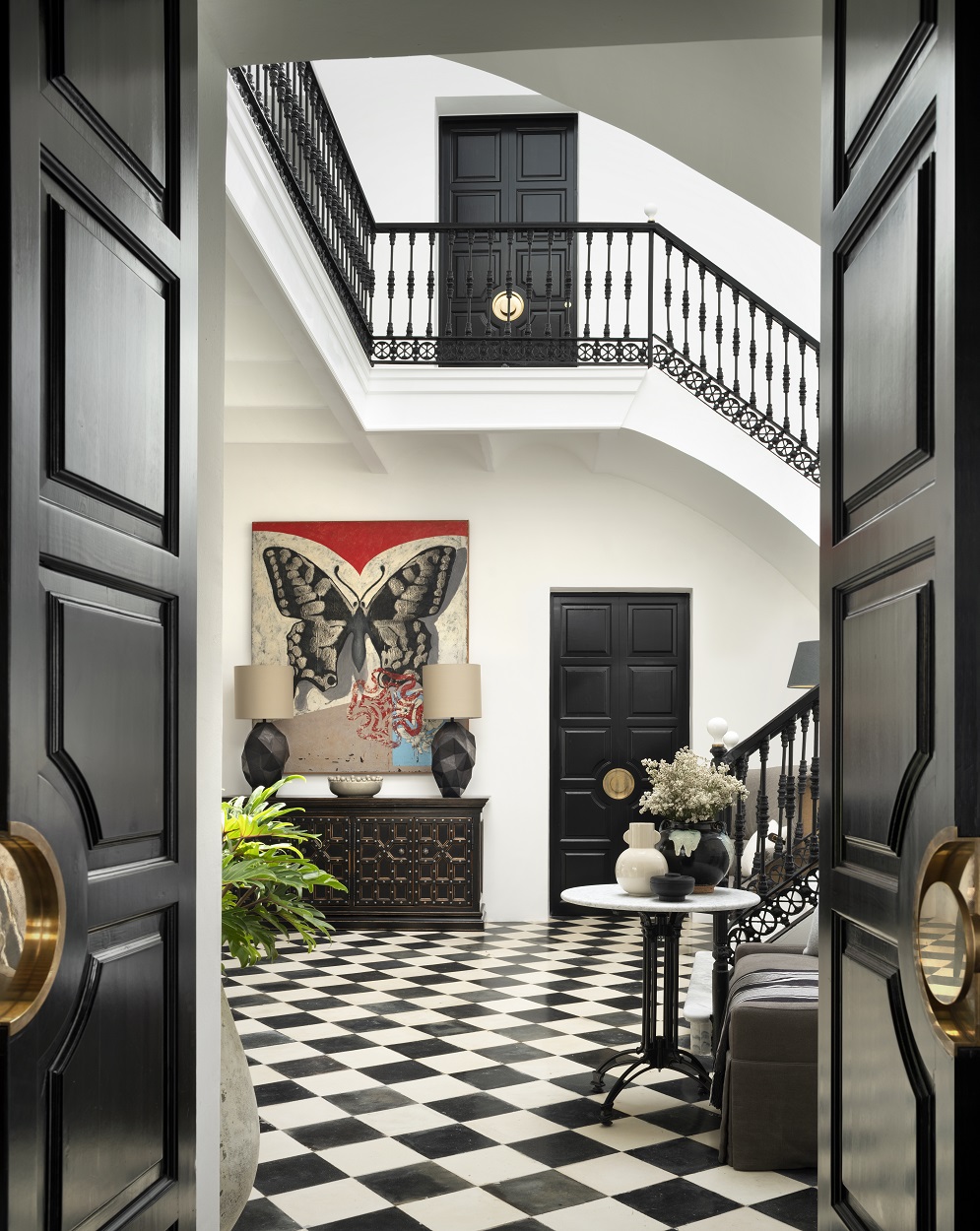 Plaza 18
How would you both describe your personal style?
I think that in both fashion and interiors my style would be classic, elegant, comfortable and timeless.  I don't tend to follow trends in either fashion or interiors.  For me the most important aspect of both is that they are authentic.
What do you see as the biggest challenges currently facing the interiors industry?
The internet.  It is such a wonderful resource that many think that they can do it themselves.  We have spent 20 yrs building up our network of suppliers and contractors.  There has been a lot to learn along the way.  It is not about instant gratification.  The most thoughtful interiors are multi layered.  They are not only about the design of the space but the materials, impeccable craftsmen and high level of customisation that go into creating them.
On reflection each decade has a defining look, how do you think people will describe the current style of interiors in years to come? 
With interiors being so accessible and important to so many the current style has become a mix of everything, a cultural fusion from different decades and different worlds, adding ones own uniqueness through art antiques or personal creations.  Martin Waller once described it as a kaleidoscope which I think is rather apt for this decade.
Green Suite at Plaza 18
Are there any trends or styles that you think are due to make a come back?
I think that in this climate of change and global discontent that we will return to find balance, pure lines, comfortable colours and a strong link with nature which means more natural fibres and organic shapes.  As we have become more educated in interiors so too will our choices.   Craftsmanship and sustainable living will continue to play an ever-increasing part in what we do.
How did you choose your Top 5 Picks? 
My top 5 are a mix between items that I love and ones that have been tried and tested.  Each of the suppliers offer wonderful support too.  They are such an integral part of what we do.
What does the future hold for Nicky Dobree? Both the person and the company!
A great deal.  We are excited by our current projects each one a very different architectural style from each other – ski chalets in the in the mountains, townhouses in the city and a Hamptons style house by the sea.  We are constantly evolving and will be developing new items for the furniture collection too.
For me personally I am always trying to achieve a better work/ life balance and will continue to try and do so!
Thank you for taking the time to talk to us Nicky.  We are looking forward to sharing your Top 5 Picks next week!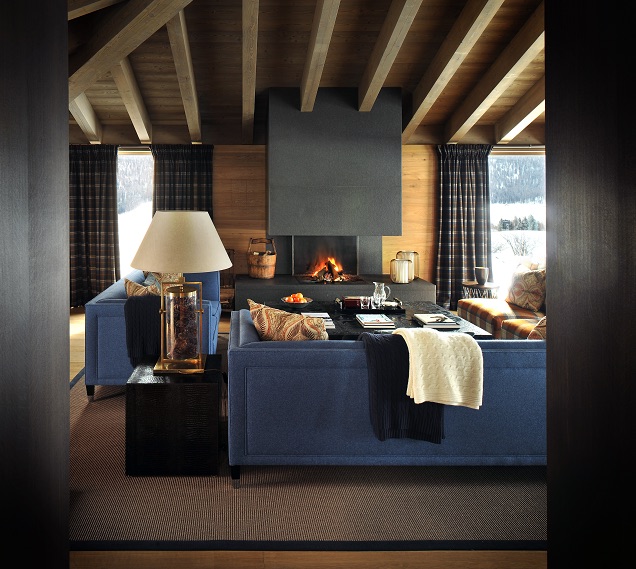 Ferme de Moudon