Q&A with Nick Hornby
Nick Hornby is an artist living and working in London.  He is known for large scale sculpture in bronze, steel, and marble that combine the digital and the traditional. He studied at Slade School of Art and Chelsea College of Art where he was awarded the UAL Sculpture Prize.   
His work has been exhibited at Tate Britain, The Southbank Centre, CASS Sculpture Foundation, the Fitzwilliam Museum Cambridge and The Museum of Arts and Design New York. And reviewed in the New York Times, Frieze, Artforum, The Art Newspaper, The FT and featured in Sculpture Magazine, Architectural Digest, Wallpaper, Vogue among others.  
We wanted to learn a bit more about his artistic process, how he has been working through lock-down and what the rest of 2020 might hold for him.
*Please note this interview was conducted via e-mail in keeping with current social-distancing measures.*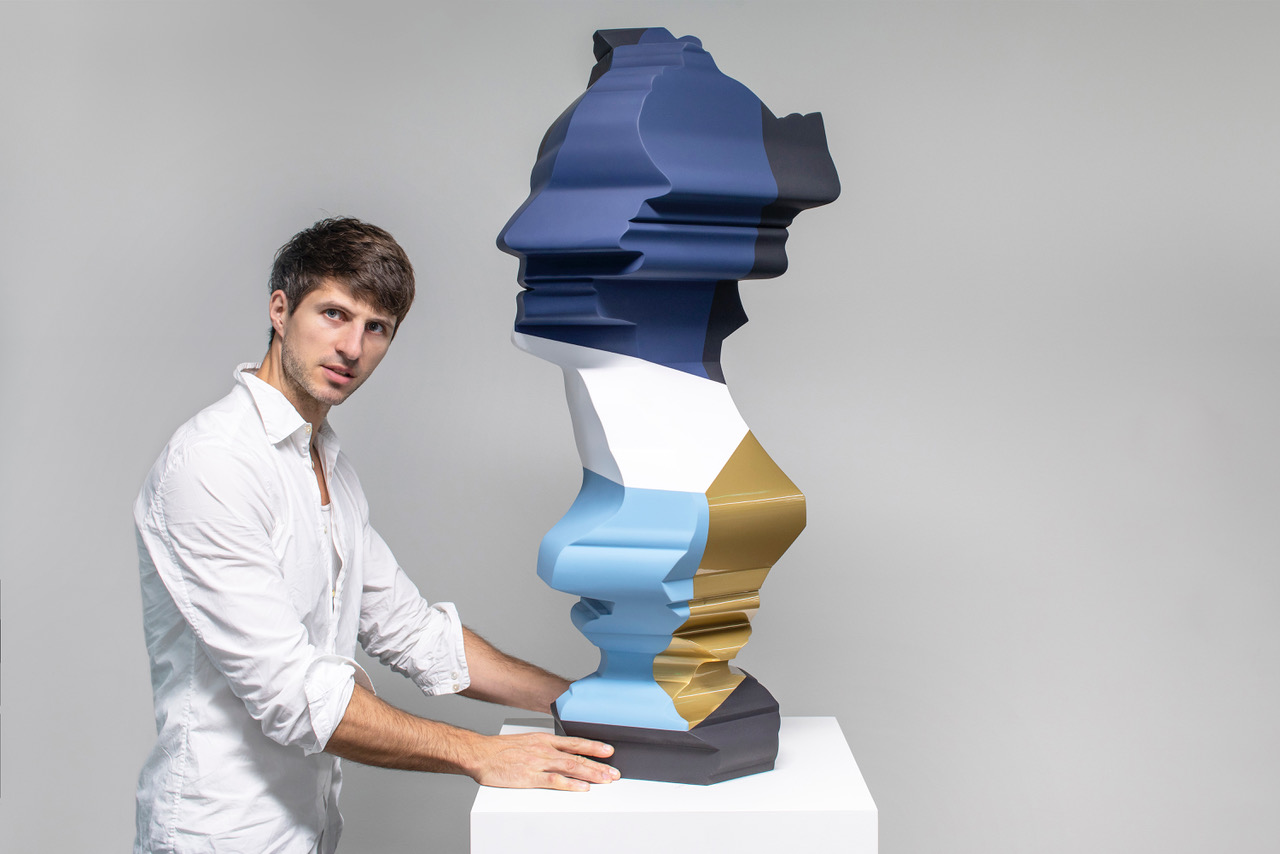 © Luca Piffaretti
Nick, thank you for taking the time to answer our questions, why don't you start by telling us a little about your background?
I grew up in West London in a Neo-Gothic Victorian house cluttered with ornamentation.  West London is still home but I've also lived on and off in New York.  As a kid I was weirdly obsessed with sculpture – the Epstein by Hyde Park, the Henry Moore and Rodin by Parliament – but then I went to The Slade (a famous painting school) where I spent the entire time working with film, video and digital media.  It was the late nineties and both video and technology were having an incredible moment.  After The Slade, I started reading a lot of critical theory – especially semiotics.  When I finally did my MA at Chelsea, all of these things came together and I started making sculpture again: coded objects with entrenched narratives.
How has your artistic style developed throughout your career?  Are you still proud of your early portfolio?
Early on I worked across so many media and interests – clay figurative sculpture, digital object oriented programming languages, live music controlled video installations – I even used a car as a lathe to turn Victorian table legs.  There were some crazy and whirlwind projects but I see them all as experiments and lessons.  My career started after my MA, exactly ten years ago, when I developed some processes that I'm still investigating today.
You seem to have an eclectic source of inspiration for your work – can you pinpoint when something inspires or influences you, or is it a more organic process?
I find that a fascinating question… where do ideas come from…? What is the origin of things…? Van Gogh didn't invent sunflowers, nor did Yves Klein invent blue – but rather there seems to be an infinite chain of interpretation: Henry Moore interprets a reclining woman and then I interpret a Henry Moore. But my interpretation is through the lens of an artist who grew up in in the eighties in west London and studied video and digital media.   My inspiration is often the Art Historical Canon – especially The Renaissance, Baroque Architecture, The Victorian Period, Modernism.
More literally – a single work of mine could be the intersection of three other artist's artworks – for example a Hepworth, a Brancusi and a Rodin. The intersection is calculated mathematically and carved digitally – so that the final piece is exactly 33.3% each.  Here it's difficult to say if the work is a compound citation or something new.   Because the intersections are cut from different angles, it is the viewer and their position that determines how much is revealed. From one "pinpoint" you see Brancusi, from another you might see none of these sources but something of your own creation.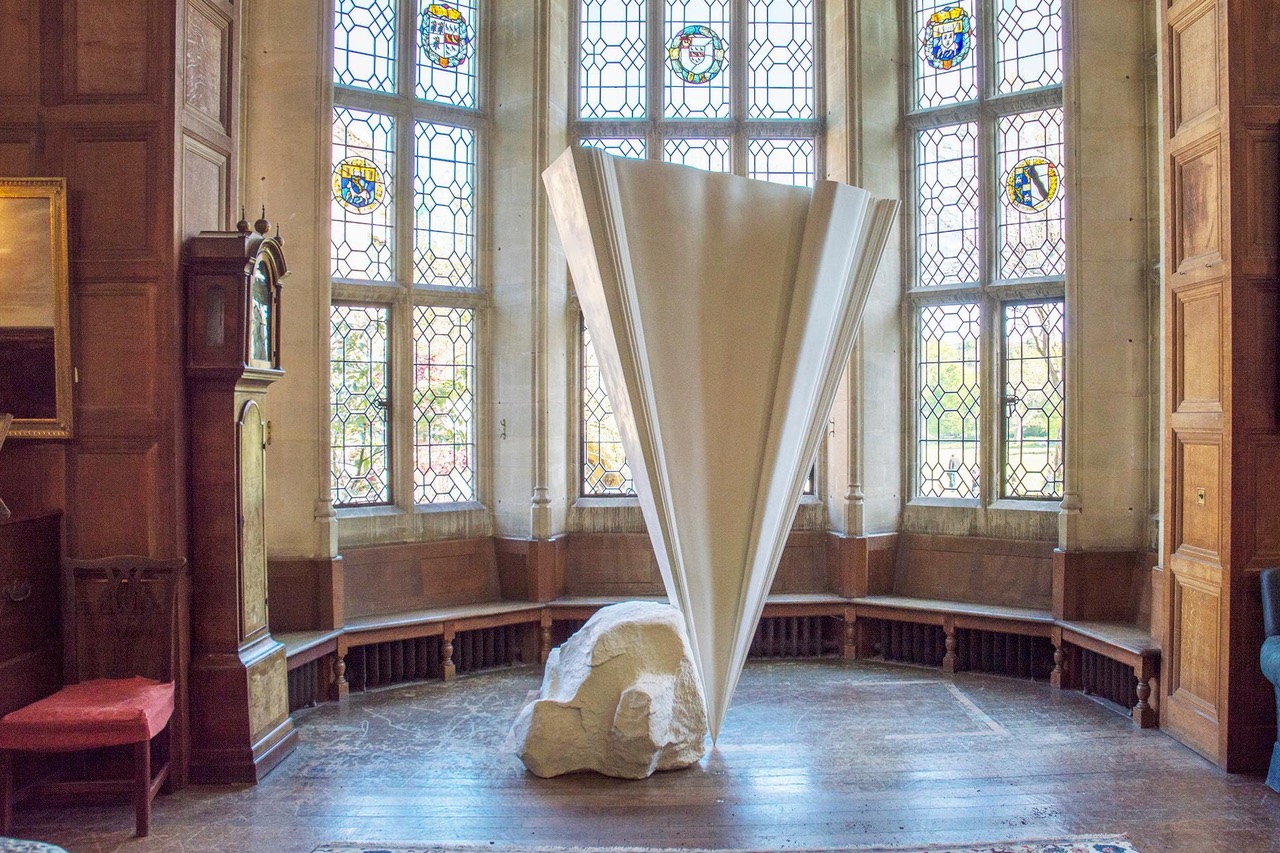 The Present is just a Point. Sculpture 1504-2017. Shown at Glyndborne, UK, 2017. Image courtesy of the Artist
As well as being beautiful, your sculptures are very technical – how long does it take you to refine a piece before you consider it to be finished?  
From idea to realisation, it is typically 6-12 months.  A body of work can take years.
My practice has many steps. With a simple bronze for example: an initial idea is sketched and researched, digital calculations are made, a digital file is created, robotic milling at one workshop is carried out before hand finishing in another and then to the foundry for a mould, a wax, the bronze cast, a lot of metal finishing, traditional hot patination and wax finishing.
Your work has been exhibited in some very prestigious galleries and venues – is there any one exhibition that particularly stands out to you?
My project for the Tate Triennial in 2009. The year after I graduated, I received commissions for Tate Britain and the Southbank. For the Tate I made some dramatic interventions across several gallery spaces. It was a feverish period and led to enquires I'm still unpacking.
How do you feel when you see your pieces in a home or 'real life' setting rather than a gallery setting? 
It's a complete joy to see a work lived with. Then you have the collector's interpretation of my interpretation of a Hepworth, a Brancusi, and a Rodin. It's great to develop a relationship with collectors who are often very well versed but approaching art from a different perspective.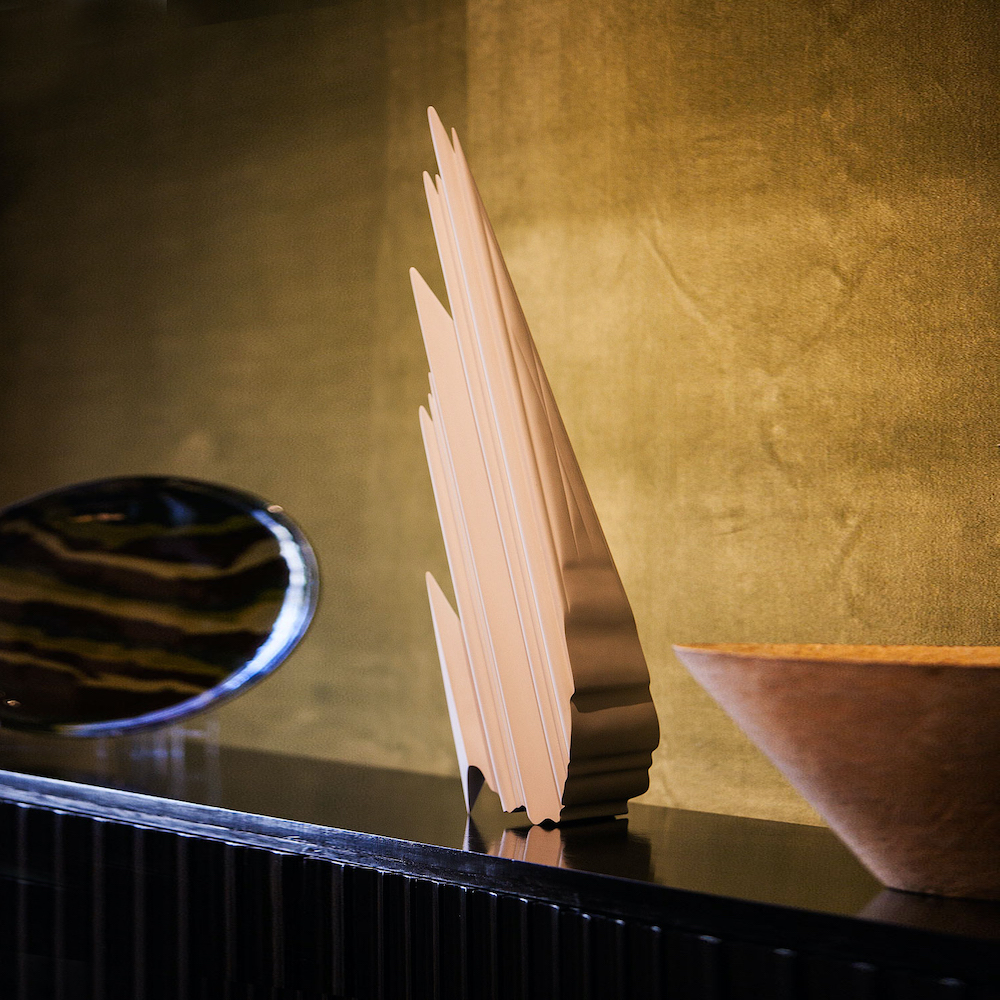 6º takes one minute, 2013
. Image courtesy of the Artist.
Have you continued to work during the lock-down?  How has it affected you?
2020 was due to be an exciting year with my first solo museum show at Mostyn in Wales in July and the publication of my first Monograph with Anomie Press, as well as a number of group shows – one interesting one at Asprey.   The solo show is currently set for late October Luckily, I have a large studio in Notting Hill and aside from difficulty in procuring some materials I've been able to work as normal. That being said, I normally thrive on people and dialogue – studio visits etc and looking forward to that slowly returning.
And finally – do you think we will see an influx of pandemic/Covid-19 inspired artworks in all formats?
Different artists have very different gestation periods. Some react immediately, others are slower to react, and some ignore the present and are instead absorbed by a different time altogether – the past or future, or a fiction or dream.
The world needs artists to do all of these things – so yes, I think there will be come immediate Covid-artworks, or actions or events… and I'm sure some of these things will play a vital role is helping us express, understand and cope with this strange abstract world.
My practice doesn't respond immediately. My sculptures are slower. But it will be there – if you scratch.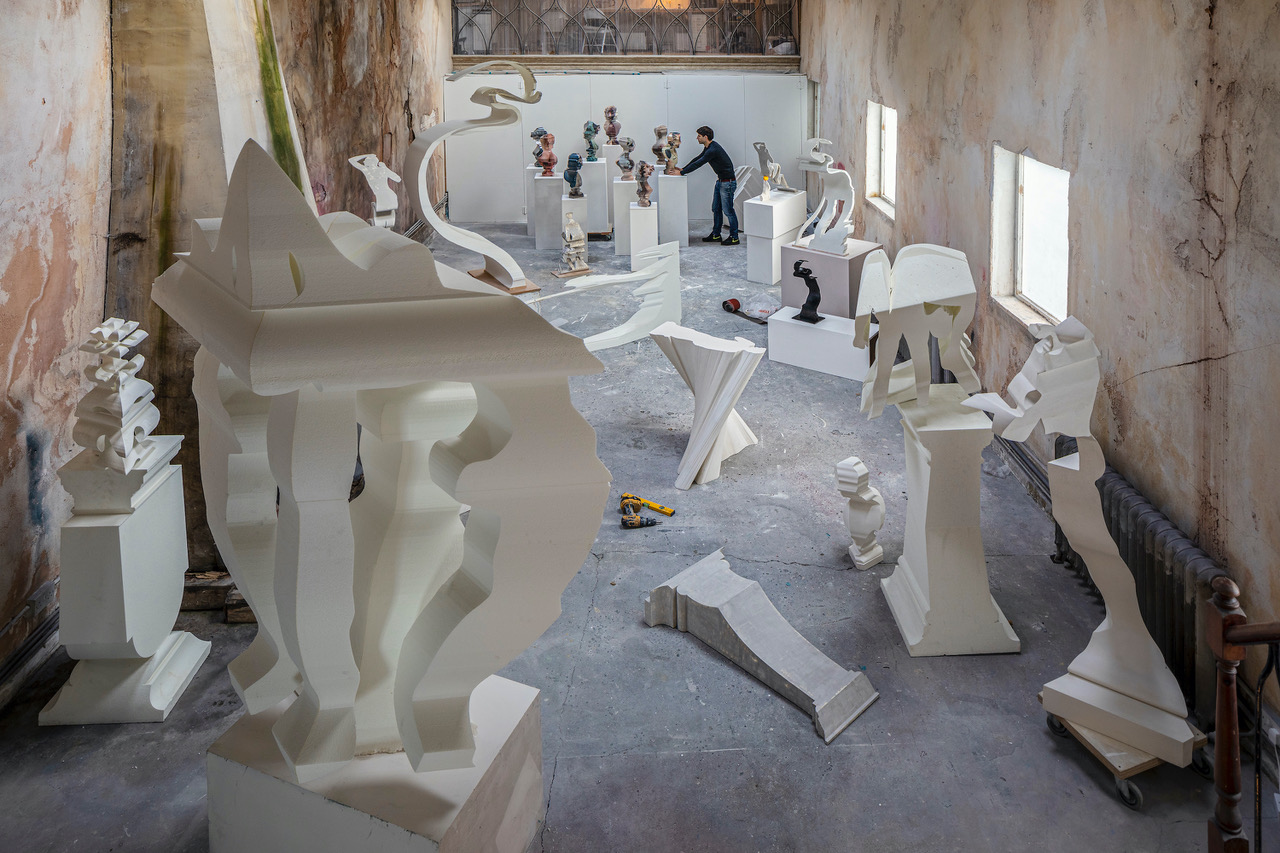 Nick's studio. Photo ©Luca_Piffaretti
Thank you for taking the time to answer our questions.
Visit nickhornby.com for further information and images of Nick's work.