Q&A with Molly Mahon
Molly Mahon is a British printmaker whose designs are applied to fabrics, wallpapers and a growing range of home wares.  She has also recently published a book 'House of Print: A modern block printer's take on design, colour and pattern' – which Molly describes as her love letter to block printing.  
In addition to selling her growing collection of printed goods Molly regularly hosts workshops to teach people the basics of block-printing.  With the current pandemic having to put these on hold Molly has been sharing her tips on the therapeutic and entertaining properties of block printing via YouTube and Instagram TV.
Molly lives in Sussex with her husband, 3 children and small dog – all of whom often get involved with the creative and printing process.  We reached out to Molly to see how she has been coping with the recent isolation, learn more about her book and also to find out what the rest of 2020 and beyond might hold.
*Please note this interview was conducted via e-mail in keeping with current social-distancing measures.*
Molly, thank you for taking the time to answer our questions.  Firstly, tell us a little more about your background and how you came to set up your business?
I have always loved creative activities-it started as something we would do on a Saturday at home with my Mother, to pottery classes during my degree and then experimenting with various workshops alongside my job in London.  After the birth of my second child I attended a block printing course and was totally smitten!  Block printing was purely a hobby before a girlfriend commissioned me to print her some wallpaper for a shepherds hut.  It was the result of this that sparked the idea of something more commercial.  Slowly but surely my kitchen table business has grown.
You are obviously inspired by the sights and colours of India, can you tell us about your first trip and the impressions that it made on you? 
Yes I can because it will stay with me forever!  That moment when I stepped off the plane into the warm dusty air and then out into the bustling streets.  I felt like I had fallen into a romantic novel, the noises, the colours, the energy, so different to home and so enthralling, exotic and appealing.  I really fell in love from the moment I arrived.  What was a one off trip has become an annual pilgrimage that excites me.  I feel alive with adventure when I travel there.
Pink Luna Fabric being printed in India
Tell us a bit more about your design process – do you know when a pattern is going to work out?  How much tweaking is needed before it becomes an official part of the collection? 
Well it starts in my head, maybe when I am out walking in the forest or travelling in India.  I imagine it as a repeat design and then draw it in my notebook.  Then it's a case of still working with paper and pencil, scaling it up and down until it feels just right.  The next stage is for me to carve the design into a lino so that I can play with it as an actual print.
Your business is well established now – do you have any tips that you would go back and give yourself when you first started?
I suppose I would say to myself……concentrate on what you can achieve today and be ok with that.  I am terribly impatient and at the beginning when my business was just starting I never got to the end of my unrealistic To Do Lists, which made me feel stressed and hectic to be around! Realising this was unsustainable and that I had to change I am now more realistic about what I can achieve on a day to day basis and hopefully a slightly calmer, less distracted person to be around!
Your fabrics and wallpapers have been used in lots of projects – are there any which particularly stand out in your mind?
I feel very fortunate to have worked with lots of wonderful Designers and it never fails to excite me when I see images of my wallpaper and/or fabric in situ.  One that I particularly loved was Kit Kemps Shepherds Hut in her garden at home.  She is not only a huge inspiration to me, but is a wonderful and supportive client and when she chose my 'oak' linen to be a part of a personal project like this I felt really chuffed.
Detail from Kit Kemps Shepherds Hut
What can readers expect from your recently published book 'House of Print'?  Did you find it easy to write?
It is my love letter to block printing and covers my inspirations, my design journeys and then there is a whole section on how it do it at your kitchen table which I really hope people will have a go at.  I want people to read it to feel inspired to get creative!
Your husband Rollo is involved with running the business – do you find it hard to separate home and work? 
We actually have an office just through the woods from where we live and I have a studio in our garden where I escape to print or design.  Whilst we work together we don't spend that much time actually in the same space during the day.  Even though we try not to talk work over the children's heads, there may be the odd conversation before we turn the lights out, but at this stage that's okay, we have a lot of energy for our business!
Printing is obviously a huge part of your life – do you have any hobbies outside of printing?
Dare I say it…printing!  I love nothing more than escaping to my little studio in the garden and trying out new designs and colours.  It's such a calming and methodical process and I quickly forget any worries or concerns.  The children join me sometimes too and it becomes a creative, relaxed hub for us all.
A detail from Mollys potato printing tutorials
How have you coped with the last few weeks?  Have there been any unexpected benefits to the current social-distancing measures?
Like everyone we have good weeks and bad weeks and are juggling our business with home schooling three children.  I think the Corona virus has actually highlighted how powerful creativity is in offering entertainment, mindfulness and a feel good factor for individuals.
I set about channelling my energy into sharing my love of printing early on by creating potato printing tutorials for our clients and followers.  We have been blown away by all the prints people have sent in and the comments that suggest it has given something positive to focus on and a sense of pride in being able to make something at their kitchen table.
Finally, what are your plans for the rest of the year?  And beyond?
Having had significant interest from the States, we launched our fabrics with Schumacher in April and are excitingly launching our wallpapers in July.  I am busy working on my next fabric collection which we hope to launch early next year and of course we hope for a busy Christmas in between.  Sadly we have had to postpone all of the block printing workshops we had planned but are really looking forward to the rescheduled dates and hope to bring some new and exciting venues and ideas to the agenda too.
Thank you for taking the time to answer our questions.  House of Print is available to buy through www.mollymahon.com and you can follow Molly on Instagram to find our more about her late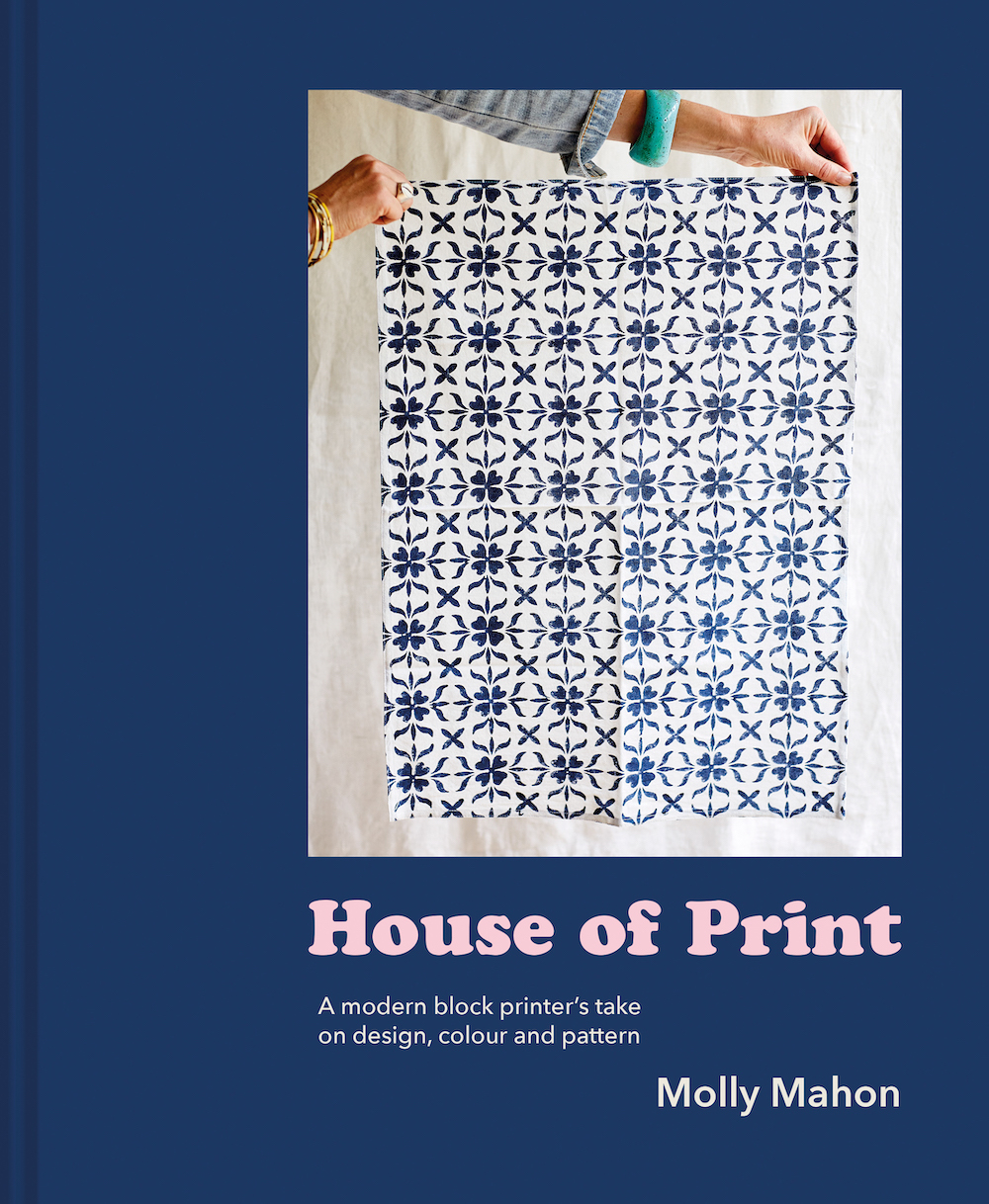 House of Print - available to buy from MollyMahon.com