Q&A with Mary Wadsworth
Mary Wadsworth is a London based photographer who has worked with a number of Chelsea Design Quarter members and friends.   She has experience in all aspects of interiors and food photography and you would likely recognise many of her images from the extensive list of interiors magazines in which she has been featured or from a trip to Waitrose!
Mary photographed the Gunter & Co "Nest" installation at Tom Faulkner last year and has worked with an extensive list of magazines and interior designers.   We are delighted that Mary has agreed to an interview so we can learn more about her background, her clients and what she has in store (once the current pandemic measures have lifted).
This interview was conducted via e-mail.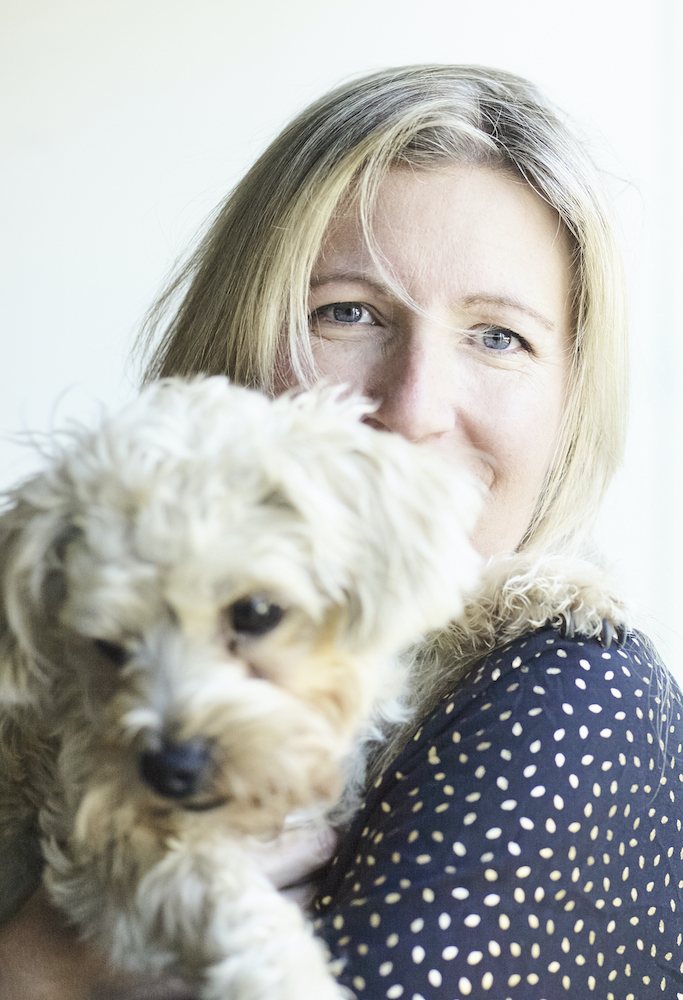 Photo Credit: Frank
Mary, thank you for taking the time to answer our questions.   Perhaps you could start by telling us how you came to be a photographer?
My pleasure. It's a welcome distraction.
My father always told me, do what you are good at and you can't go far wrong. So I chose photography as one of my A levels. In fact I chose photography, psychology and maths because I enjoyed them all. Yes even maths. Everyone told me it was a strange combination that didn't really lead to anything but they were the subjects that I enjoyed and I was good at. As it turned out the combination made perfect sense. As a freelance photographer you have to do your accounts, juggle budgets, manage quotes and also it's helpful to be able to read people too. Dad told me at the same time to never be freelance (he was a freelance musician) but I ignored that part!
After university I assisted an interiors photographer in Farringdon for two years before going it alone. I became a little jealous of the stylists… carrying pretty flowers and fabrics instead of heavy, bulky, black equipment and so I tried my hand at styling as well as maintaining the photography. I took a season styling for Freemans catalogue based at their in-house studio in Stockwell. The strange thing is that I can now trace every piece of work I have done since and every client I have made, to that very first gig. There were so many young art directors starting out there, that moved onto other companies and they took me with them …and because all of my work has stemmed from 'word of mouth' every client's path, somehow, leads back to Freemans catalogue! It led to Debenhams (which led to all those designers like Abigail Ahern, Jasper Conran and John Rocha) then onto Lombok and Heals and The White company. One of the art directors from The White Company moved to Waitrose which is how I started shooting food; so onto Teapigs, Mary Berry and Basil and Toms. The road goes into other various branches. One of the roads even leads to this interview. My Lombok clients who started Rawlins George PR, led to Irene Gunter who designed The Nest (which I loved shooting) at Tom Faulkner's, leading to you! Word of mouth and reputation is everything in this business.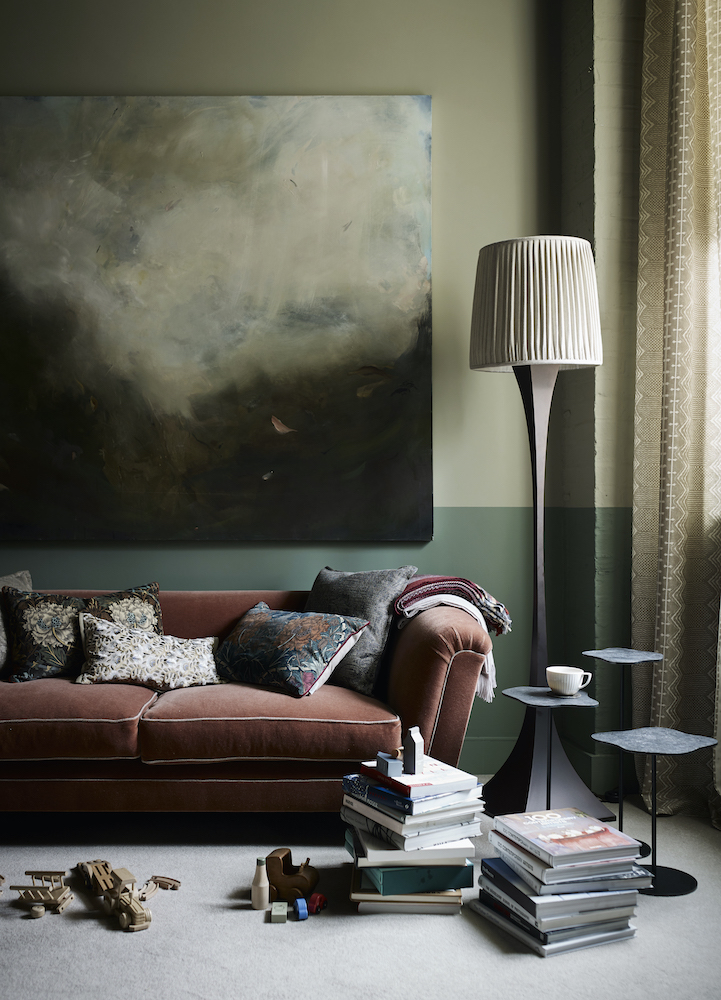 The Nest shot at Tom Faulkner's showroom. Designed by Irene Gunter for the charity Glass Door. I turned off the showroom lighting and let nature do its work through the windows.
Can you tell us a bit about setting up your photography business?  Any advice that you would give yourself with the benefit of experience?
When I was assisting I was offered a commission for a bit of extra money to shoot at Crufts dog show. I hired a camera and just snapped away. I remember it was very, very loud and a bit smelly! I'd been to a birthday event the evening before so the combination of birthday celebrations the night before and the volume and kennels in the morning was not the best! The kennel club had suggested I go there and they would pay me £50 for each image they published. I thought if they use just 4 shots, then it's worth the travel expense up to Birmingham and the camera hire. When the magazine arrived on my doorstep a couple of weeks later it was full of my images and I mean full. Page after page, there they were, in print. I lost count of how many images they used and I ended up with a huge pay cheque. This went towards my first flat in Barnes and bought me my first serious equipment.
So this random one off commission went a long way to setting up my business. Having your own gear is a game changer because you can just keep shooting away. I could also shoot for my own styling portfolio which was very handy.
So I'd advise anyone interested in a career in photography to take some of the random opportunities that get thrown at you. Even if they don't seem relevant at the time. You never know what you will achieve. I'm afraid I can't really answer the second part to this question as I don't think I would change any of the natural journey that followed.
How are you keeping busy in the current climate?  Have you been able to continue working in any capacity?
I am busy trying to home school a 7 year old currently. My husband is working from home up in the loft and I am trying my best to educate a rather energetic, talkative, (sometimes defiant) little boy. I swear the maths he's doing at 7 years old is the same level I was doing at GCSE.
I've had a few commissions from my wonderful client at Teapigs which I can thankfully shoot and style myself at home. My styling experience paying off here. In fact I shot here today but I must admit it was a bit chaotic. My husband, Chris (who said he'd taken the day off work to home school our son) had to keep popping upstairs to take urgent calls and my son got a little too much screen time than usual. Just a teething problem in this new reality which we will fix. One of the lessons Chris had to teach him today was art. He just pointed at me and my home studio and said to our son "there's your art lesson right there!" In fact I don't have a self portrait for this interview yet. That might be tomorrow's art lesson. (Edited to say he did shoot this portrait the day after.) 
Having extensive styling experience means I can do styling, propping and photography if needed so I am able to continue shooting from home as a 'one man band' with current restrictions. The house makes a good backdrop too.
You have a fantastic list of clients, both interiors and food – do you have a preference?  Or would that be like asking you to choose a favourite child?
Couldn't have put it better myself. I love both. Shooting food has actually taught me so much about shooting interiors strangely. Everything is on a smaller scale so you can really learn and practice tweaking and directing light with smaller and lighter equipment. So I find it easier to try new techniques. You can then scale up the same process for interiors. Using more powerful lights and larger reflectors.
The added bonus of shooting food is that you get to eat it afterwards. Yum. The added bonus of shooting interiors is being around some of the most interesting, stunning and inspiring houses. They are good for the soul. Oh and also less weight gain.
An example of playing around with light on a smaller scale. These are soft but dramatic shadows that I try and recreate for my interiors images. Shot for Basil and Toms.
Have there been any moments where you've seen one of your photographs in an unexpected situation/scenario?
I shot my first flat for Living etc. I featured in one of the images…casually sitting on a large bean bag. They didn't want the feature to be about the photographer so whilst the photography was credited to my name, they had decided to name the home owner (with myself in the picture) as Camilla! That was a funny surprise. I was called Camilla for a while by some colleagues.
A very pleasant recent surprise was when Homes and Gardens used one of my images, styled by Hannah Franklin, for their recent February cover. I knew the feature that I had shot for Interior designer, Irene Gunter at Gunter and Co would appear in the magazine but we didn't know they'd choose it as the cover….what a fantastic surprise that was.
Another image that went absolutely everywhere was one I shot for Waitrose. It was of a Heston Blumenthal Christmas pudding with a whole orange in the middle. Everyone decided it was the absolute 'must have' pudding that year and the image was everywhere I looked. People went mad bidding for them on eBay!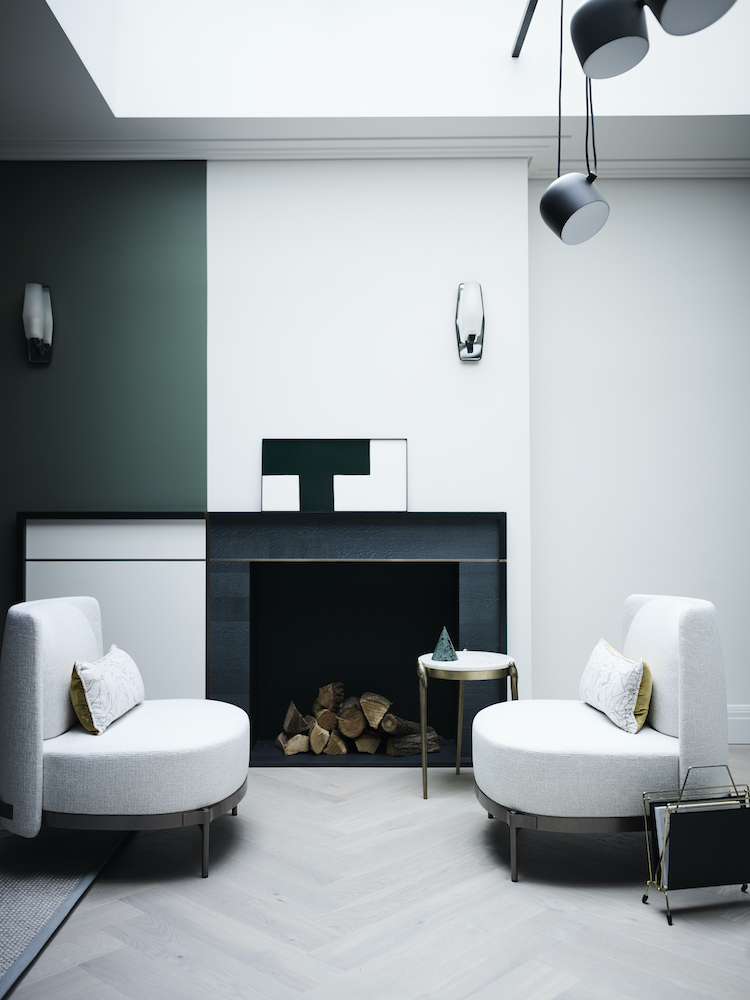 Styled by Hannah Franklin. Part of the February Homes and Gardens shoot for Gunter and Co.
You have worked in the interiors industry for a while.  How do you think the industry will be affected by the current pandemic?
I cannot call this one. I know people will always aspire to live in beautiful homes and seeing as we are all stuck in them currently, I can imagine some people might be designing their dream kitchens/bedrooms etc. I know some designers are still incredibly busy. My client at Do Design tells me that some projects are a bit delayed but still going ahead. However with the uncertainty of the economy when this is over, what will people prioritise if money is less available?
Regarding photography, we are seeing some lovely examples of people shooting footage from their phones. Such a personal quality is coming across so I might have to watch my back if this continues!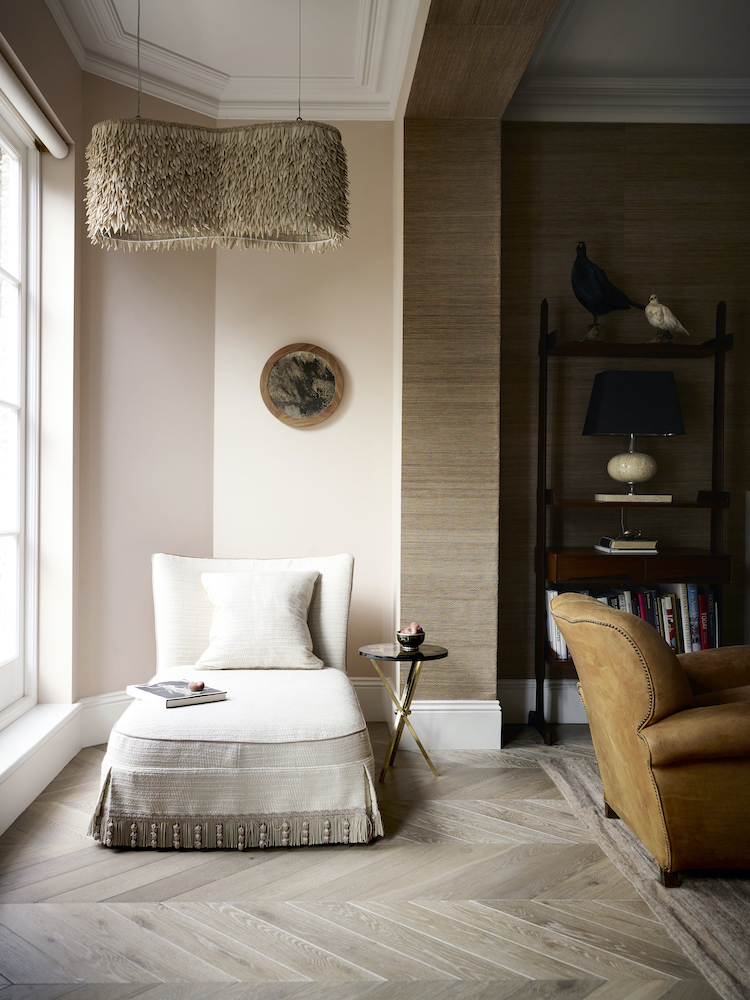 Interior design by Michelle Hagemeier Design. I adore the muted tones in this design. A dull day created this gorgeous soft light.
Have you got any specific plans for when the current restrictions ease?
I had so many exciting projects in the pipeline. Some fantastic new clients that I was very excited to be shooting for. I'd love to pick up where I left off.
However I think the stricter we are now, the better the outcome so I am more than happy to stay at home for the time being. But I recognise that I am quite fortunate and it's much harder for many.
On a personal level, I'd love to travel again. We had a holiday booked in Croatia in August. The thought of those glorious rocky crystal clear beaches and gorgeous food and stunning environment and happy people fills me with utter bliss. Although this recent development has got me thinking about taking better care of the world. I am grateful that the world is having a chance to breathe again. So some serious thinking is going to have to go into combining my travel dreams with better world care.
Thank you again for taking the time to answer our questions.
07885 367 668