Q&A with Juliette Byrne
Juliette Byrne studied at The Chelsea School of Art and then trained at Conran.  She is both a member of BIID and a RIBA affiliate member.  Her architectural interior design consultancy offers a full service from sample boards and visuals, sourcing art and antiques or lighting plans through to project co-ordination, a turnkey service or end to end design.  Her portfolio includes elegant town houses, country residences and chalets – all of which are finished to the same exacting standards that have stood Juliette in good stead throughout her career.
Juliette is well known to the Chelsea Design Quarter; her studio is based in the heart of the district and she recently took part in our Springtime Sessions speaking about the bespoke process at an event with Robert Langford.
We are delighted that Juliette is taking part in the Chelsea Design Quarter Top 5 Picks and took the opportunity to talk to her ahead of publishing her picks next week.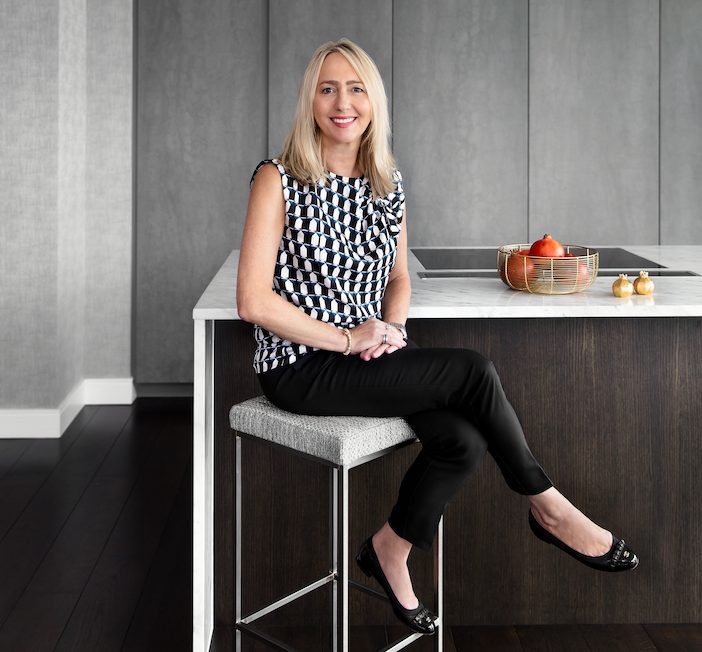 Juliette, thank you for taking the time to talk with us.  Firstly – tell us a little about your background and what attracted you to working in interiors?
I have always been interested in interior design and decided in instead of studying Law that I would enrol at The Chelsea School of Art to learn all about the industry – and it has been a wonderful journey! Every day is different and inspiring and everyday you learn something new and the most important thing is to always develop your ideas and challenge yourself to achieve the best quality interior for your clients.
How did you go about establishing your own studio?
After I qualified at the Chelsea School of Art I worked for Conran's and this gave me an insight into the retail and manufacturing market which has stood my in good stead for the client facing industry that I went into running my company.
Being able to give clients good advice on quality, understanding the way items are manufactured, working within the given budget and making sure that the client is totally happy with the finished result is our main aim.
I set up my company in the 80's after leaving Conran and had my first office in Knightsbridge. At that stage most of the fabric houses and suppliers were in the West End and gradually over the years Chelsea Harbour and the Chelsea Design Quarter have become the centre of the creative industry. This is why 2 years ago we relocated to the Kings Road Plaza and now we are in the hub of the interiors world. We have always been proud of the individual service we offer clients and so our team of 5 designers are highly creative and give a bespoke service tailored to each contracts requirements.
Do you have any advice for someone who is thinking about setting up their own design studio?
The most important thing is to be dedicated to the profession. To be involved in all aspect of the industry and to provide your clients with the best service you can – depending on your company size. Making sure that you have the very best designers working for you if you are successful enough to have employees or if you are simply a sole trader making sure that you are attentive and follow your brief so that the job is completed on time and within the agreed price .  I have found that being efficient with the day to day running of the company will make sure that your clients will recommend you to others and your business will build up and your reputation will be enhanced.
Are there any stand out projects you are especially proud to have in your portfolio?
I am proud of all of my jobs from large to small. I think the most challenging one recently was a new build in Chelsea – a developer had bought a house and knocked it down to build a new property – a double basement dig out which is now very unusual and sought after in Chelsea.
Designing a house off plan is a good way to learn about spacial design and then seeing it emerge from the ground is a so interesting and to finally see the finished result is one of the most satisfying experiences. We were so lucky to have the house achieve multiple awards and the interior design is a great credit to the whole team.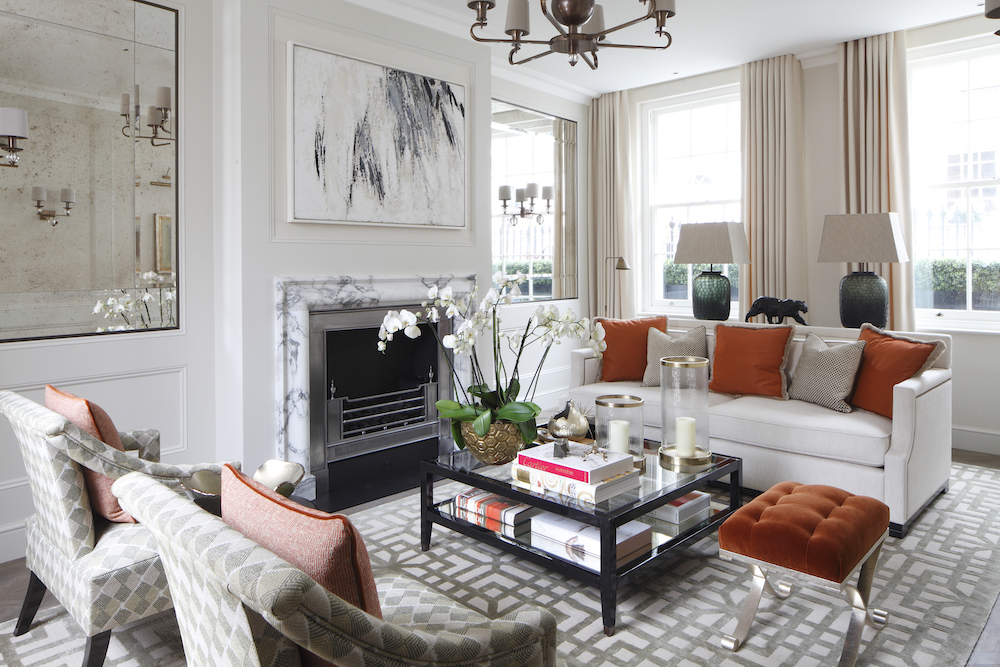 You work on a diverse mix of projects – including town houses, country residences and chalets – do you have a favourite type of project?
I am proud of the fact that we work in many different styles and for may different nationalities across the world.
We find working abroad is a good way of extended our talents and being able to use fabrics and hard finishes that are suitable to the different climates and locations. At the moment we are delighted to be involved in a complete renovation of a large Chalet in Megeve France and so are creating soft furnishing schemes using mainly natural fabrics such as cashmere, linens and leathers. The contractor will require detailed drawings and we have prepared a full scope of works for the tender package as well as detailed soft furnishing schemes for the client to approve.
We are also working on a Grade II listed country house in which we have sourced some wonderful antiques, unique fabrics and bespoke joinery and paint finishes. This 10 bedroom house is now reaching completion and we are looking forward to getting it published shortly.
Other projects we are working on that I enjoy are wonderful lateral  apartment overlooking Hyde Park, a large family house in Brook Green and two or three further properties around the capital.
Are there any interior design projects that you would either love to have done, or would like to do?
I do tender on occasion and don't win the contract and think that it would be great to have been chosen to do that particular job. However one has to move on and I always think that it is good to have competition in the industry.
One job I missed out on was to work on some small privately owned Greek islands – that would have been a wonderful opportunity to use local craftsmen and materials and also to enjoy the wonderful climate on the site visits!
How much do you engage with Social Media?  How has its growing influence impacted your design process, if at all?
We are very interested as a company in Social Media as it is a wonderful way to stay in touch with existing clients and also to attract new clients for the future. As we work with many international owners they are able to look not only at our work on our web site but also to follow the jobs we are working on, see new products from our suppliers who visit our offices – the reps are often showing us the latest of their ranges and we often upload this to Instagram.
How would you both describe your personal style? 
My personal style is classic and elegant and avoid fads and instant fashion statements which can date very quickly.
I am influenced by the classic designers such as Christian Liaigre in furniture, Hermes in Fashion and Ralph Lauren for more casual relaxing clothing and lifestyle.
For inexpensive homeware Zara and India Jane are well priced and have an ever changing range – however if budget is no object then a trip to buy Art in Cork Street and handbags in Bond Street would be perfect!
What do you see as the biggest challenges currently facing the interiors industry?
I think that uncertainty in the economy reflects on the stability of the property market and lack of confidence in purchasing and investing in property impacts in many ways on the interiors industry.
Looking forward we hope that by keeping costs down and working to a clients budget carefully will encourage further confidence in the way people buy and sell and renovate existing properties and this will be encouraging for the industry long term.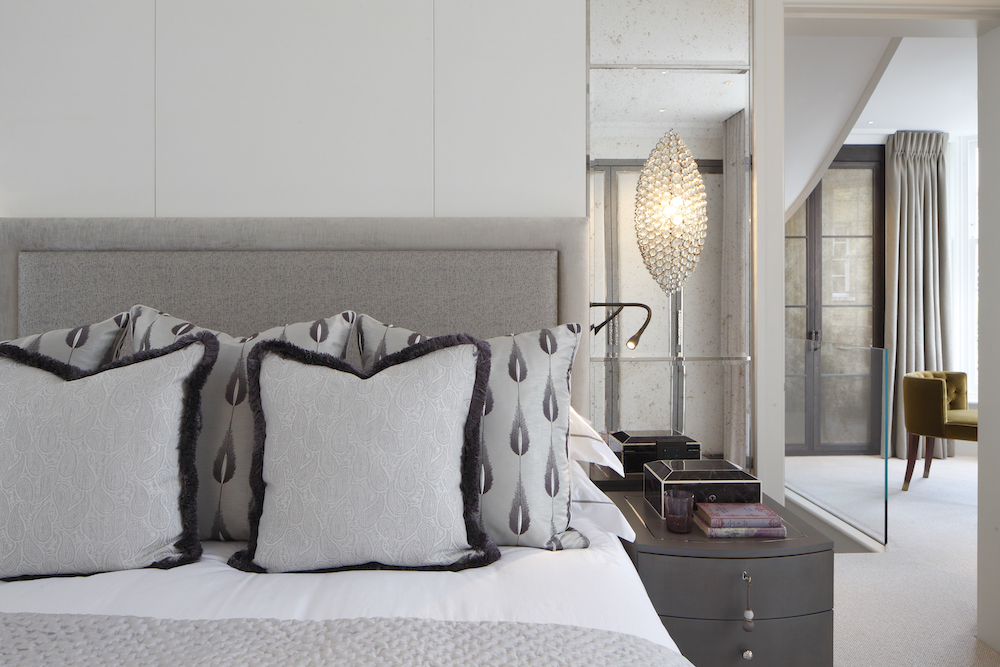 On reflection each decade has a defining look, how do you think people will describe the current style of interiors in years to come?
I think people will look back in years to come and reflect that we as designers have tried hard to create warm, welcoming and colour blended interiors that mix old timeless pieces with classic contemporary statement furniture.
First Dibs and similar sites are very popular with designers at the moment as it is an easy way to find individual eclectic design items – whereas years ago it would take a long time to visit individual showrooms – one click on the computer will bring you a myriad of choices within your clients budget requirements.
The look and style of interiors at the moment is varied but at the same time I quite sophisticated veering away from ethnic and more toward the glamorous style of the past.
Are there any trends or styles that you think are due to make a come back?
I think minimal interiors are not so popular now as people perceive them as cold and not somewhere to come home from work and relax. I think clients are now looking for trends that encourage family relaxing living spaces. Large open plan living rooms with comfortable L shaped seating areas, elegant kitchens where clients can cook and entertain their friends and family. Cooking programmes on television has made clients more aware of entertaining at home and appliances, large fridges are something they are more interested in finding out about and purchasing.
Also beds which have the highest comfort level with mattresses made of natural fibres and curtains with black out lining as so many clients of ours travel internationally.
I think clients are wanting a simpler AV system – often a Sonos or two and certainly no more than 4 mood settings if they are installing a Lutron system. Simplicity is of the essence and comfort and elegant interiors are what our clients are asking for.
How did you choose your Top 5 Picks? 
The reason we chose our Top 5 picks is due to the high quality of, not only the products they offer, but the service provided by the brands. We like to work with companies that will go above and beyond to help us achieve our and our client's interior design aspirations.
What does the rest of 2019 hold for Juliette Byrne? Both the person and the company?
We are delighted to say that we are entering some of our newly completed projects for the International Property awards and Design Et Al.
We are expanding our Social Media package to include daily Instagram posts on our site and office work and editorial on our overseas projects.
We are working with our suppliers in the Chelsea Design Centre to make a design community that supports each other and develops the area into a go to place for clients coming into the Capital.
We are also excited to be doing a JV with Robert Langford – a stylish furniture range designed to compliment other designers and retail clients. Robert and I have worked hard to source some wonderful individual finishes from crackle glazes and bronze detailing – muted colours to blend with every scheme and colour palettes.