Q&A with Jules Haines of the Haines Collection
Jules Haines set up the Haines Collection in 2018 with a small budget and a huge passion & drive for sustainability and to provide a solution to the environmental challenges facing the interiors industry – specifically around waste.  
Working with industry suppliers the Haines Collection is on a mission to rescue fabrics and wallpaper that would otherwise be heading to landfill by providing a platform for resale and reuse.  So far she has rescued an impressive 1,121m (and counting!) of fabric from landfill. 
In addition to her main platform of rescuing & reselling waste fabrics and wallpapers she has also set up Lampshade making workshops which take place monthly near her office in Kent (note – these will resume after the current restrictions on movement have been lifted); with the idea to inspire people to think creatively about how to use leftover fabrics.
With sustainability being sharply in focus and people becoming increasingly aware how even the smallest of changes can make a big impact we sat with Jules to learn more about her business, how she came to set up and her advice on how we can all do our bit.
** Please note this interview was completed before the current Pandemic**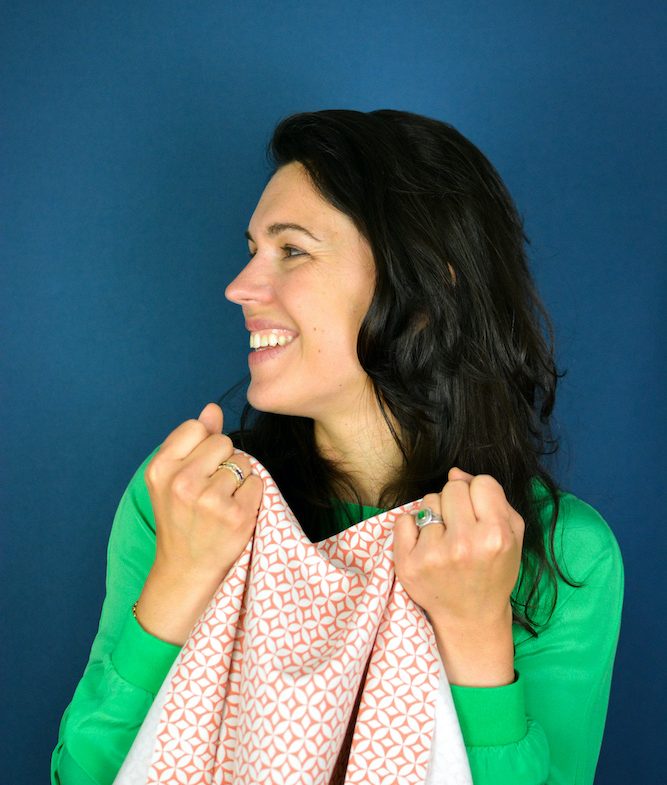 Jules, thank you for taking the time to meet with us, why don't you start by telling us a little about your background?
Having worked in the charity sector for 5 years, I moved to Singapore in 2012 and met a fellow British ex-pat who was a textile designer. I've always wanted to work in interiors so when I heard that she was starting a new textile brand Korla – I had to be involved. I worked with Korla for 5 years, helping set up the London office in late 2013 until I moved out of London to Kent in 2017 – and then the commute was a little far! I worked in a couple of places locally but they weren't in interiors so I desperately missed it. I started the Haines Collection on the side of a part-time job, to see if I could grow it to a full-time job – and I did!
What inspired you to set up The Haines collection?
I've seen this waste first hand. Working in the textiles industry people throw away the old, to make room for the new – much like in fashion.
I've experienced the frustrations of having leftover designs as a brand, and not having a beautiful platform to represent them. A lot of mill shops want to buy your old stock for a tiny fraction of the price, whereas you know it's worth much more than that – so I work on behalf of the designers and manufacturers to sell their stock.
The idea finally solidified after a chance meeting in a pop-up shop in Tunbridge Wells. A soft furnishings business owner was selling a wide range of high-end fabric very cheap. They were all his leftovers, and I heard him say what a hassle doing a shop one a year was, but he couldn't see this going to waste. It made me think that there should be someone who could offer that resale service. I knew printers and designers who have waste, all a bi-product of what they do and something they don't have time to deal with. So I emailed him after we met in the shop, had a meeting and he was my first suppler, and still is a supplier!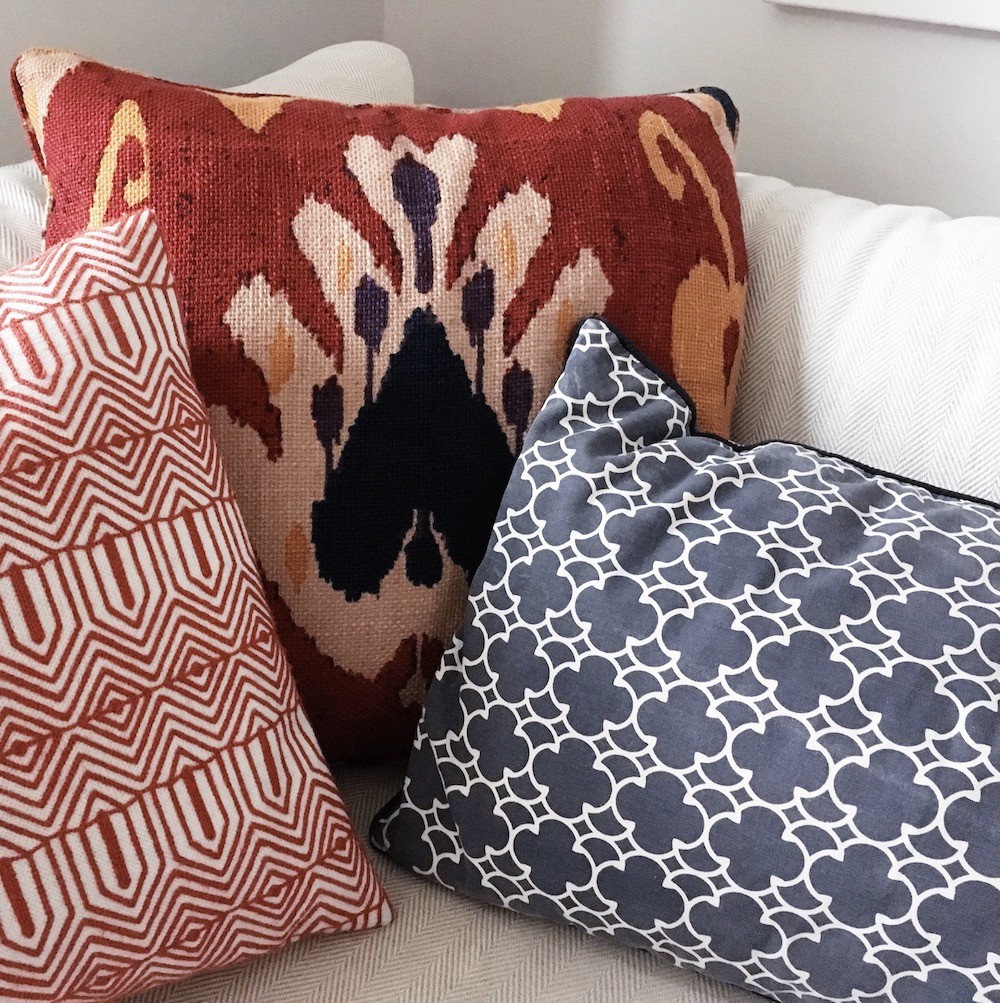 What are your biggest bugbears with the interiors industry when it comes to waste?
At the moment it's the lack of awareness and action. No one is putting a spotlight on the industry and I really feel like we are where fashion was a few years ago when Burberry were burning their handbags to protect their brand and avoid and influx of lower priced products. I know that textiles are sent to landfill for this exact same reason, to protect a designers brand. According to the European Federation of Furniture Manufacturers (UEA) statistics, 80% to 90% of the EU furniture waste is incinerated or sent to landfill, with ~10% recycled. Reuse activity in the sector is considered low*. This is waste needs to be exposed and addressed.
Tell us a bit about your typical day?  
Starts with dropping a child off at nursery and the other at school  – glamorous! Then it's to my desk to get back to emails, process orders, have meetings, and execute my priorities for the week. Then back to kids pick-ups between 1- 2.30pm. My work then takes a pause until about 6pm when I catch on emails, post on Instagram, put the kids to bed and work from 7-8.30pm trying to cover some of the time I lost in the afternoon. It's a bit of a juggle but I really love it and feel deeply fulfilled.
How do you go about sourcing your suppliers?  Do you work in the same way with all of them?
Some are old contacts, word of mouth, and some I met on my stand at Decorex last year. It's a real mixed bag, but 93% of my customers come via Instagram (@haines_collection) and I build great relationships through the platform. In fact the last textile designer to join the Collection found me through Instagram, it works well for me. There are a few of the big manufacturers on my hit list who I know must have waste – so I'm approaching them and offering them my brand to resale their waste stock.
I work with them mostly in the same way but some with small differentiations. I'm very much here to support the supplier and create a plan what works best for them. I want to make shifting their leftovers easier, and more profitable, than throwing them away or leaving them on a shelf for years!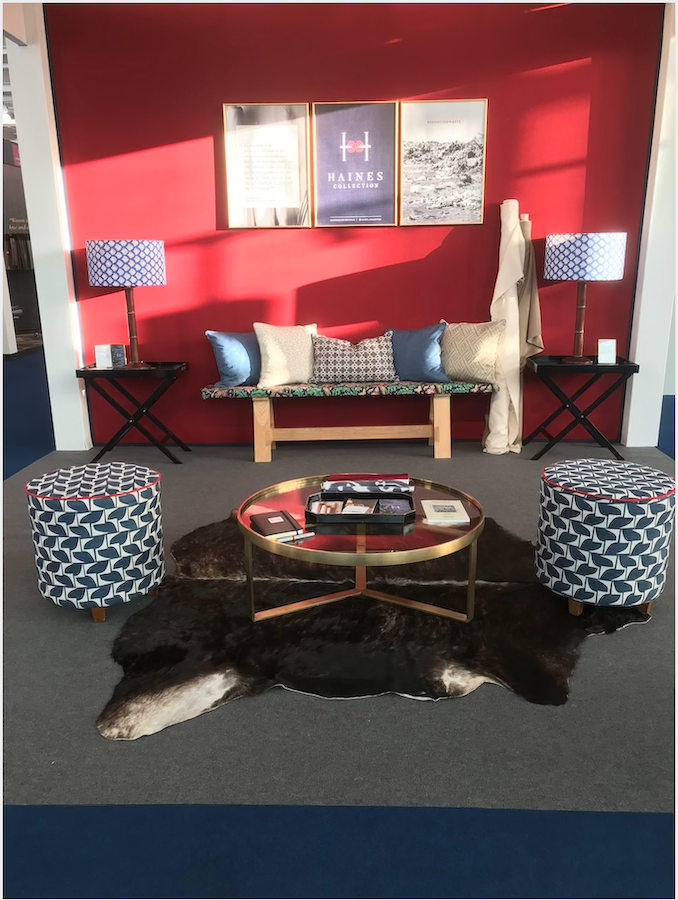 The Haines Collection Stand at Decorex 2019
What advice would you give to someone embarking on an interiors project about how to keep the environment in mind throughout the process?
I would say to look at what you already have and what you can reuse. We need to go back to the 'make do and mend' attitude of our grandparents. Avoid plastic where possible, and ask suppliers if they can send your items in eco-friendly packaging, lots of businesses now have that as an option.
It's not always easy to go for the environmental option as some are more expensive. However as the industry grows, more people will join the arena, competition and innovation will help drive prices down allowing us all to live in a more sustainable way.
Most importantly just do what you can and start small. It's the small changes that make the big difference.
What top tips can you give to all of us about how to decrease our impact on the environment?
Look at what you have on your desk right now, so much is plastic – scary right? Change your sellotape to brown tape (yes it is just as sticky!) make sure all your bulbs are LED, carry a water bottle and reusable coffee cup. Talk about sustainability, spread the word and encourage friends and family to do the same.
But my best tip would be to find one change every week that you can do to make a difference. Don't beat yourself up about the changes you can't make, choose a different battle.
Every bit of plastic ever made still exists, so every time you support a sustainable business you are helping to reduce your plastic footprint. Support and think sustainable!
What's on the horizon for The Haines Collection in 2020?
I've been keen to partner with a charity so that I can have the option for companies give the profits of sales to a good cause. I've just started working with Waste Aid UK who support teaching waste management and recycling skills in the world's poorest places. Waste isn't just filling up landfill it's causing the spread of disease, polluting the oceans and adding to the climate crisis. I'm really excited to see where our relationship can go and what a difference we can make.
I'm launching Wallpaper in March and want to spend this year getting the word out there about interiors waste and working with some large companies to help them to be more conscious about their waste.
* Source: Circular economy in the furniture industry – https://circulareconomy.europa.eu/platform/sites/default/files/circular-economy-in-the-furniture-industry.pdf