Q&A with Jeff Hayward and Susie Rumbold of The Interior Design Business Podcast
Jeff Hayward and Susie Rumbold are the creators and hosts behind The Interior Design Business podcast.  Aimed at interior design professionals in the UK, the podcast covers such topics as "All About Colour", "Designing for the Client You Never Meet" and more current topics such as "COVID-19 Advice For Business Survival".   They have recorded a number of their podcasts in front of live audiences, including two at CDQ members Roca London Gallery & Havwoods and they have a webinar coming up later in the month with John Cullen Lighting. 
Jeff Hayward is an interior design marketeer with more than fifteen years' experience in the sector.  He is the co-owner of Wildwood, a digital marketing and communications company who are retained by the British Institute of Interior Design.
Susie Rumbold is the Founder and Creative Director of Tessuto Interiors, an award-winning, technically advanced, architectural interior design studio with 27 years of in-depth experience across a broad range of industry sectors. Susie is also a Past President of the British Institute of Interior Design.
We are delighted that they agreed to be interviewed by Chelsea Design Quarter. 
*Please note this interview was conducted via e-mail in keeping with current social-distancing measures.*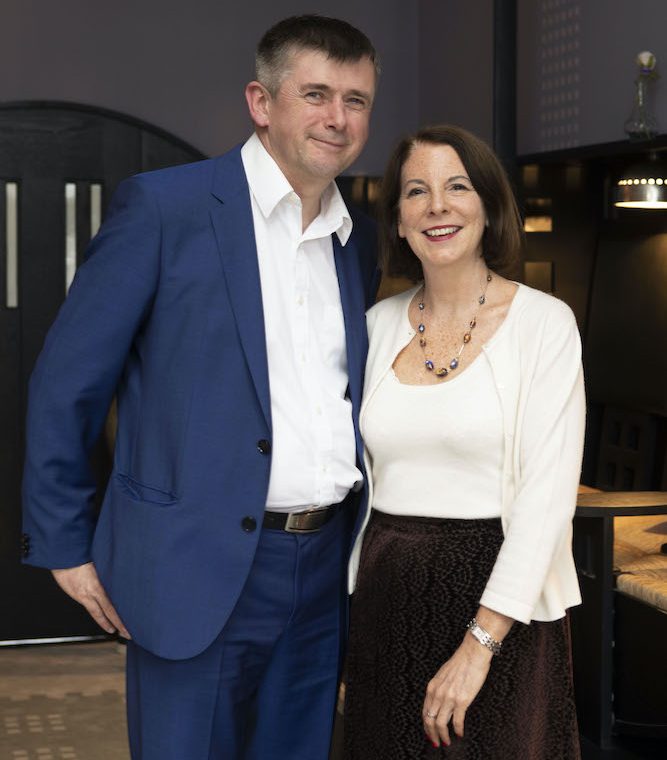 Jeff Hayward and Susie Rumbold
Thank you both for taking the time to answer our questions.  Firstly, tell us a little more about your background and how you came to working with each other?
Jeff: I'm the co-owner of Wildwood, a Sussex-based marketing agency that has its roots firmly in the interiors, building and construction sectors. We've represented the British Institute of Interior Design since 2012 and I first met Susie shortly before she started her term as President of the BIID in 2015. Susie is an incredibly talented and knowledgeable interior designer and a terrific communicator. We connected straightaway.
Working with the BIID and its community, it became clear to me that interior design practices and practitioners have grown, evolved and succeeded thanks to the sharing of ideas and experiences freely given by others. The challenge is that it's simply not always possible for designers to attend every talk, panel discussion or event where they might be able to access insights and advice from others, no matter how interesting or valuable they might be.
That was the thinking behind launching the Interior Design Business back in 2018. We felt that a professionally produced, curated and presented podcast series could offer a really convenient digital communications platform for the interior design community. A place where you can eavesdrop on conversations and pick up great advice at your own listening convenience.
Because of her background, Susie was a natural choice to be co-presenter and she brings depth and relevance to every conversation.
Susie: I founded my design practice Tessuto in 1993 and over the years we have completed projects in most interior design sectors both in the UK and abroad.  As Jeff explained, we first met when I became President Elect of the British Institute of Interior Design because Jeff was responsible for the PR for the Institute.
He asked me to be a guest on a technology podcast he was hosting, and it came out so well that it just seemed a natural step for us to start producing a series specifically aimed at professional interior designers.
In the early days, the episodes were produced by Fiona Cotterill of Alfi Media who is a superb ex-BBC producer, so the quality was really high compared to some of the other podcasts available to design professionals. Jeff has subsequently maintained those high standards through his production and editing and I am really proud of the professional tone of the shows we make. As a result, we've attracted hundreds of regular listeners from literally all over the world including the USA, Australia, Mongolia and Malaysia. Pretty much every country bar North Korea, in fact.
Tell us a bit more about the podcast, how do you decide which subjects to cover and who to join you in your discussions?
Jeff: We have regular planning meetings to look at potential topics for the year and we try to schedule episodes as far in advance as we can. We filled up 2020 back in July and now we're busy planning for 2021. That said, we also retain the flexibility to respond to events and topical issues.
For example, we paused our regular series of monthly shows during the pandemic to produce a series of four COVID-19 special episodes. We also adjusted the schedule to cover Diversity in Interior Design, following the death of George Floyd in June and the issues that it raised within all walks of life, including interior design.
All our guests are selected because they have can speak well on the topics we discuss. For example, Karen Haller and Marianne Shillingford are renowned colour experts, so perfect for our All About Colour episode and there's no-one better on The Interior Designer as Brand than Sophie Paterson.
We are also open to ideas from within the industry. If you want us to cover something and are comfortable sharing your knowledge with the industry, then, do get in touch! 
Susie: I am always on the lookout for potential topics and maintain an ongoing ideas list. I read widely and network constantly at industry events which helps too.
Personally, I am fascinated by the psychology of human behaviour and the way our interior environments can have a positive of negative influence. It is a rapidly expanding area of knowledge, and its application in actual projects varies from sector to sector. The technology that goes into buildings is also evolving at breath-taking speed, having a profound impact on the way we are able to control and use our interior spaces, so there is always plenty of innovative thinking on new subjects to explore and discuss.
We usually find that we have enough material for 2 podcasts from every topic and it can actually be quite hard to whittle the subject matter down to a succinct 40 minutes!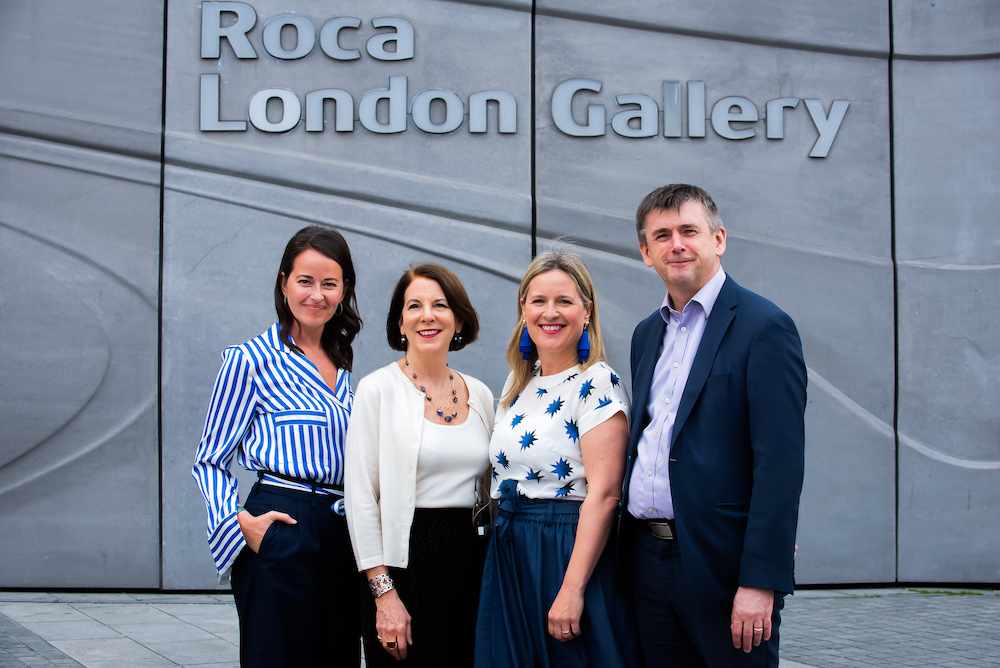 Simone Suss, Susie Rumbold, Sophie Robinson and Jeff Hayward before recording the 'Succeed with Social Media' Live Audience Episode
Have you ever disagreed about what you should cover?  Who won the argument?!
Jeff: I don't think we have!
Our topic discussions are pretty grown up and if one of us doesn't think that a subject idea is right, or we can't find the best angle on it, then we tend to park it, perhaps, revisiting it a few months further down the line.
For example, we recorded a Designing for Hospitality episode at the start of March but decided that we're in a completely different world now because of the pandemic. So, we agreed to postpone release and will be recording the discussion for our December show with contributions from Fiona Thompson at Richmond International and Elizabeth Lane at RPW.
Susie: Jeff is right, I don't think we have ever had a disagreement about anything! I think we have both had different favourite episodes, but it's good to explore a wide variety of subjects. I'm sure our listeners also prefer some topics over others!
Our slant on any subject is also influenced by the perspective of whoever our special guests are for that episode, and I like the fact that you can never entirely predict where the conversation will go. I definitely learn something new from every episode we record.
You've recorded a number of podcasts in front of an audience – do you think that affects the course of the conversation i.e. are people a bit more guarded in their responses?
Jeff: On the contrary, we've found that panellists respond really positively to the energy and excitement you get with a live audience recording. These shows have all been terrific fun and a great opportunity for us and our panellists to connect directly with our audience in the Q&A and networking afterwards.
Even when there's no audience, we try to record with everyone in the same room, so that the conversations feel as natural as possible.
If anything, recording shows remotely, as we have done since March, has been the most challenging environment for us and our guests, although I think that now we've all got used to talking with people through a disembodied voice over a laptop. It can still feel a little stilted to begin with!
Susie: The live show audiences love being at the recordings. They are fascinated by the process of making a podcast and their warmth and enthusiasm really help to put our guests at ease. There is a feeling of all being in it together at the live shows and they tend to take on something of a party atmosphere, which really helps our panellists to relax and enjoy themselves.
We have been lucky to be generously hosted in some fantastic venues like the Roca London Gallery at Chelsea Harbour and the Andrew Martin showroom in Chelsea, so everyone stays on after the recording ends for more discussion, lots of networking and a glass of something delicious, and then it really does become a party!
Are there any episodes of which you are particularly proud?
Jeff: My two personal favourites are both live audience shows.
The episode we recorded in Glasgow on Sourcing Secrets with Jim Hamilton of Graven and BBC Scotland's Home of the Year judge, Anna Campbell-Jones from Habitus was a particular highlight. Great stories, privileged insights from two top designers and a brilliant live audience in a wonderful venue, the Mackintosh-designed Willow Tea Rooms.
The All About Colour episode recorded at the Roca London Gallery last December was also very special. Again, terrific guests with plenty to say on a fascinating topic, and our biggest live audience yet with over 100 people in the room for what was also our first anniversary party. The birthday cake was special too and one of our audience even brought their dog along to that episode as well – both Rusty and his owner enjoyed the experience!
Susie: I also loved the Glasgow Sourcing Secrets episode. Jim and Anna are both hilarious and the audience were so enthusiastic, roaring with laughter and applauding like mad.
But I think my favourites to date have been Designing for the Third Age with special guest Lori Pinkerton Rolet. Lori is a world authority on design for the elderly and with our aging population, it's a really important subject that designers seriously need to know and understand more about.
Another of my favourites was our most recent episode Rethinking Technology and Interiors for the Post-Pandemic Home. There has been such a seismic shift in the way we are using our homes since March and the episode was packed with relevant information and insights from technologist, Andrew Royall and interior designer, Vanessa Leyland.
Being a bit of a geek at heart my favourite episodes tend to be the ones where I personally learn a lot like this one.
Tell us a bit more of your careers outside of the podcast – do you find your "day jobs" influence the subject of the podcasts?
Jeff: Definitely. Working with the BIID, we're having daily conversations withs designers, media and event organisers which helps with tuning in to what's happening creatively as well as the business challenges that designers face. Through these connections, we come across talking points all the time, such as, social media, fees and getting paid which we've covered and will almost certainly return to in the future for new thinking and alternative opinions.
Susie: As a practising designer, working across many different industry sectors, I am always encountering new issues that are worthy of in-depth discussion. My work brings me into contact with so many fascinating people who are expert in their fields, so we never have trouble finding special guests for the episodes.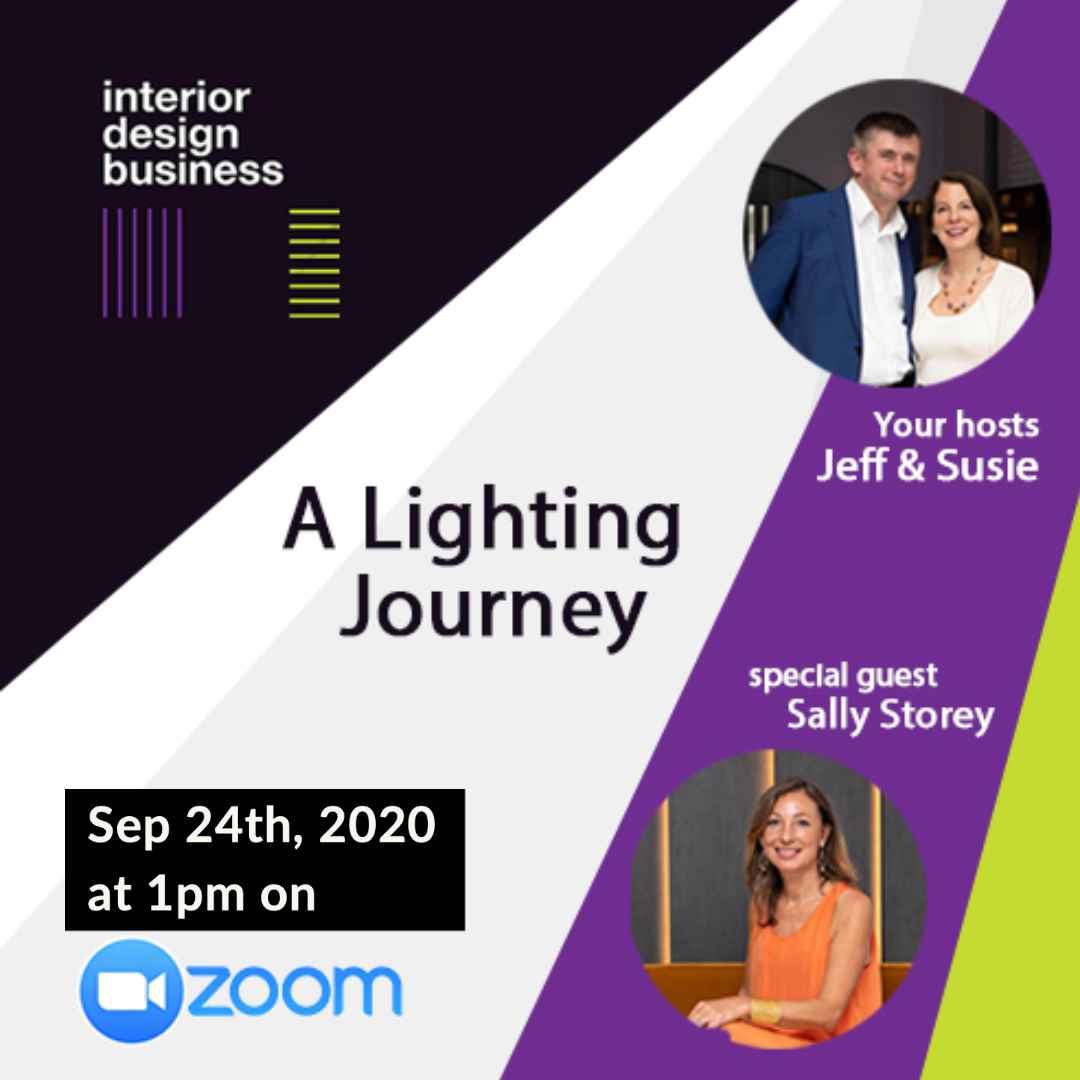 How have you coped with the last few months?  Have there been any unexpected benefits to the current social-distancing measures?
Jeff: It's been tough for everybody. We had to re-think our programming, having to rearrange the live events that we had planned and it's been especially challenging to record remotely instead of in the same room as our guests.
That said, there have been benefits too. I'm proud of our four COVID-19 special shows which allowed us to bring in numerous voices – designers from around the country and different suppliers – to help us all stay positive and focused on future business.
We've also taken the opportunity to launch a webinar series as an alternative to the live event. Our first two webinars have both been well received and are free to catch up with on-demand now for those who couldn't make the original broadcasts.
In the first, Two Houses into One Will Go!, Simone Suss of Studio Suss talked us through one of her residential projects from start to finish which was fascinating and a great privilege.
In the second, Re-thinking Technology and Interiors for the Post-Pandemic Home, we looked at the impact of the virus on interiors at home with terrific insights from Susie and special guests, designer, Vanessa Leyland of Vanessa Leyland Interiors and Andrew Royall from Eclectic Home Technology.
Our next webinar, A Lighting Journey, will talk to designers about the lighting design challenges of a Grade I listed property with the help of Sally Storey from CDQ member, John Cullen Lighting. This takes place on Thursday 24 September at 1pm and more information and registration is available here.
Susie: The pandemic certainly gave us a lot to talk about as people came up with clever ways to work in spite of the logistical problems and restrictions we all faced. It has been wonderful to be able to disseminate that information to our listeners via our emergency COVID-19 mini-series.
The remotely recorded episodes we made during lockdown have been the most challenging ones to record by far. You don't realise how much we all rely on eye contact and each other's body language to get the conversations flowing naturally until those visual clues suddenly aren't there.
By contrast the webinars have been a revelation. The main and obvious disadvantage of podcasts for interior designers is that it's a non-visual medium for a very visual industry, so the webinars allow us to deliver the same high quality of content presented by industry experts but with pictures!
Going forward, we see this as being a regular adjunct to our usual output, allowing us to take a deep dive into really interesting projects with the designer describing their approach and how they solved any practical problems. I think these will become a valuable equivalent to the 8-page project spreads you see featured in glossy interiors magazines.
You have both worked in the interiors industry for a while.  How do you think the industry will be affected by the current pandemic?
Jeff: How we live, interact and inhabit interior spaces has changed and will likely be very different for many years to come.
As a result, the skills of professional interior designers are in great demand to re-design the home, the workplace, hospitality venues, retail and education spaces.
For example, we are seeing and will see more multi-functional spaces, a greater demand to embrace design that makes us happier and healthier and more clever use and integration of technology in its many shapes and forms within interior spaces.
There are great opportunities ahead for interior designers.   
Susie: The pandemic will cause us to rethink the functionality of every type of interior space and fresh thinking is needed to keep us all safe now and in the future.
In commercial and public spaces, interior designers will have to factor in traffic flow patterns and non-touch strategies. Materials will need to be cleanable and quality ventilation will be key. By contrast peoples' homes will need to be even more shielding and will have to accommodate a greater variety of family activities than ever before.
Interior designers will be in the vanguard of those orchestrating the changes. Their understanding of human nature and ability to solve complex problems have never been more urgently needed than right now!
Finally, what are your plans for the rest of the year?  And beyond?
Jeff: We have a packed programme until the end of the year. In September, we will be recording an episode with Tricia Guild talking about product design which is very exciting.
In October, we will be recording an episode with Laura Hammett and we have a sustainability panel, running as part of the online content programme for Decorex in November.
All being well, we are looking to celebrate our second birthday with a live audience recording on Hospitality Design at the Roca London Gallery in December!
Watch our Instagram page for all the latest news on what's happening – it will be an action-packed second half of the year.   
Susie: We have already started to plan the IDB content for 2021, as we need to approach potential contributors far in advance so that they can fit us into their demanding work schedules.
Our intention is to keep addressing the issues that matter most to professional interior designers. So, if anyone out there has an idea for a topic they would like us to explore, then please get in touch with Jeff or myself. We would love to hear from you!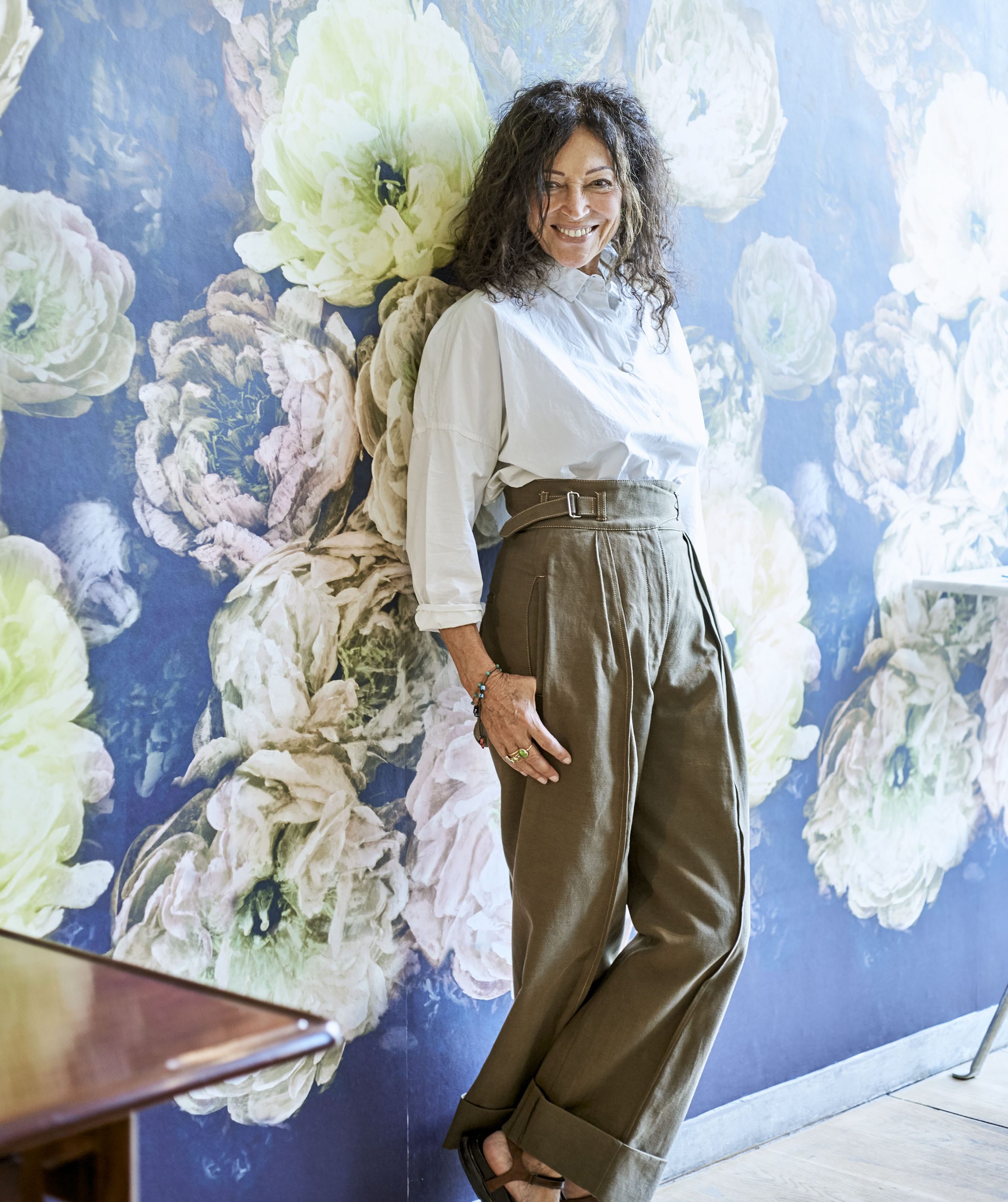 Tricia Guild