Q&A with Jean-Frédéric Nothomb of Argile
We are delighted to welcome Argile to the Chelsea Design Quarter.  Their showroom, shared with top international brands Dines and Blanc Carrare, officially opens on 12th April, although many of you might have seen they have been quietly getting the showroom ready since the beginning of the year. 
Argile is a luxury paint company that was founded in 2006 and takes its palette inspiration from the earth (argile literally means earth or clay in French).  Their paint have been used around the world – most notably for exhibition displays at the Louvre Museum In Paris and the Royal Academy of Arts in London for the Charles 1st exhibition in 2018 and the Picasso 'Paint and Paper' one in 2020, the Connaught in London and Hoxton in Amsterdam as well as for retail showrooms such as Hermes, Louis Vuitton and Guerlain.
We are pleased to have the opportunity to interview their founder Jean-Frédéric Nothomb to learn more about the company, past projects and plans for the future.
This interview was conducted by e-mail.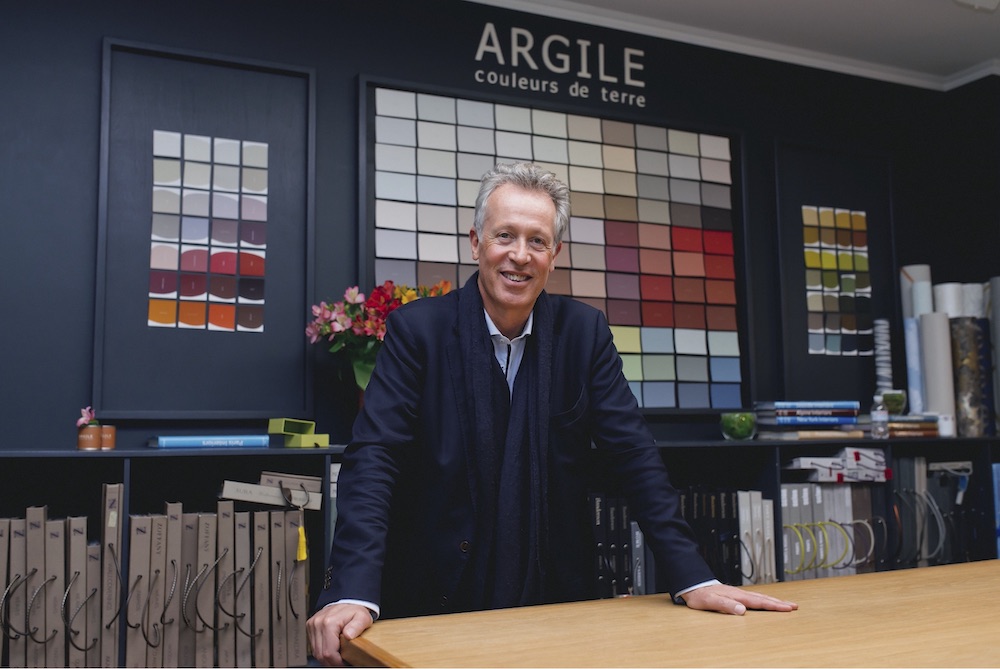 Jean-Frédéric thank you for taking the time to answer our questions.  Why don't you start by telling us a bit more about your background and how you came to set up Argile?
Well, I was fortunate to be educated in Belgium, England and Japan. After a spell in the Far East, I was brought back by my employer, Lafarge, to head office, in Paris. I ended up running their decorative paint business, but big industrial corporate life was not my idea of fun or of a happy life. I wanted to be a modern adventurer, an entrepreneur!
I set up my first paint company in 1996, and five companies and many brands later, I have been focusing seriously on Argile for the past four years.
Argile Peinture was set up in 2006 with a Master Colorist, Pierre Bonnefille. The idea was, around the colours of nature, to join our complementary 'savoir faire' in colour, paint R&D, industrial production, marketing and entrepreneurship to build a high end brand inspired by the colour of the earth, for projects and designers, resolutely B to B, with as little carbon print as possible, definitely obsessed by sustainable development.
Can you tell us a bit more about the new showroom?
Argile is now well established in France. International development is paramount for a niche market player catering to the increasingly mobile and connected high end project owners and designers. We are present in Russia, Italy, China, Belgium and Switzerland. England is special: to me, because of my time spent here and so many friends to see more often, and, more importantly, because it is a major, if not the major, market for quality international projects with designers of all origins and as a gateway to many other markets. I would add that, in the high end decorative paint business, the UK is where it all started, 50 years ago, and therefore the market is relatively developed but with very few players not particularly active in renewing their propositions.
We wanted to come to London on our own, not through a more classic distribution model.
Two of these partners, Blanc Carrare (natural stone works, exceptional marble and lava stone) and Dines (bespoke floor and wall covering solutions through fabrics, woodworks and other specific materials), both already very present on UK projects equally wished to invest further in developing their London presence. As we are very complementary in our products offer, we decided to do it together.  Additionally we partner with John Cullen Lighting in our Paris showroom and we are delighted to have their expertise and products lighting up the showroom.
At 555, Kings Road, we will therefore propose not only top end decorative paints and colours but also exclusive materials of the highest quality. Project orientated services and advice for designers and project owners will also be provided.
We will run regular training sessions, information and networking events as well as day to day presence in the spirit of a 'Design Workplace' where project stakeholders can meet others, discover new materials and solutions.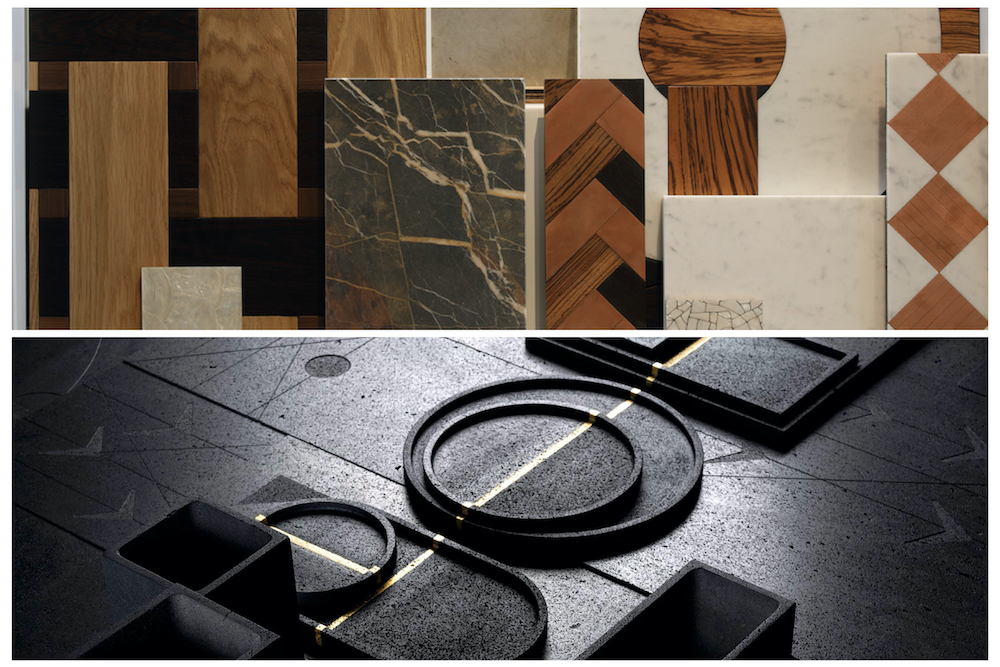 A selection of products by Dines & Blanc Carrarre
Argile paints can be found in some amazing places – are there any projects you have worked on that particularly stand out? 
If there was only one, I would mention the complete repainting of the Royal Academy at the occasion of the magnificent 'Charles the First' retrospective for its 250th anniversary. Probably the most accomplished exhibition of 17th century paintings ever, around the first King Collector! What a treat to have provided the colour setting for this. We were chosen for the depth of our material and its capacity to catch the light while simultaneously disappearing behind the exceptional quality of the works being shown.
And are there any buildings or projects that you would consider your dream to work on?
Not really, every project is unique. Providing subtle colours to a one bedroom flat through just one monochrome wall with a stunning tone is a source of pleasure. Bringing character and specificity to a 4* hotel by harmonizing colours of the surrounding environment with the chosen mood board for interior decoration of the client is very satisfying. Working with designers on the psychological aspect of colours in a nursing or care home is challenging. Painting the Queen's private drawing room would be wonderful!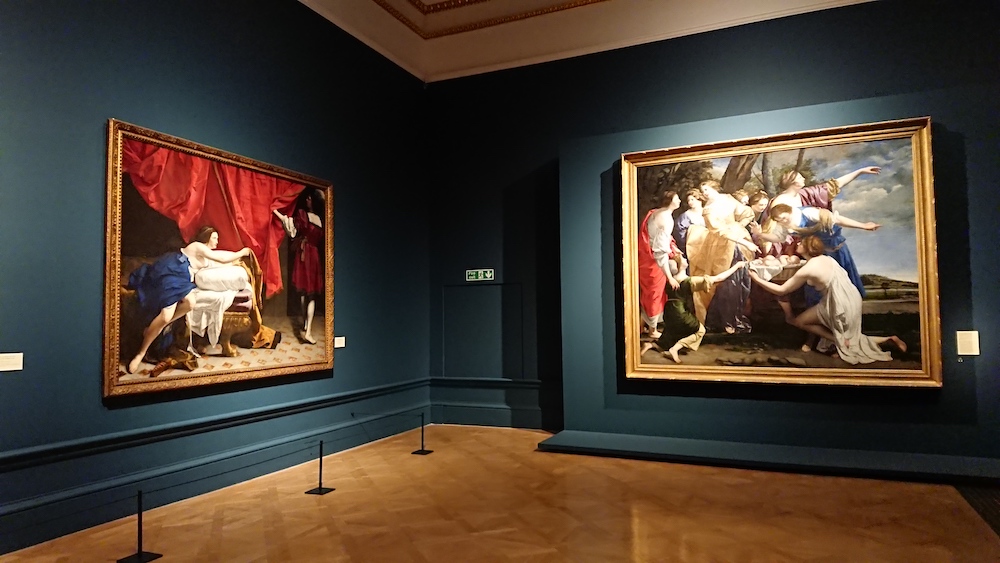 Royal Academy of Arts in London for the Charles 1st exhibition in 2018
We know you have lectured to design students in the past, colour is such a broad subject – what particular areas do you focus on?
'La Nature ne fait pas de faute de goût' (Nature does not make mistakes) is our baseline.
All colours exist in nature, and combinations of colours can be surprising, unexpected. And yet, it works! We don't 'create' colours, we observe, we choose, we select, we package and we bring the colours of the Earth into interior design. We work through thematic with a collection of 128 colours of earth, another one of 56 colours inspired from the vegetal world and, in 2022, 64 colours from the skies. They blend very easily with each other. Always harmoniously. And it gives a wonderful story for the designer to tell their client. How better explain a colour proposition for a project than to identify where it comes from.
How much do you work with trends?  E.g. are you influenced by the Pantone colour of the year?
No, never. Much the opposite. Our colours are timeless, they exist in nature and will exist in nature. We consider the 'Pantone of the year' to be a 100% marketing invention with no underlying reality. We have never and will never withdraw one of our colours from our collections.
Aside from the current pandemic, what are the challenges that you come up against most frequently?
The main challenge we all face in our industry is copy.
Decorative paints are seen as a well-known, day to day, current material. Easy to understand, easy to choose, easy to apply. In fact it is exactly the opposite.
A pale copy is easy to make, available in most building material or DIY stores. The colour will not be accurate, the subtlety of the tones absent and the depth inexistent.
Top range brands such as Argile suffer from these unfair practices where all parties, at the end, are worse off: the client has a poor, plain quality, the designer does not see the result of his work, the painter leaves a poor worksite and we have no sale! We estimate at around 50% our rate of loss through copy of our colours.
It is, and will remain in the next few years, the main challenge of high end decorative paints brands.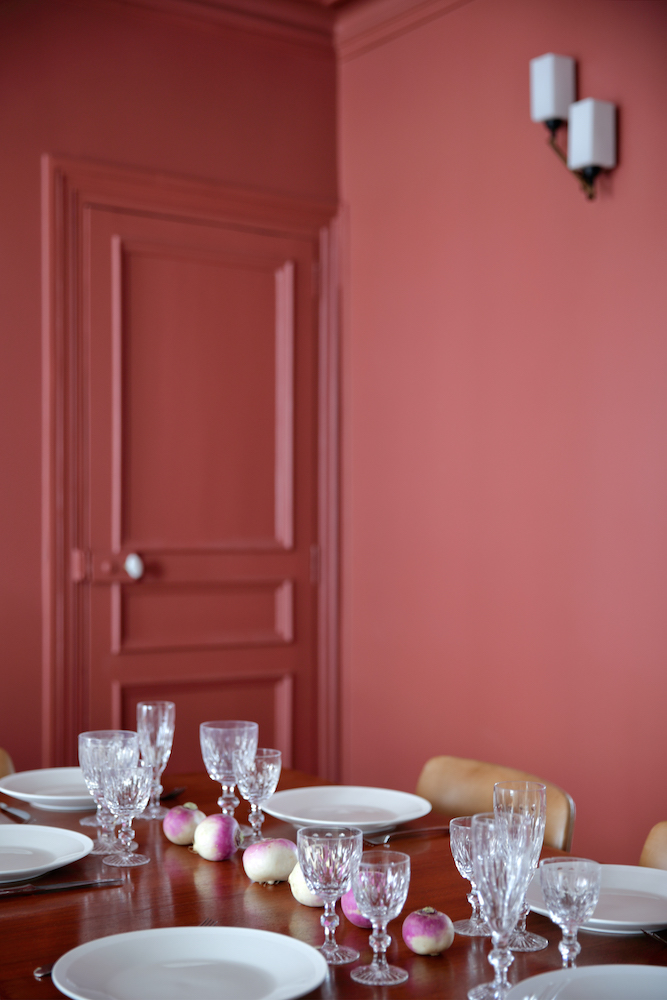 How do you think the current situation will influence the design world in the coming months and years?
From the field to the wall, through interior design.
To come back to one of the previous questions about our ultimate dream, in coherence with our sustainable development approach, taking into account the current pandemic, and in our general philosophy that the world to come must integrate more sharing, more responsibility and longer term vision, we see the current situation as an opportunity to accelerate sustainable development and responsibility of the design world.
Designers and design stakeholders have a formidable role to play. Who dreams and translates into action and reality the present hopes, frustrations, possibilities and constraints through creation of environments, objects, way of living, way of cohabiting, etc..? Who can project realistic options of what tomorrow's world could look like? Who can influence policy makers, politicians, economic and other leaders, better than designers through their creations and their capacity of communicating and making it happen?
Was Leonardo da Vinci not the first 'Design Thinker'? (See numerous articles about his 500th death anniversary about this – fascinating!)
We, as modest players in a narrow field linked to design and everyday living, we will increase our investments and developments of our bio sourced materials and product (based on linseed, colza and sunflower oils, renewable at 95%, currently representing 15% of our sales) to be in a position, as soon as possible, to abandon petrol based binders such as acrylics (95% of the market). To do this, a task force is in place looking to invest in agricultural land to produce these crops, transform them into usable binders and formulating the paints of tomorrow. We believe 2025 is a realistic target. And the current situation will clearly help in accelerating these developments.
Thank you for taking the time to answer our questions Jean-Frédéric.
You can find the new Argile showroom at 555 King's Road, SW6 2EB.