Q&A with Helen Bygraves and Jenny Weiss of Hill House Interiors
Hill House interiors was set up by Directors Helen Bygraves and Jenny Weiss over 20 years ago.  Their team is now over 20 strong and they offer a full Interior Design & Interior Architecture service to their clients.
The studio is based in Weybridge, Surrey and whist their focus is mainly on residential interiors – they have also worked on couture boutiques, hotels, restaurants and the odd super yacht.   Their residential projects are mainly, but not exclusively focused to the South-East of the UK and they have also worked on projects as far afield as Dubai, New York, Monaco and the island of Lagos in Nigeria.   They have been briefed by clients on country estates, city penthouse apartments, family homes, show houses and investment properties. 
We are pleased that Helen and Jenny have agreed to take part in our Top 5 Picks series and we are looking forward to sharing their picks with you next week.  We sat down with them to discuss how they met and work together, the projects they have worked on and the future of Hill House Interiors.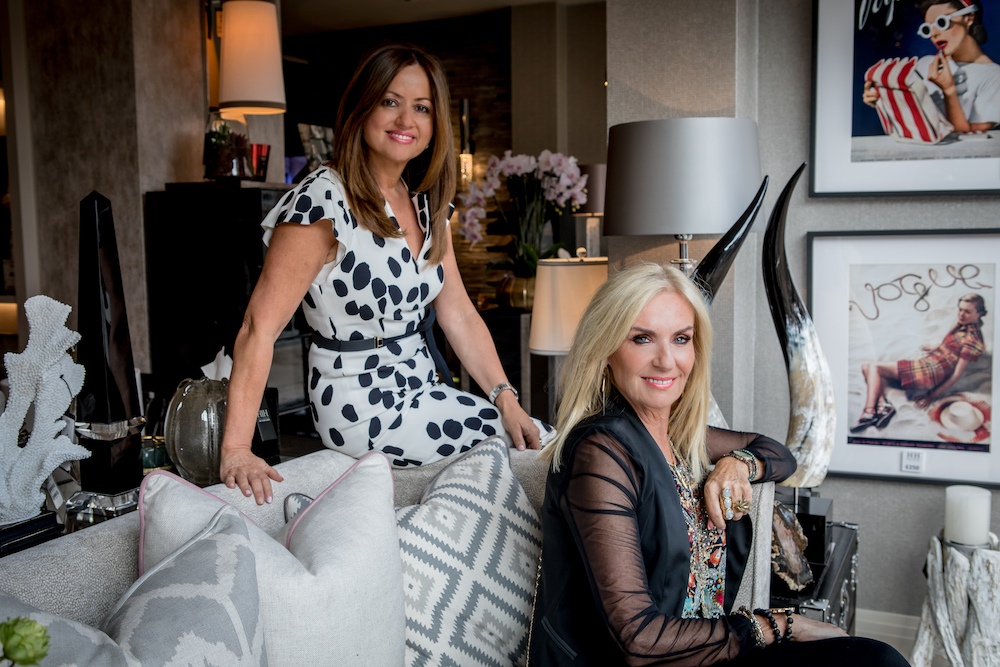 Helen and Jenny, thank you for taking the time to talk with us.  Firstly – tell us a little about how the business started? What inspired the foundation of Hill House Interiors?
We set up Hill House Interiors 20 years ago – we had both been working in the property industry and been managing our own home and interiors projects individually, so it seemed a natural progression for us to go into business together. We started out working from a home office – since then, we have built up a mini-empire, with a team of 22, a large studio and a lifestyle showroom in Weybridge.
What challenges and advantages has working in partnership presented to you both over the years?
Having another person in exactly the same position as you definitely relieves some of the pressure that comes with running a business, and helps us both to maintain that all important work/life balance by sharing the responsibility and workload.
It's also a lot more fun! We both feel very grateful to work in a career where we can 'create' every day, and we regularly bounce ideas off each other – something that is so important in a creative role – and make all the important decisions together. The fact we work as a partnership is absolutely integral to the success of our business.
All successful partnerships work in different ways.  How do you divide the work?  How do you work on all projects together or do you work with different clients in different ways?
We have an incredibly passionate, highly skilled and dedicated team at Hill House, who keep smiling even under pressure, and enjoy coming to work every day – employing the right people is such a key element to the success of any business, and we like to lead the team by example.
Our clients love that we are personally involved in every project, and we work together, inspiring each other to create exceptional interiors that surpass the expectations of our clients. A lot of the time, we split the projects evenly between the two of us, and while Hill House has a strong brand aesthetic, as individuals we can bring different skillsets to the table – whether it's experience with a certain culture, or working with a specific developer.
We work very closely with our clients, building strong relationships and a lot of trust throughout the lifespan of a project – it's a very personal experience, and we always prefer to involved from day one, to immerse ourselves in the house and what it is the client wants to achieve. A lot of these relationships continue to grow over the years, as we are brought back onboard time and time again – whether for holiday homes or city bases, or even the occasional super yacht!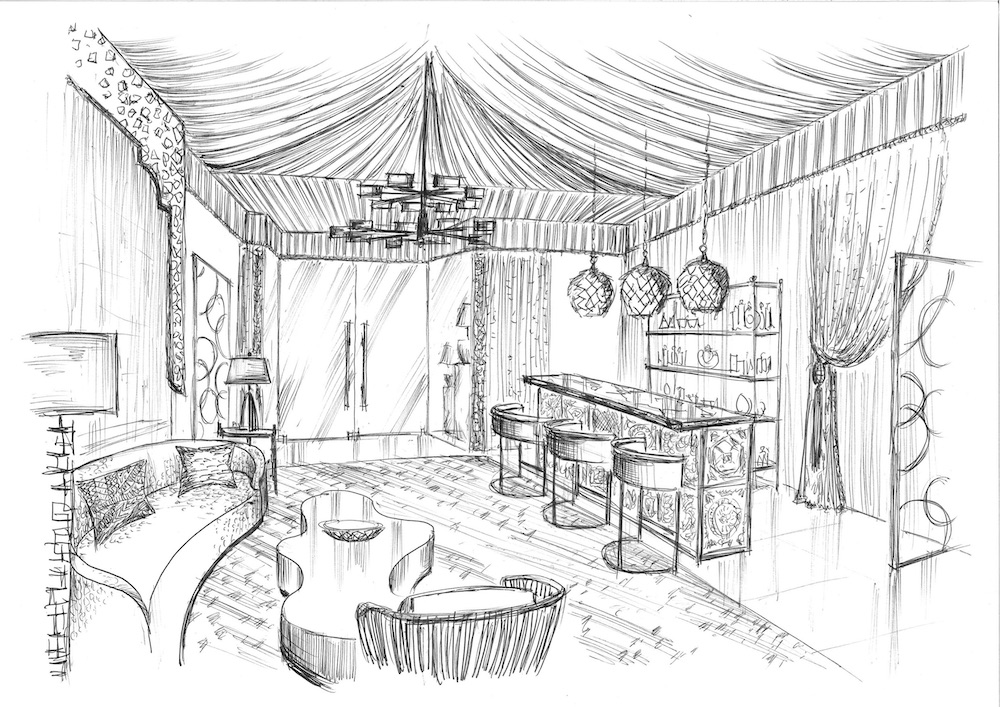 Sketch for The Media Lounge in the Arteriors showroom at Chelsea Harbour.
Setting up a business can present many challenges.  What advice would you go back in time and give to yourselves about setting up the studio? 
Don't run before you can walk! We took the time to grow the business organically, and over the years have not only managed to build a great portfolio, but also a very passionate, dedicated team. That in itself is one of the most important elements of any business.
Also, always have a well organised office – it really is invaluable, and helps the day to day to run as smoothly as possible. We are very lucky to have a large design studio with ample space for sample storage (from wood and glass to ceramics and fabrics), and we ensure everything is kept in its rightful place.
Are there any projects you are especially proud to have in your portfolio?
We are proud of every single project we complete – our single aim is to exceed the client's expectations and create beautiful interiors they are proud of, and enjoy living in. While we are unable to share some of our projects due to client privacy, we do enter a number of interior design awards, and it is of course fantastic to be recognised by our competitors and peers within the industry.
How much do you engage with Social Media?  How has it's growing influence impacted your design process, if at all?
Social media has exploded over past 5 years, making interior design – amongst a lot of other things – much more accessible for the general public. While clients used to come in and list their favourite hotels or artists, or bring in magazines to give an idea of what they like, now we are looking at Pinterest boards – there's so much more information available at the touch of a button, and social media in particular is a library of inspiration, ready to be explored.
On the Hill House accounts, we like to give our followers an insight into what we're doing day to day, and offer a greater understanding of the artistry and craftsmanship that comes together to create the overall design scheme.
How would you describe your style? 
While each project brings out its own innate design ethos, we're told we have a truly distinctive style, and an organic talent for creating timeless elegance through the use of a wide variety of fabrics, exquisite textures and innovative finishes. This is evident in every scheme we work on, whether it's within an incredibly contemporary penthouse apartment, or Listed duplex renovation – the quality and attention to detail is unwavering, but the results can vary significantly, depending on the client and brief!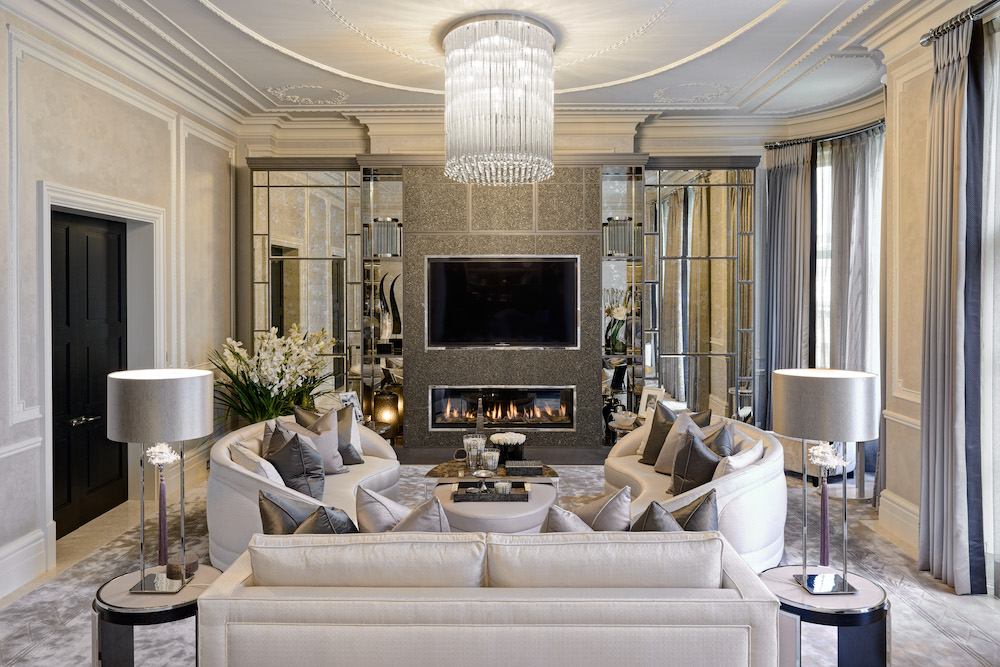 Grade II Listed Duplex Apartment
Are there any trends or styles that you think are due to make a come back?
In the last few years there's been a gradual change from minimalism into more detailed, opulent and uniquely layered interiors; we're seeing it in boutique hotels and the very best restaurants, and it's filtering into the high end residential industry too. Think rich tones, embellishments, elaborate finishes and beautiful textures from the very best artisans, of which there are an abundance here in London.
How did you choose your Top 5 Picks?
We love to work with suppliers who have the same approach to design as we do – we deal with the little details which make certain interiors really special, like made-to-measure soft furnishings, and sourcing the perfect artwork and accessories for every room. The suppliers we've selected for our Top 5 offer some of the most intricate, detailed products that resonate with our client base, with amazing levels of design and quality that we feel are truly worth investing in.
What does the rest of 2019 hold for Hill House Interiors? And for your both personally?
We have an incredibly busy few months ahead, having been shortlisted for numerous projects at both the Design et Al and SBID Awards. The Medina Lounge, an enticing immersive installation we have created within the Arteriors showroom at the Design Centre, will launch at FOCUS/19 (we will be doing an exclusive introduction at 2pm on Monday 16th September!), and we also have an exclusive collaboration with EPOC launching at Decorex in October – stay tuned!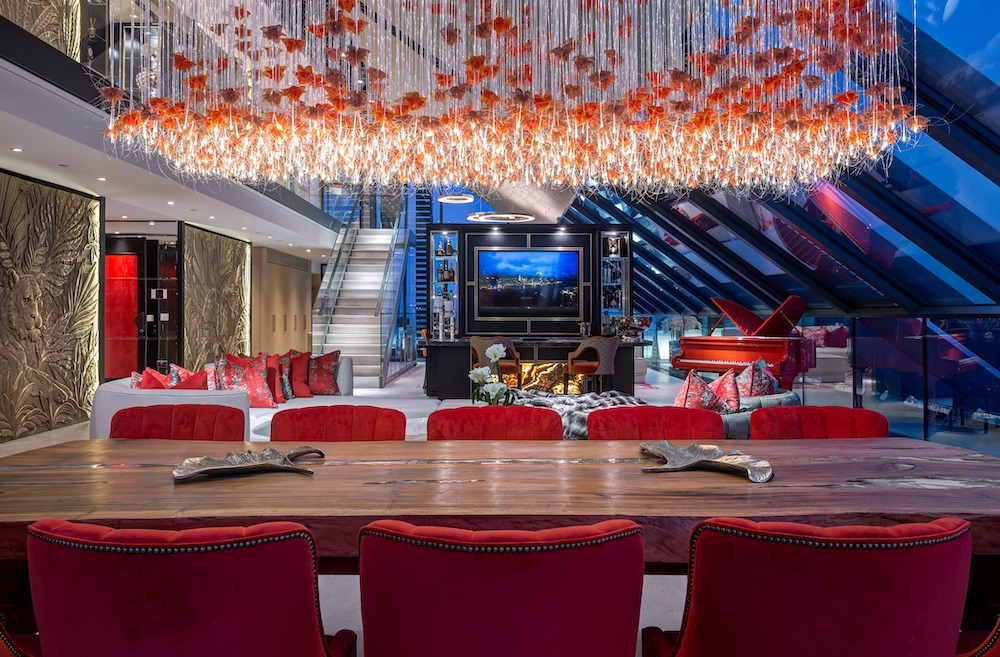 Bankside Penthouse Apartment