Q&A with Faye Bovingdon-Bryant
We are delighted to welcome Coach House as the newest member of Chelsea Design Quarter.  For over 40 years Coach House has been a trusted name to the trade, offering an extensive range of furniture and accessories.
Faye Bovingdon-Bryant is their Sales Director and we interviewed her to learn a little more about the company, their products and how they are approaching the current pandemic situation, as well as taking the opportunity to get to know a bit more about Faye's background and style inspirations.
*This interview was conducted via email in light of recent circumstances. *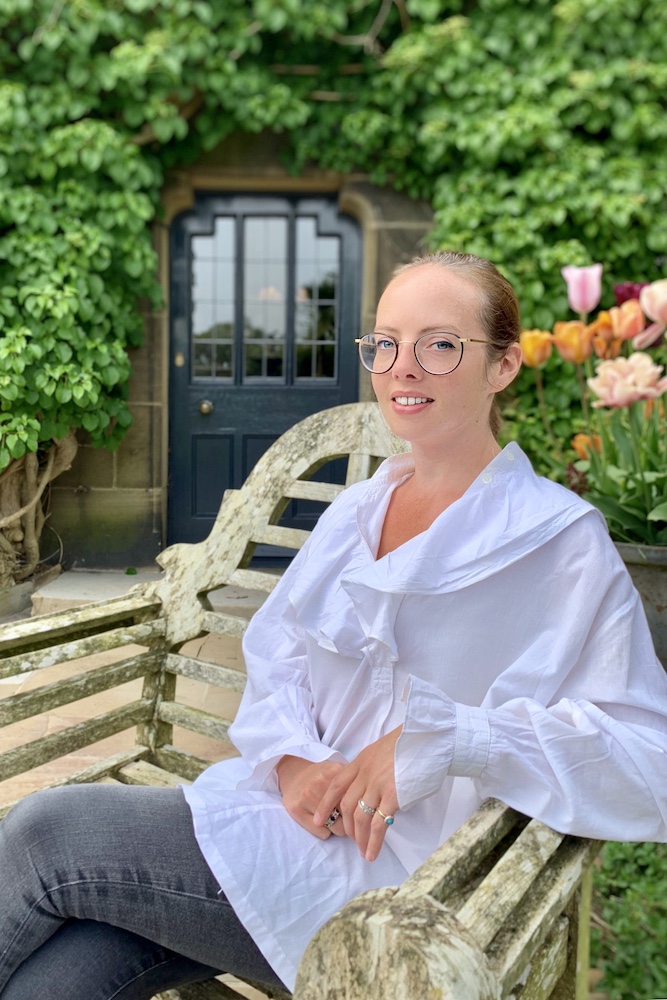 Faye, thank you for taking the time to answer our questions why don't you start by telling us a little more about you and your background?
No problem! My position in the company has evolved over the past 9 years from being our first regional Account Manager driving miles around Scotland to Sales Director managing a team covering the whole of the UK and export. I am also involved in the buying, alongside my parents and siblings. It's collaborative effort as we all source and design product which is interesting for me as I am able to view the product journey from conception to launch and finally to sale.
We understand that Coach House is a family business.  Who founded the company and how many members of the family are currently involved?
The company began 40 years ago in 1977 as an antiques business founded by my mother and her father however it became what you know it to be now in 1984 when my father joined and they began selling reproduction furniture. It was pure chance that an antiques dealer and very dear friend from Holland whom we used to swap antiques with weekly sent a container of pine spindle back chairs one week as an experiment. That decision and the subsequent rapid sale of such chairs changed the course of all our lives and the trajectory of the company forever. All five of us, my parents and us, the next generation, perform different roles in the business but it works very well as we are given freedom to shape the company in our own ways.
How does the family dynamic work?  Do you find yourself talking shop at the dinner table? 
Absolutely! But honestly, it's in the blood. We are all obsessed with interiors. Even when we try to ban work from conversation it creeps back in because it is what we love. The dynamics are great though, we all lean on each other and bounce ideas around constantly.
You have an extensive range of products how do you source them? Are any designed in-house? 
We source from around the world. From Indonesia, where we have makers and factories who deal solely with us, to India and China and UK suppliers whereby we both source and design product. Coach House has it's routes in antiques and this influence is felt within the collections as pieces are inspired by shapes we love as well as favourite periods. Also, as it is our own, we can direct the looks we wish to explore. The design team at Coach House is another example of how collaborative of the company is as there are 10 of us in total working on new collections and product development at any one time.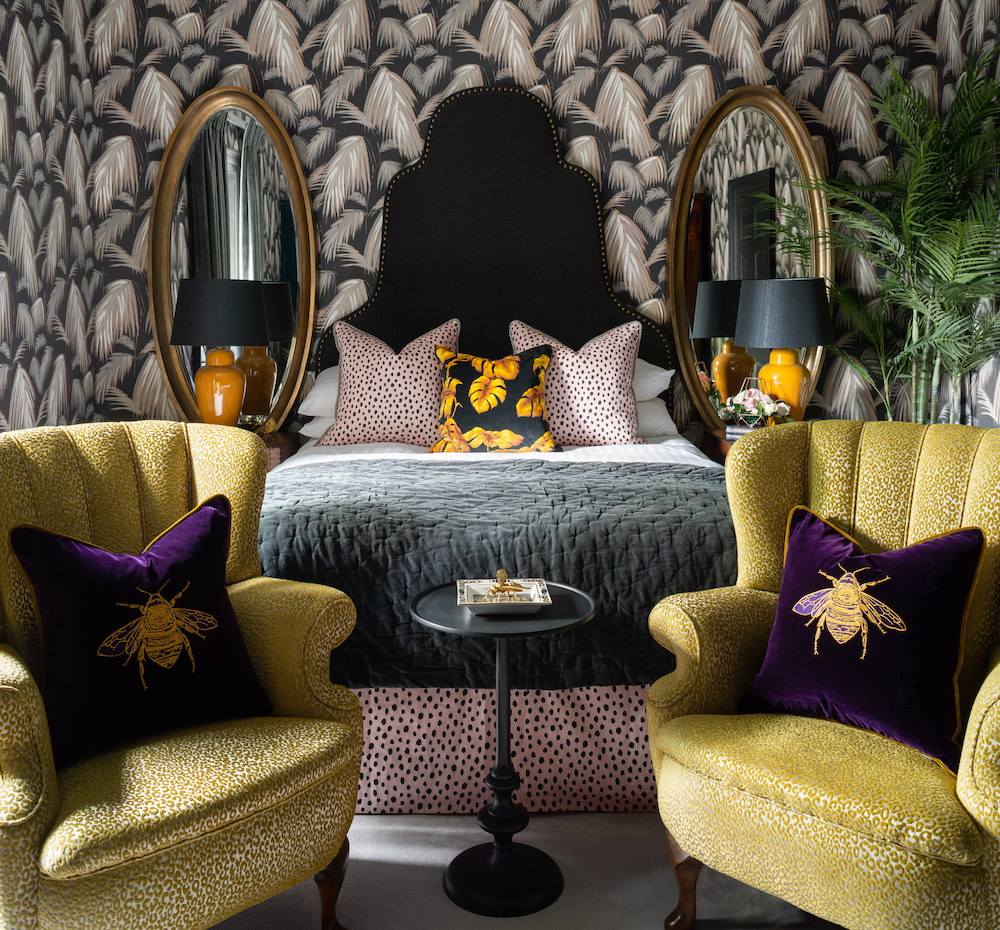 Charlton Hall, designed by Jeffreys Interiors. Photograph by Zac and Zac Photographers.
Are there any projects that Coach House has been involved in of which you are particularly proud?  
We work with some of the more innovative retailers, designers and developers in the UK. One of my favourite projects recently was Charlton Hall in Northumberland which was designed by great clients of ours, Jeffreys Interiors in Edinburgh. The spaces really surprise you which I love.
Other than just projects I find it amazing to see our products in incredible retail spaces like Silverbirch Nurseries in Lanarkshire or seeing how CH is used by such influential designers as Abigail Ahern and Joanna Wood.
Do you have a personal style? Or any strong style influences?
I am rather eclectic in my own taste. I love Coach House however my home is a mix of old and new. I am not militant about sticking to a particular style but am influenced by the space. A major inspiration at the moment is Oliver Messel. I find his influence on Caribbean architecture and interiors fascinating and am in the process of creating my own little Bajan retreat in our garden although the weather certainly will not reflect that of the Caribbean given that we live in Glasgow.
Is there anything you particularly covet for your own home?
I have a Napoleonic, bleached walnut chest, that was sourced from the wonderful Michael Vee Design in Melrose, Scotland,  in my hallway that I love. I deliberately kept the rest of the hallway minimal as the piece deserves the space to itself. There is also a rug in our bedroom that my parents bought me at an antiques fair when I was younger. Of the Coach House pieces I have, it has to be my daughter's cot-bed. Our Nursery collection was designed by us and is handmade in Indonesia. I like it because it is design-led rather than being baby-led…and she sleeps very well in it thankfully!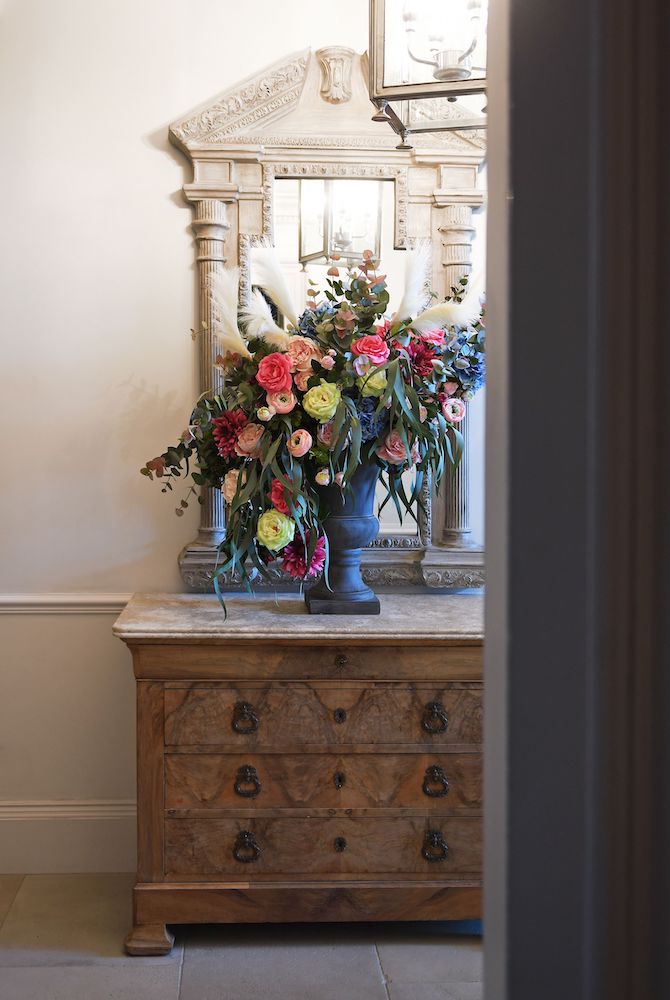 Faye's Napoleonic, bleached walnut chest in her hallway. Also shown a stunning arrangement of fake flowers also available from Coach House.
How is the business operating under current circumstances?
Closing the business on the 24th of March was one of the most surreal days of my life. Normally we have 40+ vehicles out on the road weekly delivering goods nationwide and to have them all lined up on site was difficult but it was the right thing to at the time. We have recently decided to re-open on a minimal basis in order to allow customers to collect goods safely from us. This has meant changing the way we operate as completely contactless processes were created. Times are very tough for a lot of our customers at the moment as they are for millions of people and we are very looking forward to the day that we can see them all again in Lancashire or London.
Obviously, many things are up in the air but do you have any plans for 2020 that you would like to share with us?  
We are hoping to exhibit at Maison & Objet this September which is very exciting as it is not a show we have exhibited at previously however we will have to wait and see if it goes ahead. Thankfully the organisers are generously allowing us to defer attendance to the next year, if the show is cancelled.
How do you think the current situation might affect design and influences on design in the coming months and years? 
During the lockdown so far, we have continued to develop ideas and samples are ready to be shipped from our suppliers as soon as we are able to receive them therefore I am excited about what the future holds in terms of our collections. This situation will influence art, design and indeed interiors for years to come, as do all major human and historic events, but people will always need beautiful things in their lives.
Thank you for taking the time to answer our questions!