Q&A with Chloe Bullock
Chloe Bullock has been running Materialise Interiors since 2005, which specialises in animal-friendly, human-friendly and planet-friendly interior design.  Chloe is also one of nine founders of Interior Design Declares a new initiative that is part of Construction Declares, a global petition movement uniting all strands of construction and the built environment.  Interior Design Declares was launched in March 2021 and asks those within Interior Design to sign up and declare their intention to design spaces with a more positive impact on the world around us. 
We were pleased to have the opportunity to put some questions to Chloe to learn more about her background, why she is so passionate about Vegan Interior Design and what prompted her to get involved with Interior Design Declares.
This interview was conducted via e-mail.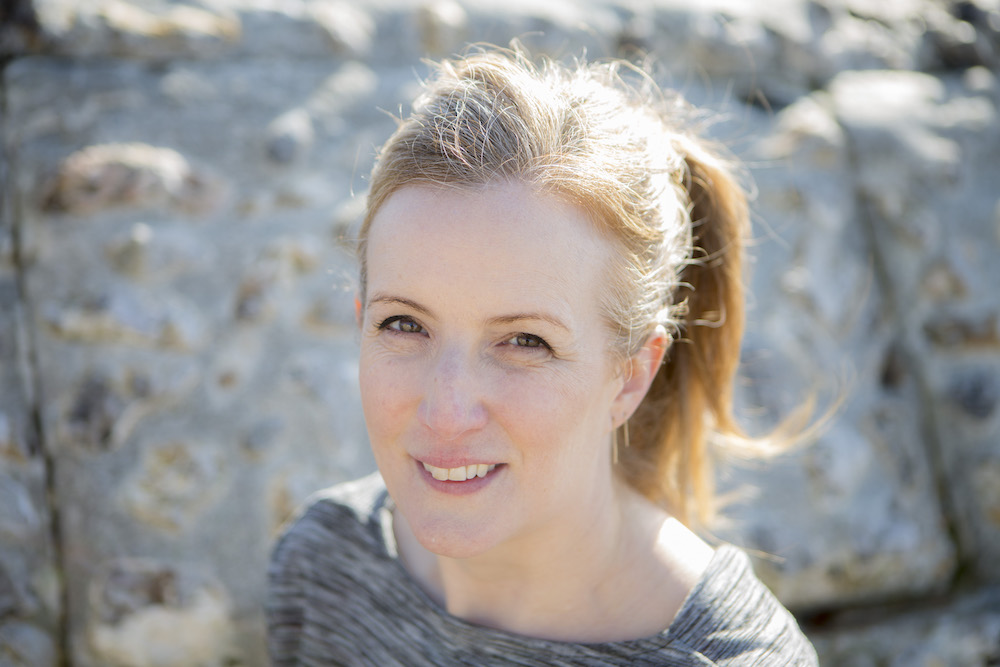 Chloe, thank you for answering our questions, perhaps you could start by telling us a bit about your background and how you came to work in Interior Design?
I loved design and ended up making the difficult choice between studying interior design or furniture design at polytechnic and opted for the later as I thought it was more challenging!  After graduating I worked in the design office of a furniture company – transferred from drafting on a drawing board to CAD – was made redundant (it was the early 90s recession)…..and then I wrote to Anita Roddick whose growing company in Littlehampton is along the coast from me in Brighton.  I was given an opportunity to work for them and I was lucky to join their brand new retail design team.  I had the most happy and educational 10 years there and then left feeling confident and empowered to set up my own interior design business in 2005.
Materialise Interiors is very clearly "Animal-friendly, human-friendly and planet friendly" – what does that mean in practice?
It's a continuation of my The Body Shop education ethos.  Do what you do without harming the health of the planet. animals or people.  It's very hard for me not to work this way….  it's been over 25 years!
You work with both commercial and residential projects – do you have a preference for either?  Do you find either type of design easier to keep within your aforementioned ethos?
Commercial interior design is really quite different.  I love working on offices and restaurants.  There's lots of marketing involved and therefore opportunities to do the storytelling of the exciting products that are being used.  Homes really are where you can get into helping clients to avoid animal products – so I really love that as well.  Providing I can influence clients on sustainable and vegan specifications – I'm very happy to help both!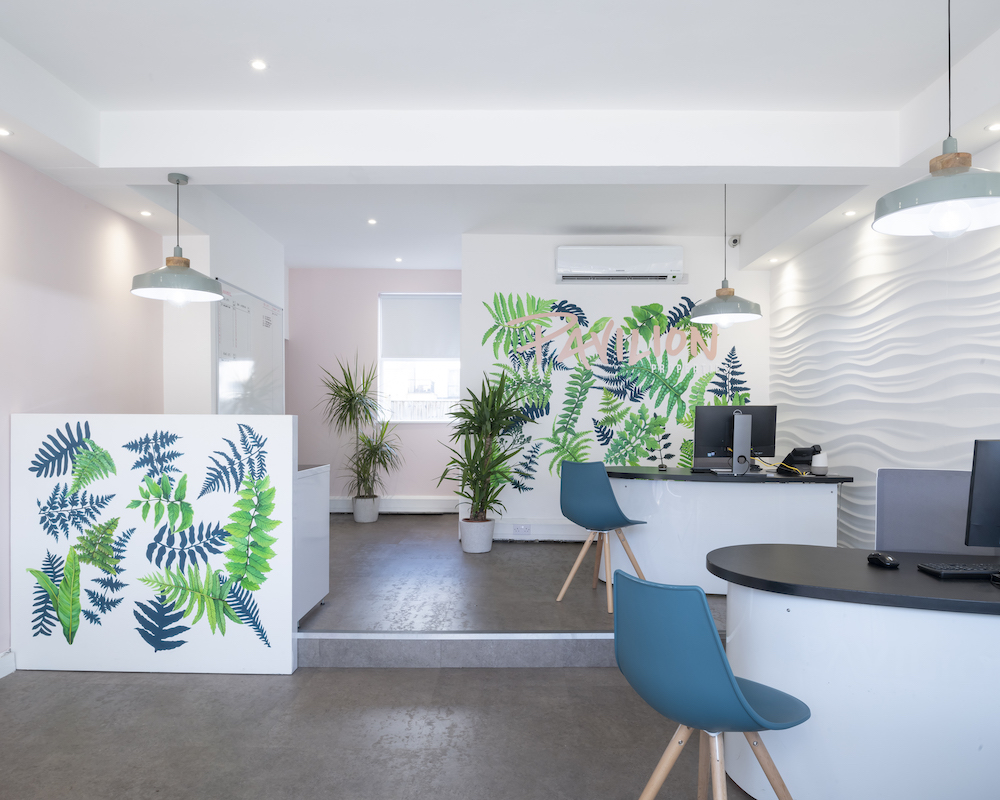 Pavilion Properties, Brighton. Photo credit: Jim Stephenson www.clickclickjim.com
Tell us a bit more about Interior Design Declares.  What prompted you to get involved? 
I was told the other day that the average life span of an interior is just 3 years.  That's just crazy – isn't it?  All eyes have been on architects to play their part in the climate emergency and diversity loss – but look at how wasteful the interiors industry is.
The concept of Trends to me is wrong.  To change something because some clever marketing has influenced you to choose one colour over another.  It's not about buying things to last and love – which I believe it should be.  Invest in things you can repair and pass on as an heirloom.  Why aren't we doing that anymore?  We seem to have lost the appreciation and value of items –  and we certainly don't seem to be thinking about how products are made, where and by whom?  And what happens to them once they are no longer wanted?
We need to learn and improve together.  It was felt that our Declaration needed to include our supply chain to really have the opportunity for making significant change.
What are your hopes for the Interior Design industry going forward?
It's early days but I hope we will continue to get a good amount of interest and signatories.  We can follow the Architects Declare's format of sharing learnings and improve together.  We'll put pressure on our supply chains, product lifecycles, what happens to the management of waste, the end of the first use of a product – encouraging repair and recycling.  I really hope we get more into rental of FF&E and lighting possibilities within our industry.
Are there any current trends which make your heart-sink?  Or, more positively, your heart-soar?  Why?  Heart-sink –  Pantone and Dulux 'colours of the year'.  Heart-soar – the surge of interest in sustainability and wellness in interior design.  The 'how it's made' – 'can we reuse it, repair it?', 'how does it rot at the end of it's life?'  How can we make interiors healthy for the users of the spaces?  Now all we need is more consciousness on the 'who made it' and 'how far has it travelled' and I will be so happy!  Trends need to shift in emphasis to this.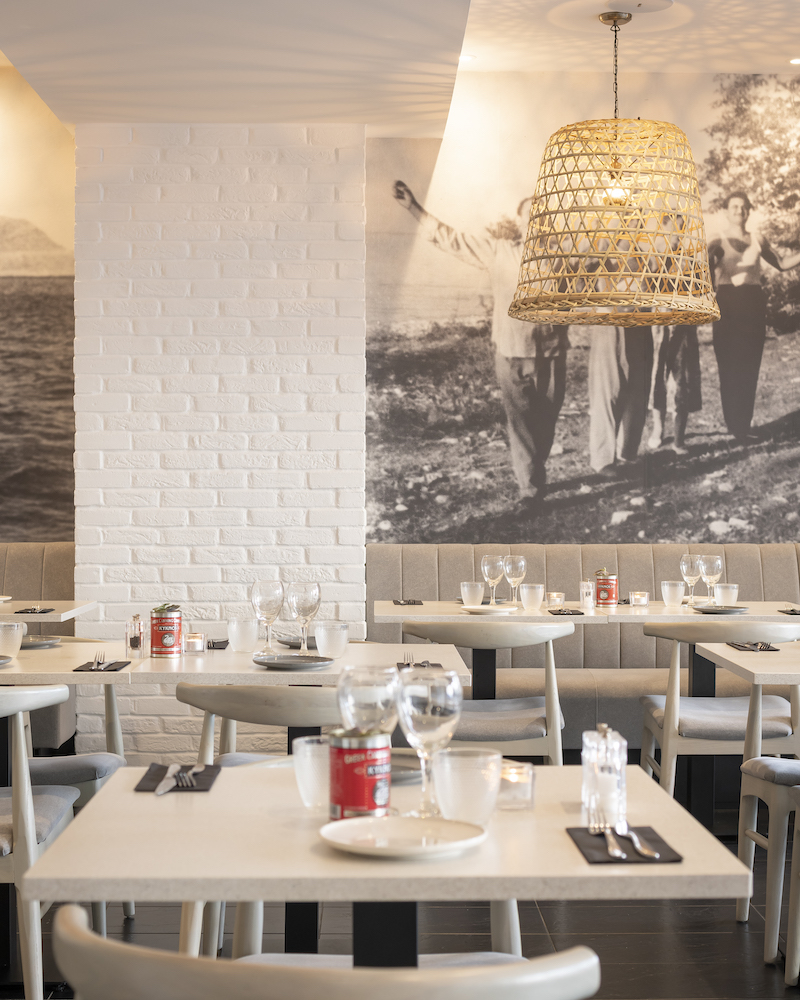 Nostos Hove. Photo credit: Jim Stephenson www.clickclickjim.com
Which projects are you particularly proud to have in your portfolio?
Over the 27  years I've been a designer, I've worked on lots of projects.  The work we did at the Body Shop in the 90s to produce consciously sourced and specified retail interiors was so exciting and to follow a store concept to work in Australia was a wonderful experience.  More recently – I love the projects where clients know little about sustainability…..once we discuss it and how we can avoid the use of animal products – they opt for the better choices I'm offering.  It's really satisfying.  If small business and home owners can do this – then it can happen on a large scale too.
This recent two pronged sustainability push that we are doing through Interior Design Declares and also my professional body the British Institute of Interior Design (BIID) is something I am very proud to be a part of.  We all need to learn together and also put pressure on our supply chains to do better.
How has COVID impacted your working practices over the last year?  Has it offered any surprise benefits?
Well I've been working from home for 15 years now – so no change there.  I've been trying for years to get clients onto video conferencing for online consultations and design services as it broadens my reach to get to those who like my sustainable and vegan offer.  So the rapid adoption of that has helped me enormously.  Plus I've attended far more conferences and courses globally that simply would have been too complicated or  expensive  to attend in person.  Learning has become much more accessible.
What are your plans for the rest of 2021 and beyond?
More learning – I can't stop learning!, more collaborating with other designers – perhaps  even helping their companies to be more sustainable too?
Thank you for answering our questions.
You can learn more about Interior Design Declares here.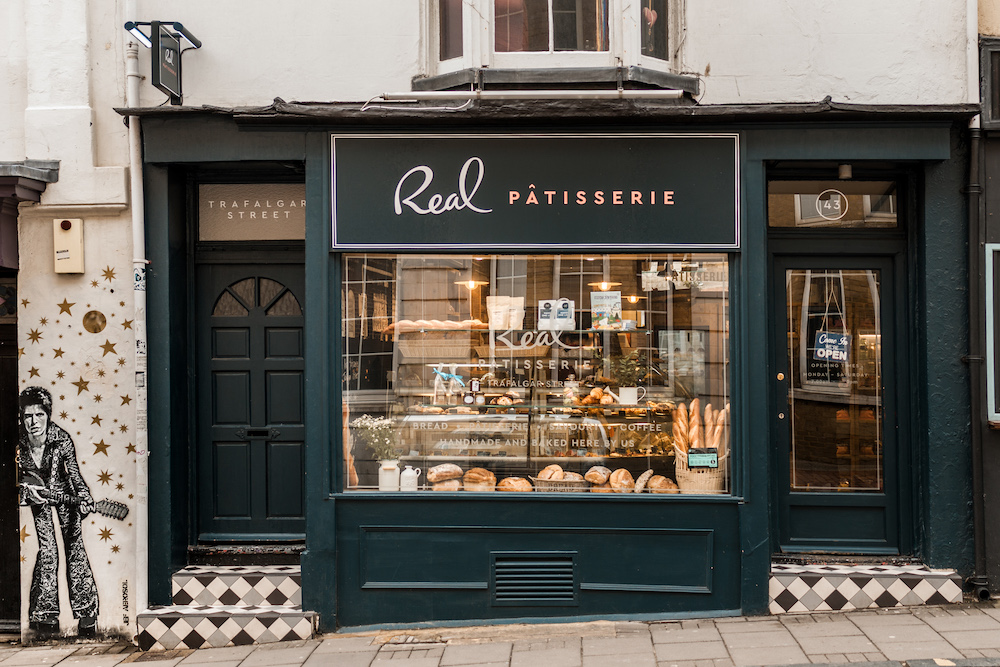 Exterior of Real Patisserie, Trafalgar Street, Brighton. Photos credit: Chloe Lana photography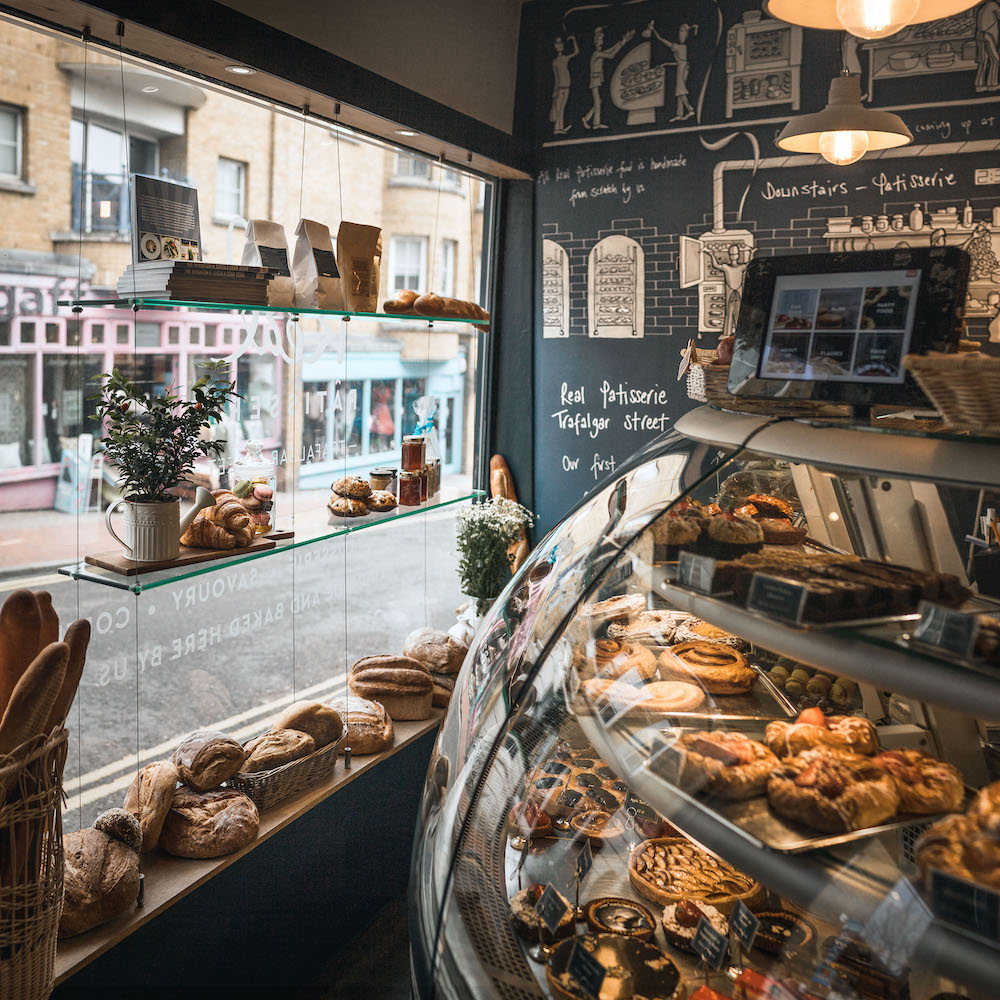 Interior of Real Patisserie, Trafalgar Street, Brighton. Photo credit: Chloe Lana photography