Q&A with Alan Scott
Alan Scott is the Creative Director of Johnstons of Elgin who design, weave and supply the finest cashmere and wool products. Founded in 1797 by Alexander Johnston the business remained in the hands of the Johnston family for four generations before the Harrisons bought it in 1920. The business today remains family run and employs 700 people at their mill in Elgin where they produce fabrics and home accessories and 300 people at the mill in Hawick which produces the knitted products.
Alan was named as one of 'The 50 Most Influential People in British Luxury' appearing on The Walpole Power List 2019. He is responsible for both the interiors & fashion design teams within the company and we were thrilled when he agreed to be interviewed by Chelsea Design Quarter. We took the opportunity to learn a bit more about his background, how he and the business has adapted to current circumstances and how he thinks the pandemic might be interpreted by the design world.
Please note this interview was conducted via e-mail in keeping with current social distancing guidelines.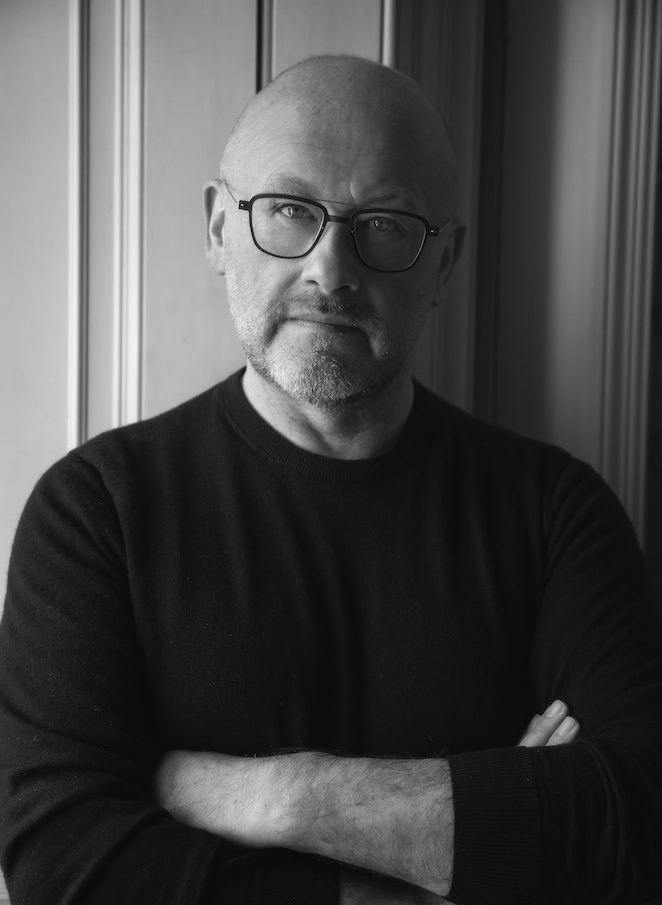 Alan, thank you for taking the time to answer our questions. Perhaps you could start by telling us how you came to be in your current position?
Of course, I was approached by Johnstons of Elgin directly, I was working in Paris with Aigle SA, a French Heritage lifestyle brand that was also a vertical operation. As they grew the Brand and expanded, Johnstons were looking to fill a new position of Creative Director to coordinate all their own design and product output. I was very interested in the potential to develop and create a new chapter in the company's history and look forward into their future, and to use all of their untapped creativity and abilities.
Johnstons of Elgin has both interiors and fashion arms to the business. How much does one influence the other?
Currently, we connect both areas through the design and innovation of weave structures, colour and new qualities or finishes. We also apply a similar merchandising structure to the collections so they feel in sync.
Do you have a preference when it comes to designing fashion or interiors? How hands on with design are you now?
I am interested in all lifestyle products, for me they are very much linked. Similar trends in design and aesthetics can resonate across the industry. I think we have so much opportunity to reach new audiences through our interiors collections.
You are the only manufacturer in Scotland that is able to take natural fibres from their raw state to your luxurious end products – including your interiors fabrics. What sort of creative freedom does that give you?  Does it give you an advantage over your competition? 
Around 30 different processes are involved in transforming raw fibre into our high-quality finished products, and it all takes place in our own Scottish mills. Our Elgin mill is the only vertical mill in Scotland, meaning everything from dyeing and blending to carding, spinning and teaseling, happens on site. This puts us in a unique position to control all aspects of our manufacturing chain in quality and creativity but also in telling this story of our product journey from the source of the fibre to the final product – a story of Slow Luxury. We are one of the last in Europe who operate this way. Using precious fibres from around the globe makes Johnstons a unique leader in this part of the industry.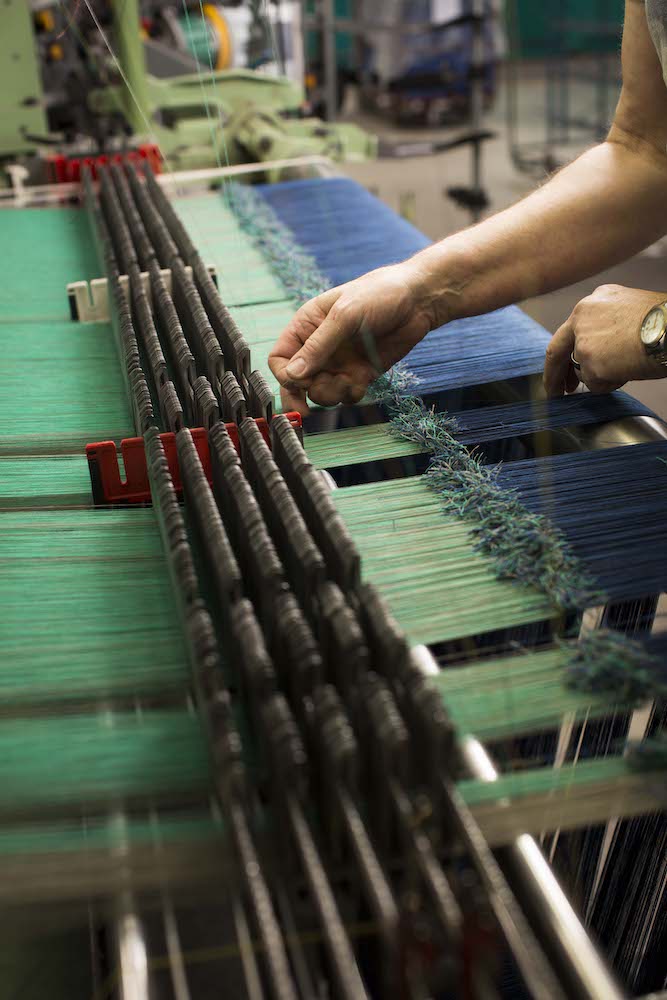 How have you turned the expertise in the mills to making interiors fabrics?
Innovation has always been integral to our business, from our experimentation with fibres to our investment in ground-breaking technology. Our estate tweeds, designed to reflect the colours of the Scottish landscape, pioneered the concept of camouflage and in 2013, received the Royal Warrant of Appointment to His Royal Highness The Prince of Wales. We continue to explore new fibres and technology today. Taking this ability to adapt, we have turned our expertise in making apparel cloth to making fabrics for interiors use and these fabrics are now used globally in high end residential and contract projects.
You have some of the most luxurious cashmere, merino and lambswool throws in your collection. Do you have any secret (or not so secret) favourites?
We have developed and elevated our throw collection and included some iconic new pieces that may link to the other parts of the brand in design direction. I love to try things we haven't done before and bring newness to the collection. My secret favourite is our iconic blanket throw in our 90/10 wool cashmere blend with whip stitched edges, a timeless must have.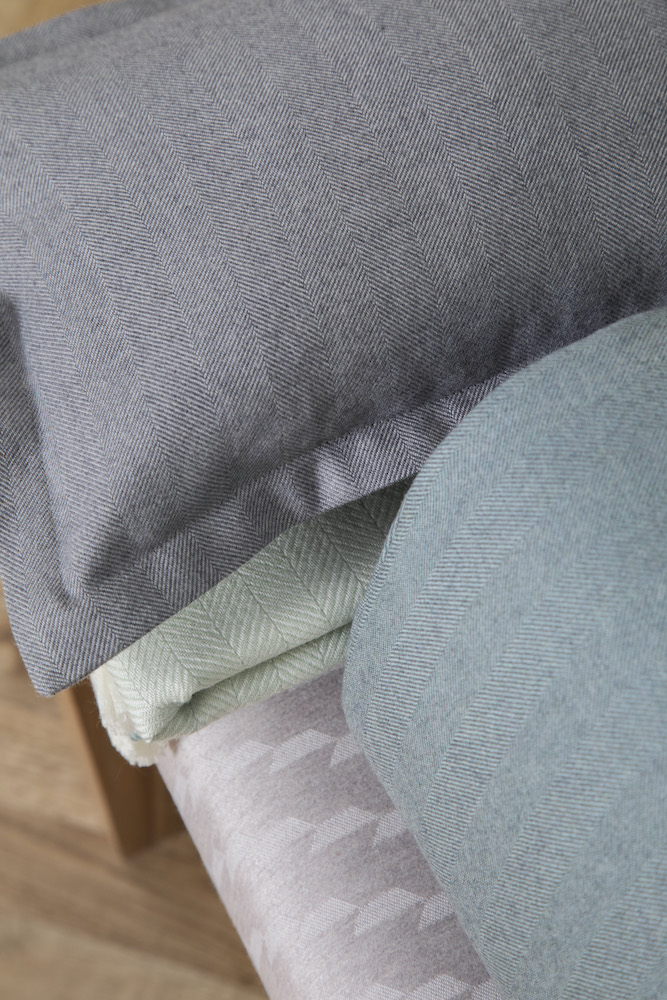 How has the company had to adapt in the current circumstances? Are the mills still operating?
We decided to suspend our immediate operations in March due to Covid19 and are now planning our return to open again. Behind the scenes we have a small group of key managers who are implementing new health and safety measures on all sites so we can all stay safe when we return. We are though continuing to design for our future, we are confident with great care we will resume soon with government guidance.
How have you had to adapt when it comes to working from home in the past few weeks? Have you found it has subdued or enhanced the creative process? 
It has been a very new experience as I was travelling so much before the lockdown, our company is very close on all levels, so my team speak regularly and plan forward. I have come to appreciate a new way of working and communicating and will definitely adopt more of these ways going forward. There is a real clarity of vision for a simpler way to do business.
How do you think the current pandemic will influence the design world in the coming months and years?
I know after much discussion with my industry colleagues that smart creativity will lift many parts of the industry through these times. There is also a sense of re-setting our speed, a slower sense of timeless iconic designs that define each brand back to their DNA with their own individual stories and history. It's a time to speak to our customer directly, primarily through a digital platform and engage them on a personal level with inspiring product and stories.
Thank you again for taking part!