Q&A with Sarah Mailer - Girl About House
Sarah Mailer is the face behind Girl About House, she runs the blog alongside her successful interior design practice, Sarah Mailer Design.  Sarah is based in Hertfordshire, and works in and around London on residential projects.
Girl About House was named 'Best Newcomer' at the Amara Interior Blog Awards 2017.  The blog covers all things homes & interiors – with reviews of events and shows that Sarah has visited, as well as fantastic decorating and styling advice. Sarah has an elegant, classic yet contemporary style and has a great eye for detail and finishing touches.
Sarah is well known to the members of Chelsea Design Quarter, both as a blogger and an interior designer and we are delighted to welcome her as the next designer in our Top 5 Picks series.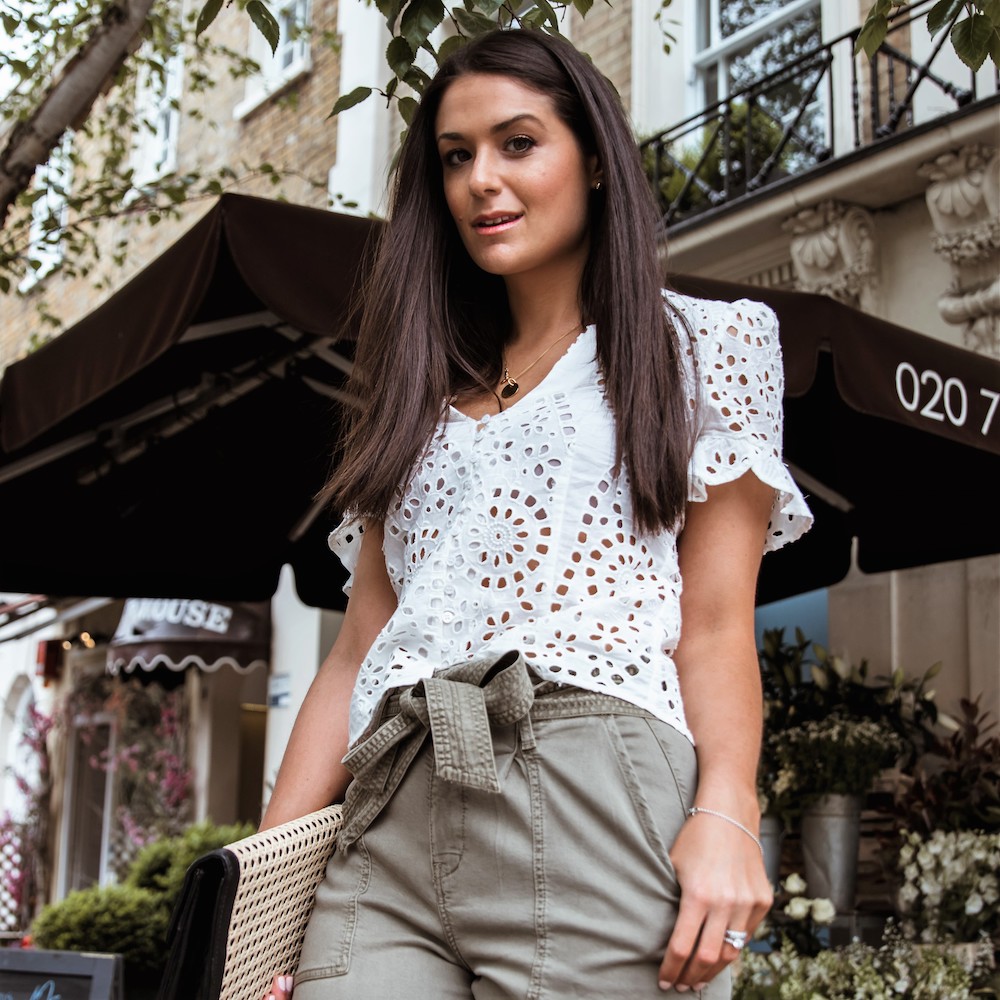 Sarah Mailer
Sarah, thank you for taking the time to talk with us.  Firstly – tell us a little about your background and how you came to interior design?
My path has been a little unconventional really. Nevertheless, I think it's important to demonstrate that there is not necessarily a 'right' or 'wrong way of doing things and that hard work is the key to success, no matter the route. I had always been art and design obsessed and following my Art A-levels, I studied History of Art and Architecture at The University of Birmingham. Alongside this, I subsidised my studies by holding art exhibitions of my work and selling my paintings – large, textural abstracts with metallic elements.
Feeling a little lost after university and unclear of where to go next, after flirting with fashion and marketing, I trained as an Art, History of Art/Architecture and Textiles teacher. Focusing on exam level teaching, I progressed to Head of Art. Alongside this, I continued to sell my artwork and designed digital prints for textiles. For years, I was also designing and styling friends' homes – which had quickly expanded to friends-of-friends and then people I didn't know through recommendation alone. It got to the point where I was getting so many requests and essentially working for free that I decided to take the leap of faith.
I decided to leave teaching in 2015, following the birth of my second son to put all my efforts into interior design. This was the more formal beginning of Sarah Mailer Design but something that had been in progress for years prior – I already had a strong portfolio behind me. Although a 'different' route into the industry, I truly believe that my background has definitely helped and I always felt my skills were very transferable. Things like effective listening skills – integral when liaising with clients and understanding their specific requirements – alongside an understanding of architectural styles, materials, pattern and texture, colour, textiles and the ability to generate ideas are all incredibly important as a designer and were carried from my previous roles.
Are there any stand out projects you are especially proud to have in your portfolio?
I am now extremely proud to say that Sarah Mailer Design is working on a number of high-end residential projects. We recently completed a beautiful period property in Hampstead Garden Suburb which was an absolute joy to develop as I'm obsessed with period features and they were in abundance here. The whole house was renovated and I was given quite a bit of free reign with the design, which is always fun. The clients were beyond delighted with the outcome!
Are there any interior design projects that you would either love to have done, or would like to do?
I visit National Trust houses as much as I can and always daydream about renovating a sprawling country manor. Something extremely run-down and unloved which is waiting for those beautiful period features to be restored and the space to be reinvigorated!
When and why did you start Girl About House?  Do you find it difficult to balance both the blog and your interior design business? 
Girl About House was launched just over a year ago – in June 2017. Another idea-in-the-making long before its official launch, it was created as a forum for me to combine my obsession with design and writing. Owning a blog is a wonderful thing as it allows total creative freedom. Essentially, you are editor, content creator, location scout, art director, copywriter, photographer, marketing and PR director… It is, without a doubt, a considerable amount of work but so rewarding.
In all honesty, it is difficult to find the balance. I'm also a mum to two young boys and so that is another spinning plate but I wouldn't have it any other way. I just can't sit still!
Congratulations on winning the Amara Interior Design Award for "Best Newcomer" last year and now working as a judge for the 2018 competition.  Has that had an impact on the type of content you post? Are you in the running for any further awards this year?
Thank you! It was an absolute shock to win and has since opened a considerable number of doors so I'm ever grateful to Amara. I am incredibly excited and humbled to be judging the Best Newcomer category this year, alongside Grant (The Interior Style Hunter) and am really looking forward to exploring emerging talent. I've mentored in the past and I really enjoy seeing others develop and progress so I'm excited to be part of that process.
Girl About House has just received a shortlist nomination in the Northern Interior Design Awards which is very flattering and it's always so lovely when I'm featured on blogger round-ups and recommendation lists. The interiors blogging world is such a welcoming, supportive community and I am so grateful to be part of it.
In terms of my content, I continue to focus strongly on luxe-interiors although I love to throw in some fashion, art and lifestyle elements. Whilst the overarching consensus is that a blog should have a clear niche, I do feel we are all multi-faceted individuals with a breadth of interests and I always intended Girl About House to reflect that. There is also considerable crossover between these areas – particularly in terms of colour and trends – and so I deem it important to showcase this on the blog.
Do you think social media and a strong online presence are important for developing a business? How has the growth of social media impacted your business?
Yes and no. For Sarah Mailer Design, whilst our Instagram showcases some of our work and offers behind-the-scene insights into the design process, most of our business comes from word-of-mouth recommendations. I think that a strong social media presence is far more crucial for Girl About House. People want to see behind this 'brand'. The blog has a strong personal narrative and this is extended on the Instagram feed, my Insta-stories and beyond.
How would you describe your personal style?
My style isn't particularly crazy or heavily trend-led. I like classic pieces – both in terms of interiors and fashion – and I openly champion a timeless aesthetic. Call it boring but I'm very keen on neutrals – they are so adaptable and a great base for any scheme or outfit – along with deep blues and black. I also love metallics! Mixing them keeps things fresh and contemporary.
I always recommend spending more on key pieces (a statement sofa, handbag or failsafe black blazer) and then I mix in trends with more interchangeable elements (cushions or jewellery).
What do you see as the biggest challenges currently facing the interiors industry?
The fast pace of modern life is certainly something that is causing many industries – not just the interiors sector – issues and creating challenges. As a society, we expect speedy solutions – and often need things completed 'yesterday'. In a world where it's not uncommon to receive next-day, or even same-day deliveries, it's important as designers that we reiterate to clients that the creative process isn't instantaneous. That solutions aren't always immediate. In this climate, clients often want quick-fix answers but it's key to set expectations and a realistic timeframe from the outset. Creativity requires time to spark and evolve – from finding inspiration to channelling creativity through the various design stages from concept to completion.
Separate to this, the rise of social media has helped but also hindered the industry. Opportunists – from product to interior designers – deem it acceptable to openly imitate others' work, which is easy to do given that everything is so accessible and transparent. This can raise questions about ownership of original ideas and authenticity. Platforms such as Pinterest, whilst great for research and gathering ideas, can also discourage independent thought and quash creativity. Some clients may wish to simply recreate what they have seen online – a carbon-copy scheme – rather than consult with a designer to understand what is best for their individual needs and space. Whilst image inspiration historically occurred via physical publications, digital images are far more accessible to a wider audience. And with product links and shopping lists attached to these inspirational images for consumer ease, the role of the designer is perhaps viewed as less critical or central to the process.
On reflection each decade has a defining look, how do you think people will describe the current style of interiors in years to come?
Well we are certainly still within a 'grey area' – or '50 shades of grey'. This colour is without a doubt the key defining feature of the 2010's and whilst we are now seeking warmer variations like 'greige' and embracing more colour, grey still lives on. This decade has also celebrated pared back Scandi-styling alongside '70s fabrics (velvet, anyone) ideas (the drinks trolley) and shapes. I have enjoyed it!
Are there any trends or styles that you think are due to make a come-back?
In terms of colour, I am personally championing the return of brown. Except, let's call it Truffle or something like that which sounds far more chic. Beige, taupe and linen will also become far more popular again as we lose favour with cooler greys. Natural wood finishes, which have already gained popularity, mark the return of a whole host of natural materials and textures. I believe that 'craft' is set to become a huge trend and I think we will also be welcoming more hand-made items into our homes – from block-printed textiles to hand-blown glass or hand-made ceramics. Perhaps a fully-fledged Art Nouveau revival?!
How did you choose your Top 5 Picks?
When I am sourcing, I always have to go and see things in person (as much as I can anyway) and so I made a 'shortlist' online and then headed to Chelsea Design Quarter to choose. I like to get a sense of scale and understand the true colouration and finish (this is often difficult to interpret online). It's also great to speak to the showroom staff as they are so knowledgeable about the pieces and the design process. I also love to touch everything – the more tactile, the better!
The items I selected are all things that I would personally choose for my home. I hope you love my Top 5 Picks as much as I do!
What does the future hold for Sarah Mailer Design and Girl About House?
I sat down with my husband the other day to strategise just this and I found it quite difficult. This isn't just because I'm a true creative and so like to experiment and 'go with the flow' but also because both avenues – Sarah Mailer Design and Girl About House – offer very different paths. We would love to expand Sarah Mailer Design to include commercial and overseas projects – this is something that we are in talks with at the moment. Equally, it would be fantastic to see Girl About House expand to host events and see even more collaborative work with relevant brands. One thing is for certain, I'm extremely excited to see what the future holds…
Thank you Sarah – we are much looking forward to seeing what you have chosen for your Top 5 Picks next week!