Crucial Trading Run competition with KLC School of Design in association with Wools of New Zealand
Crucial Trading, in collaboration with Wools of New Zealand, recently held a competition for students at KLC School of Design to design a floor covering.   In addition to the basic brief to design a floor covering the students were encouraged to think about the technical restraints of designing and manufacturing a floor covering from wool.
There was an excellent quality to all the submissions, with the students putting a lot of thought and effort into their interpretation of the brief.   The winning entry was designed by Fraser Norton and is inspired by one of his personal inspirations, Josef Hoffman and his work.  The design pays homage to the designer with a contemporary approach to geometrics.  Fraser says "I remember being fascinated by semi-random carpet and fabric patterns as a child; I'd trace the lines trying to discover the code. I feel that this playful element, evident in many of Josef Hoffmann designs, has also been captured in this pattern."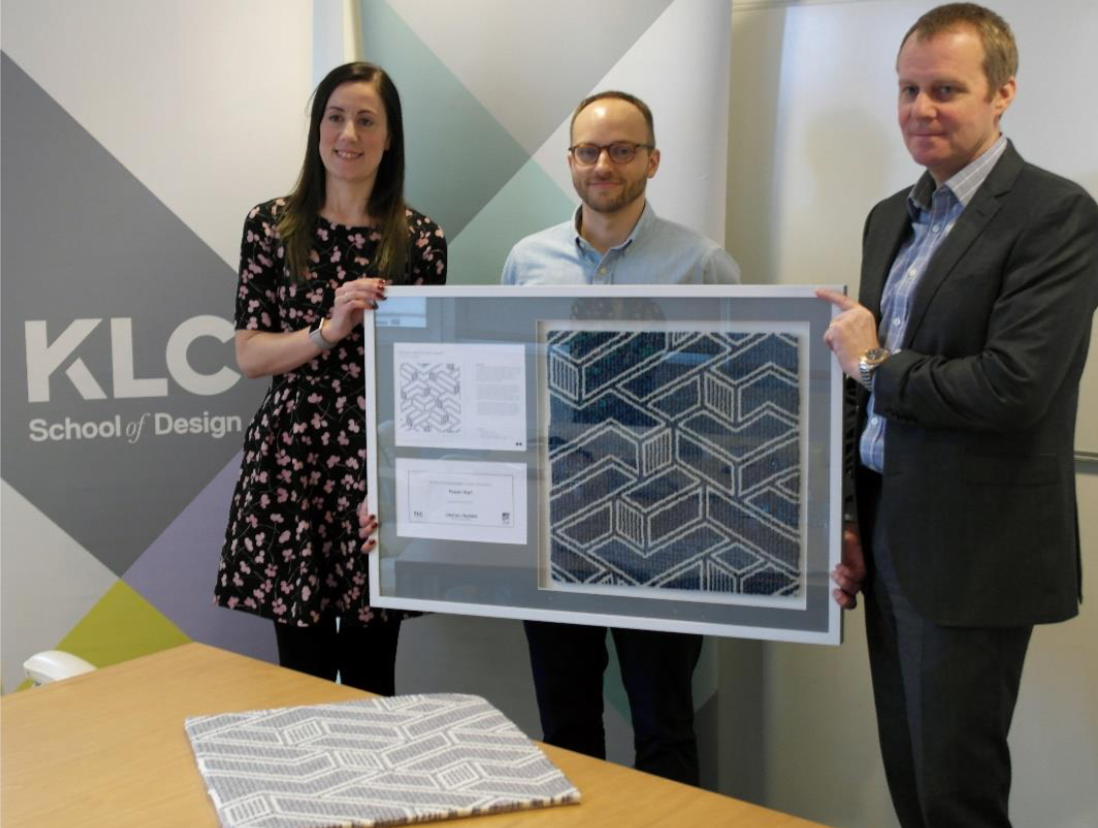 Winner Fraser Norton (centre) with Emma Hopkins (left) and Michael Turner, both Crucial Trading. Pictured with Norton's winning design
This was the first design competition Crucial Trading has undertaken, and it was such a success that they have already announced they plan to run the competition again next year.
Marketing Manager Emma Hopkins says: "It was a real joy for us to work with the KLC School of Design and Wools of New Zealand on our first design competition. The entries that we received were all such a high standard and it was great to see not only the effort they all went to but also hearing about what inspired them to create their final designs. The entries were judged by us at Crucial Trading and a team of industry experts. We not only looked at the design but also how the entrant interpreted the brief and how the design would translate into a floorcovering. We unanimously agreed Fraser Norton's design really stood out."
Rachael White, Course Leader FdA Foundation Degree Interior Design says: "The Crucial Trading floor covering design project was an amazing opportunity for the students at KLC to concentrate on a detailed design, so they really had to push their creativity, which the winning student Fraser did fantastically. Fraser created something that is complex and simple at the same time. This is evident in the quality wool carpet sample of the winning design made by Wools of New Zealand for Crucial Trading."
Congratulations to Fraser and all of those involved in the competition.