Springtime Sessions 2022

Chelsea Design Quarter is delighted to announce the return of their popular Springtime Sessions, in association with the BIID, this year taking place 26th – 28th April. With an informative and fun schedule of events the 3-day symposium will again comprise of design let talks, workshops and events.
Please see below for details on how to sign up to the individual events.
All events are free to attend and you are welcome to come to as many events as you are able.  Please note that a number of the events have limited space, so sign up early to guarantee your place.
We will update this page, so please check back for further information on the events, or please contact chelseadesignquarter@gmail.com with any queries or to get involved.
"[I wanted to] re-iterate how much I have enjoyed the last couple of days – really fantastic inspiring and informative talks. Introductions to brands I didn't know/work with and further insight into those I do. Really has given me, a much needed, hit of love for my Interior Design passion."
Clare Gaskin, Interior Designer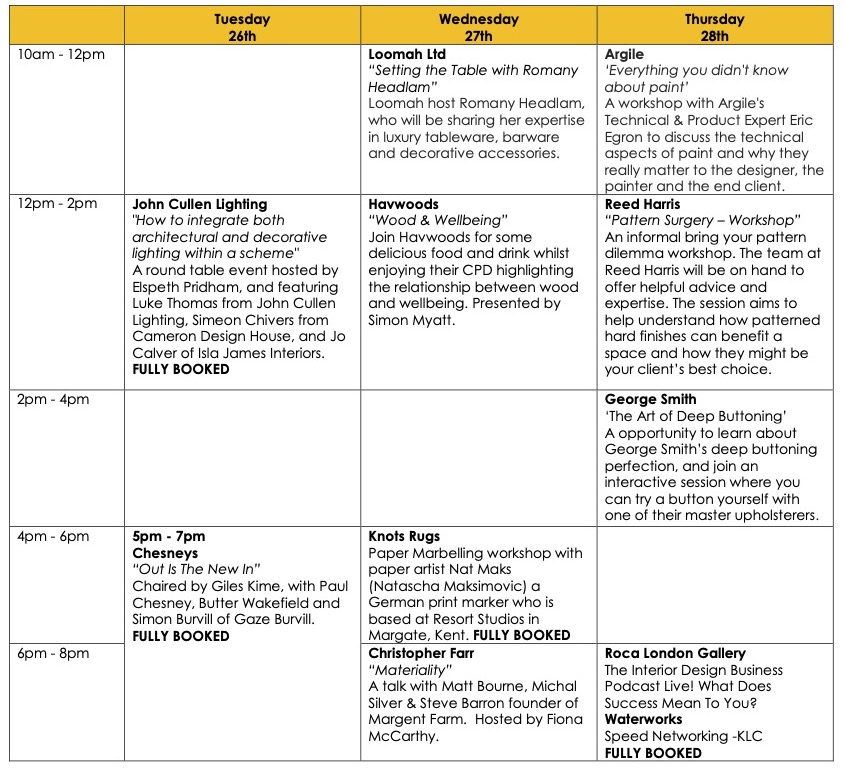 Tuesday 26th April
12pm – 2pm, John Cullen Lighting present "How to integrate both architectural and decorative lighting within a scheme"
In this session, a fantastic line-up of speakers from the lighting and interior worlds will be discussing how to integrate both architectural and decorative lighting within a scheme. Held at the John Cullen London Showroom, and hosted by Elspeth Pridham, writer of The Insider Blog and previous editor of Studio magazine, this bespoke roundtable will feature Luke Thomas from John Cullen Lighting, Simeon Chivers from Cameron Design House, and Jo Calver of Isla James Interiors.
This event is now FULLY BOOKED to join the waiting list please follow this link: https://bit.ly/36oiAOs
5pm – 7pm, Chesneys present '"Out Is The New In"
A discussion chaired by Giles Kime, with Paul Chesney, Butter Wakefield and Simon Burvill of Gaze Burvill.  Champagne reception to follow the discussion.
This event is now FULLY BOOKED to join the waiting list please e-mail: events@chesneys.co.uk
Wednesday 27th April
10am – 12pm, Loomah are hosting "Setting the Table with Romany Headlam"
Loomah host Romany Headlam, who will be sharing her expertise in luxury tableware, barware and decorative accessories.
RSVP sales@loomah.com
12pm – 2pm, Havwoods will be hosting "Wood & Wellbeing"
Join Havwoods for some delicious food and drink whilst enjoying their CPD highlighting the relationship between wood and wellbeing. Presented by Simon Myatt.
Please RSVP: hvwds.co/chelsea-event
4pm – 6pm, Knots Rugs will be holding a paper marbling workshop with Nat Maks (Natascha Maksimovic) a German print market who is based at Resort Studios in Margate, Kent.
This event is now FULLY BOOKED to join the waiting list please e-mail chelseadesignquarter@gmail.com with the subject Paper Marbling Workshop.
6pm – 8pm, Christopher Farr will be hosting "Materiality"
A talk with Matthew Bourne of Christopher Farr Rugs, Michal Silver of Christopher Farr Cloth, with Steve Barron of Margent Farm, built from hemp grown in the surrounding fields. The talk will be hosted by Fiona McCarthy. Further information on Margent Farm here.
RSVP: rsvp@cfarr.co.uk
Thursday 28th April
10am – 12pm – Argile host 'Everything you didn't know about paint' – a workshop with Argile's Technical & Product Expert Eric Egron, who will travel from their head office in Paris to discuss the technical aspects of paint and why they really matter to the designer, the painter and the end client. Eric will also cover colour, light, and best practice for every scenario imaginable. Eric's credentials to host this talk are unmatched – having been in the paint industry for 25 years, he truly is an expert.
This should enable designers to win business and specify their chosen paint brands with confidence and avoid regular on-site specification issues with contractors.
RSVP: london@argile-peinture.com
12pm – 2pm – Reed Harris will be holding a "Pattern Surgery – Workshop"
An informal bring your pattern dilemma workshop event. The team at Reed Harris will be on hand to offer helpful advice and expertise. The session aims to help understand how patterned hard finishes can benefit a space and how they might be your client's best choice.
There will be ideas on offer and tips on how to deal with decorative tile in small or difficult spaces.
RSVP: enquiries@reed-harris.co.uk
2pm – 4pm, George Smith present 'The Art of Deep Buttoning' in which you will learn about their deep buttoning perfection, and join an interactive session where you can try a button yourself with one of their master upholsterers.
RSVP: https://www.eventbrite.co.uk/e/george-smith-deep-buttoning-workshop-tickets-305441101557
6pm – 8pm, Roca London Gallery host 'The Interior Design Business Podcast Live! What Does Success Mean To You?'
Join Monique Tollgard, Co-Founder of the Tollgard Design Group and David Goodman, COO of the internationally renowned, David Collins Studio with co-hosts Jeff Hayward and Susie Rumbold for panel discussion on how they – and we – can measure success for an interior design business.
This event will be recorded as a live episode of the Interior Design Business Podcast and followed by a drinks reception.
RSVP: https://bit.ly/3rguWzs
Also taking place that evening Waterworks are hosting a networking event for students of KLC.