Q&A with Georgina Cave of Cave Interiors
Georgina Cave founded Cave Interiors in 2002.  Cave Interiors offers a full interior design service – including architectural re-modelling and space or light planning, as well as services more focused on the purely decorative. 
They have an extensive portfolio of projects in and around London, as well as farther afield in places such as East Sussex and beyond to the South of France.  Their signature style is to produce beautiful, yet accessible homes for their clients, always taking care to ensure they incorporate the clients individual requirements and style into the overall design concept.
The studio is based in Primrose Hill, but Georgina and her team are often found in The Chelsea Design Quarter and have worked closely with our members for a number of years.  We are delighted to welcome her as the first designer to take part in our popular Top 5 Picks series for 2019.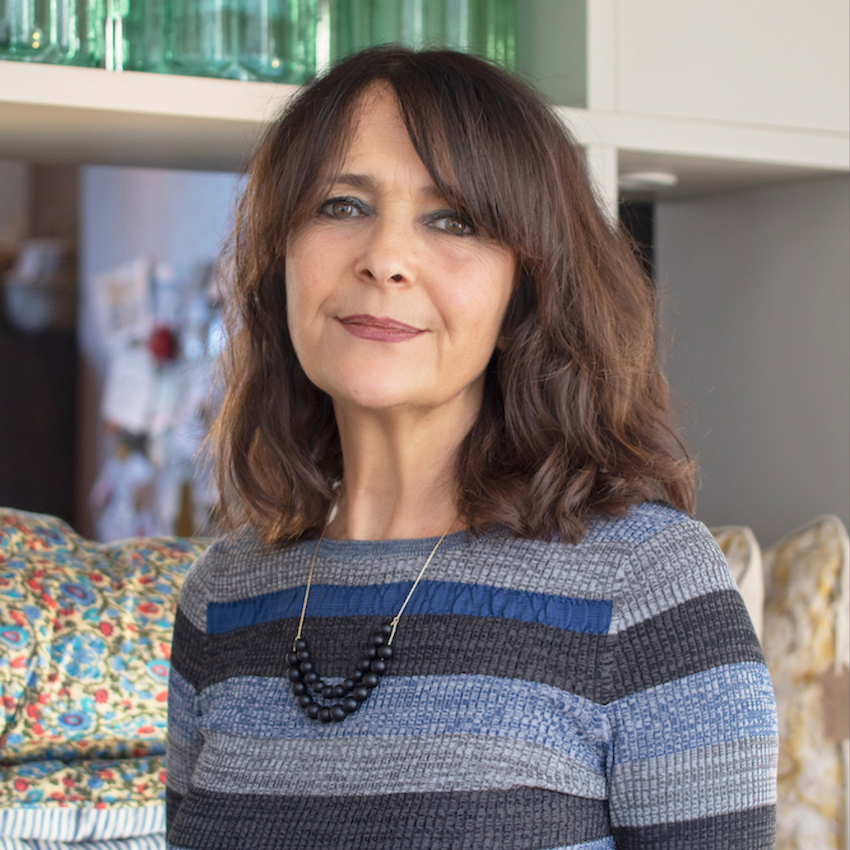 Georgina, thank you for taking the time to talk with us.  Firstly – tell us a little about your background and how you came to interior design?
Growing up in a beautifully styled home full of antiques and art was undoubtedly the catalyst for my career in interior design. My passion for art, antiques, interiors and architecture is quite literally in my blood. However, despite always being artistic I wasn't allowed to take Art for A level due to the school pushing me towards more academic subjects, so on leaving full time education I was in a bit of a quandary as I had always hoped to go to Art School. I worked as a fashion photographer's assistant, dabbled in photographic make-up and then specialist painting, but it was only as a young mother and with several home renovations of my own under my belt that I realised that my true passion lay with interiors so I returned to study at The Interior Design School. On completion of the course and with several clients requesting my help, I founded Cave Interiors, working from home and around the needs of my then young children. As they grew, so did my projects and in 2010, with an expanding team and having outgrown my home office, I opened my design studio with its boutique shop in Primrose Hill.
Are there any stand out projects you are especially proud to have in your portfolio?
There are many I could list as each one brings its own challenges and excitement. However, the complete restoration of Grove House, a historic Grade II* listed Georgian property in Hampton, was a particular privilege. Seeing it transformed from horribly carved offices back to its original glory as a single family dwelling was a joy, as was overseeing the reinstatement of its famous English Heritage-protected "Music Room" by specialist conservators. After its successful completion, we went on to renovate the client's beautiful Georgian home in Lewes, East Sussex, which was equally rewarding with its wonderful use of colour, mix of old with new and layers of natural and patterned materials. I could go on listing past projects and also the new — as I'm just as excited about our current projects, some of which are due for completion this year after three or more years in the making.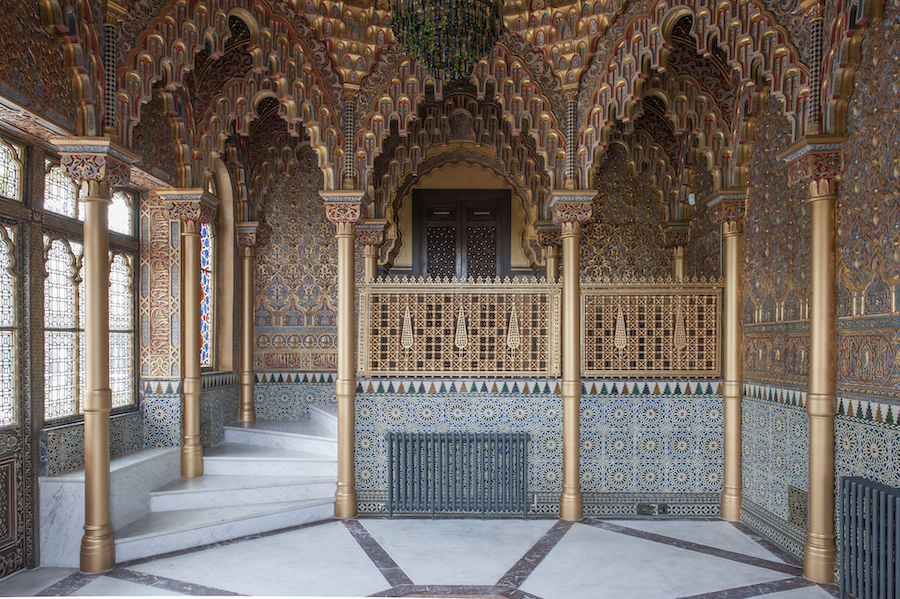 Grove House, Hampton
Are there any interior design projects that you would either love to have done, or would like to do?
When I see a beautiful old house in need of renovation then I can't help but wish to get stuck in. There was a particularly unusual large detached family house in Primrose Hill that caught my eye some years ago. It had been carved into flats and destroyed by a fire and was left derelict for a number of years. I even did some research into it, considering it viable at one point for my own family, only to discover that the freehold was owned by the University of Cambridge estate who weren't interested in selling it. It finally got renovated and, whilst I never saw the interiors, the exterior – which could have been extraordinary – lacked flair and to this day, whenever I pass by, I always take a wistful look and imagine what I would have done with it.
Do you have any advice for someone who is thinking about setting up their own design studio?
First and foremost, I would advise marketing yourself correctly. Be clear whether you are an Interior Designer, Interior Architect or an Interior Decorator. The associated skills vary hugely and its vital that your clients understand the service you can offer, otherwise you could find yourself in choppy waters. Secondly, be sure you are able not only to design your own house project but undertake the task for others. They are quite different things.  Dealing with people and their homes is very personal and a huge responsibility not to be taken on lightly.  Most of all, if this is your dream job, then take that leap of faith and have fun.
You were included in the 2018 list of House & Garden Top 100 Interior Designers – how has that impacted your business? 
Being included in House & Garden's Top 100 was an absolute dream come true and something I have aspired to since the early days of my career. It has been a great boost for my self-esteem as a designer and for that of my team, which no doubt is reflected in our approach. In terms of impacting my business, that's hard to say as its early days but being counted amongst great designers I admire hugely has been immensely gratifying and has opened up the doors of recognition in a world of creative brilliance.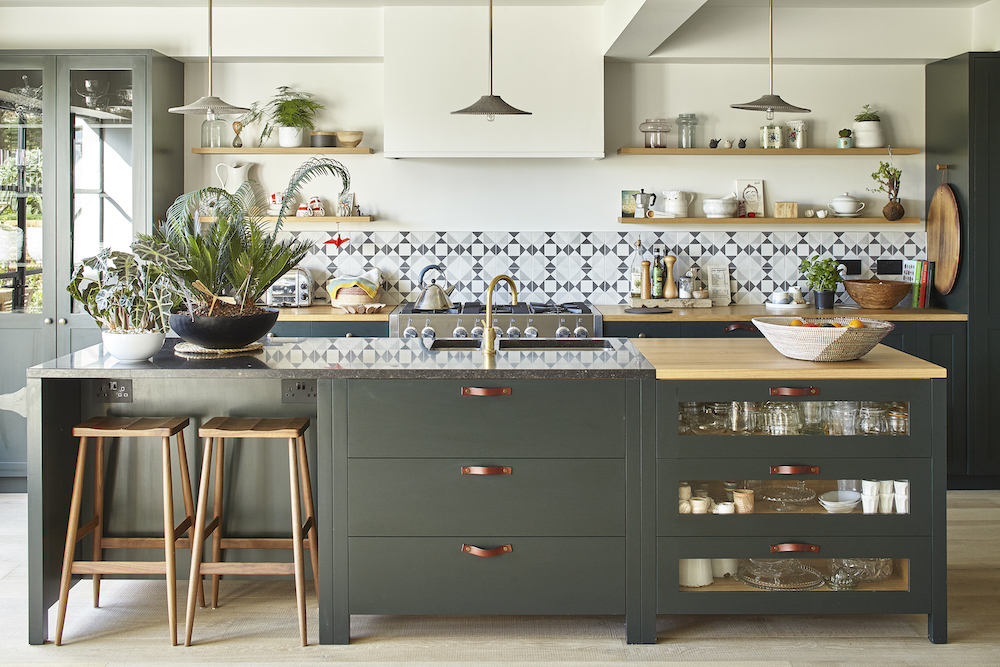 Kitchen, Georgian Home, Lewes, East Sussex
How much do you engage with Social Media?  How has its growing influence impacted your design process, if at all?
I enjoy social media up to a point and have found some wonderful suppliers through Instagram & Twitter. The former works particularly well as a marketing tool to announce what we're up to, show prospective clients our past projects, as well as a place to find inspiration and build relationships with others. Pinterest in particular can be a great tool to help draw out our clients' own personal style and preferences but shouldn't be the clients' main focus. Whilst it's a great place to bring the initial ideas together, its vital that they and we focus on our own.
As long as they don't take over or get taken too seriously, these platforms are also a great place to have a bit of fun and grow your professional network.
How would you describe your personal style? 
Surprisingly masculine, strong in colour with a healthy mix of the old with the new. Whilst I like to make a statement whether it be in my own home or with what I wear, comfort is key. A place where I can kick off my shoes and a dress that I can curl up and relax in are equally important. 
What do you see as the biggest challenges currently facing the interiors industry?
The main challenges for the interiors industry haven't changed too much over the last few years, and I imagine over the course of the next year they'll remain pretty similar, although dare I mention Brexit will provide a few hurdles. As with any design-led business, finding a harmonious balance between the skills and information required to maintain both creativity and a stable business strategy remain critical but, in a saturated marketplace, the main challenge will always be to make great work, remain relevant and stand out.
On reflection each decade has a defining look, how do you think people will describe the current style of interiors in years to come?
Maximalistic. Bold colour, pattern on pattern, the mixing of eras and combining of cultures from around the world in our use of furniture, soft furnishings and lighting have all played a huge part in the designs we see today.
Are there any trends or styles that you think are due to make a come back?
There is most certainly a return to a more dressed interior with the revival of pelmets, swags and tails, with passementerie being seen on everything from curtains to sofas and cushions. Trimmings are back in a big but more considered way and I think we'll see more in 2019.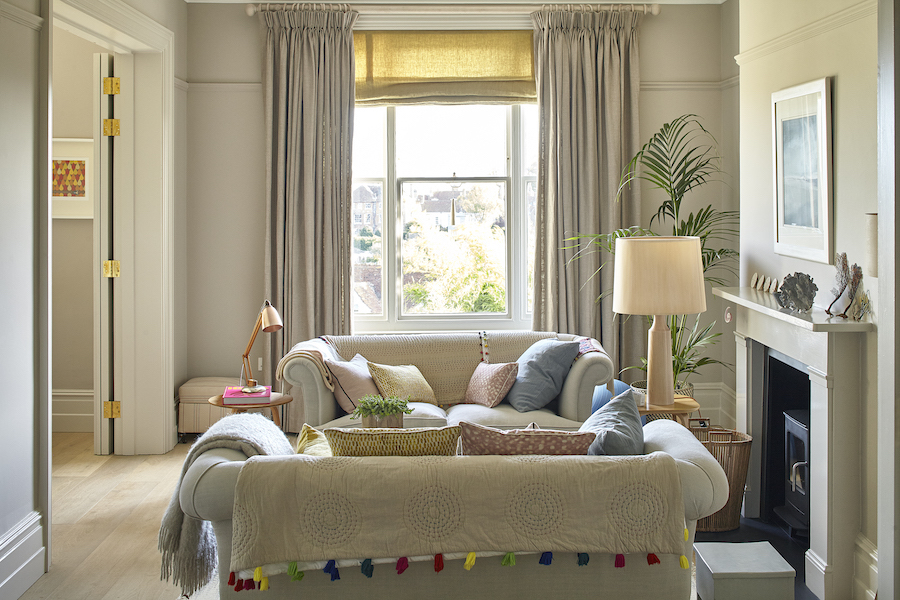 Living Room, Georgian Townhouse, Lewes, East Sussex
How did you choose your Top 5 Picks?
I chose my Top 5 by visiting a few of my favourite haunts and choosing items I would particularly love to use either for one of our projects or in my own home. There should be no surprise that they are either antique, reclaimed, have an aged finish, modelled on something old, but are ultimately all perfectly functional and useful.
What does 2019 hold for Cave Interiors? And for you personally?
We have a fair few projects on the go including the complete renovation of an Art Deco villa in the South of France, two large house projects in Hampstead and Kenwood nearing completion, and an Arts & Crafts house due to complete the main build in the late Spring. Other projects include two Victorian houses in Primrose Hill, one of which is Grade II listed, with several others in West Hampstead & Hampstead.  It's busy!
Personally and professionally speaking I've also helped my daughter Anouska Cave, with the launch of some beautiful vintage inspired eiderdowns, all hand made with ethically sourced materials — something which is close to both our hearts.
Rather excitingly, I also plan to update my own home. Knowing the interior market as well as I do proves challenging in terms of making personal choices as there are so many beautiful things out there, but I'm enjoying every minute whilst putting my professional hat on and making those firm decisions that all projects require to successfully move them forward to a happy conclusion.
Thank you Georgina.  We are looking forward to sharing your Top 5 Picks next week.