Q&A with Tom Faulkner
Tom Faulkner makes and designs contemporary furniture from a combination of materials including metal, glass, marble, timber and leather. As a brand Tom Faulkner has developed a reputation for producing modern day design classics appealing to designers from around the world.   His eye-catching, distinctive and sculptural designs can be found in houses and hotels from London to Tokyo.
Tom founded his eponymous company in 1995 with a workshop on the site of Isambard Kingdom Brunel's railway workshops in Swindon, Wiltshire. He has a (recently expanded) showroom on Lots Road, in the heart of the Chelsea Design Quarter.   
On Monday 23rd April Tom will be doing a tour of the Chelsea Design Quarter – spending a day going around the showrooms and sharing some of his favourite pieces, culminating in a personal tour of his own showroom. We will be documenting the tour on Instagram and social media.  We are delighted to sit down with Tom ahead of his tour and learn a bit more about him, his journey to this point and his design influences.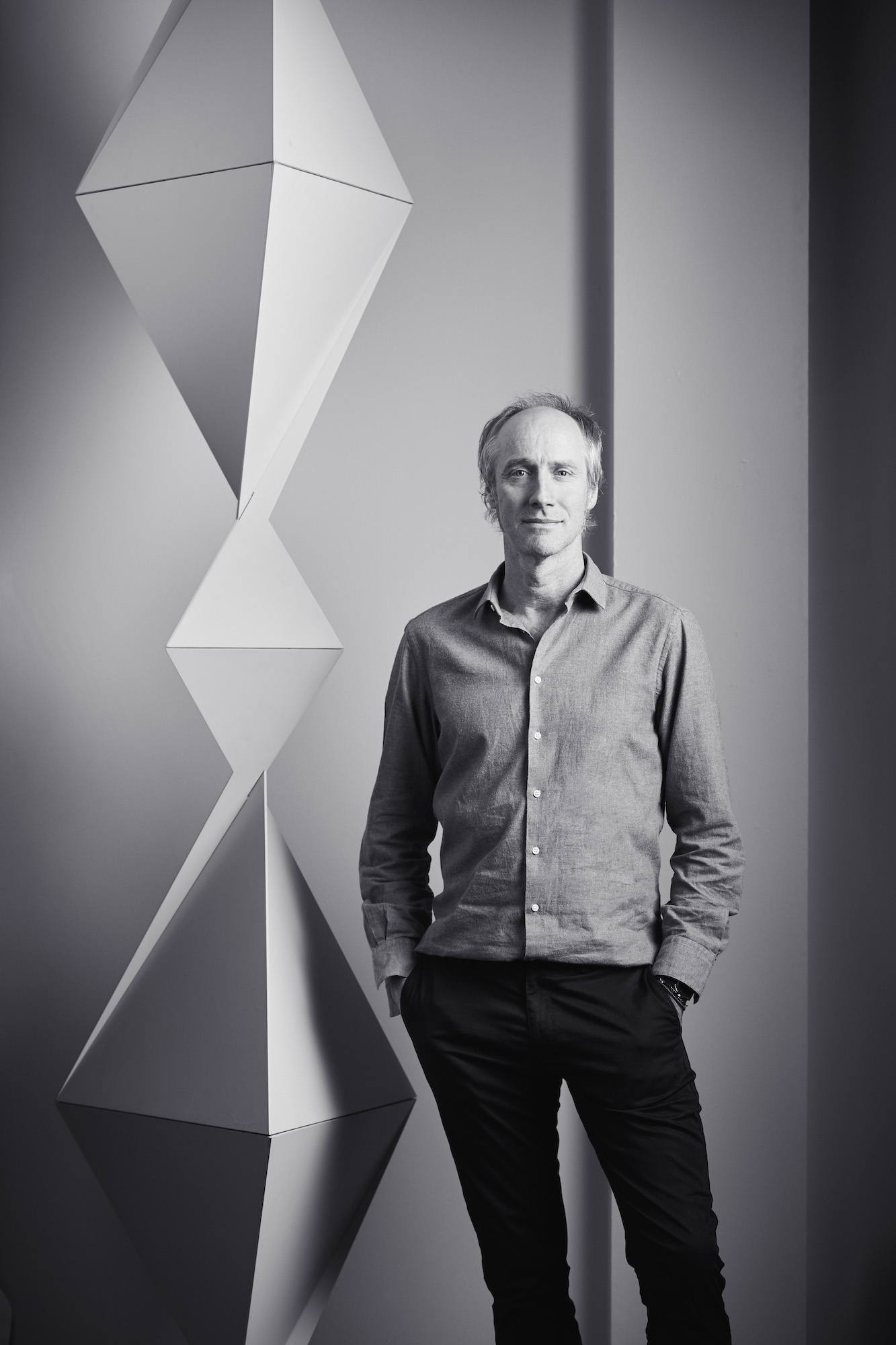 Tom, thank you for taking the time to talk with us.  Firstly – tell us a little about your background and how you came to designing furniture?
I started by painting furniture – with colourful geometric patterns. I mostly applied them to table tops, but there were also screens, mirrors, trays and in fact anything with a flat surface. I used stencils, paints, and spray paints.
Did you have any formal training in metalwork and design?
No – not in metalwork. I originally sub-contracted work to the guys in Swindon (there were just two of them – Nigel and Gordon) and at some point I was able to buy the workshop including all the machines from the owner. It cost £5,000. That was in 1995. I can weld to a certain extent, but the thing about welding is that it is very easy to do badly and very difficult to do well.
I have no formal design training which I think is one of the reasons I try to keep things fairly simple. In the end for me it is more about line and proportion. I like patterns and strong silhouettes, there is not a lot or additional ornament in my designs.
Where is your furniture manufactured?  Are you still hands on in the production process? 
Almost everything is made by our very talented workshop team in Swindon. I am certainly very present in the workshop if not quite "hands on". We sub-contract bits and pieces and we use a fantastic workshop in Italy to make some chair parts.
Do you find it difficult to find a balance between designing and running the business?
Yes, but I have an amazing commercial director / CEO in Miranda Kirwan. We have worked together for nearly fifteen years, and she deals with most of the running of the business.
However I still find it very difficult not to be involved in all aspects of the business, and in the modern world where time is becoming such a valuable commodity, it is incredibly difficult to find time to be creative. Which might involve reading, traveling, or just staring out of the window!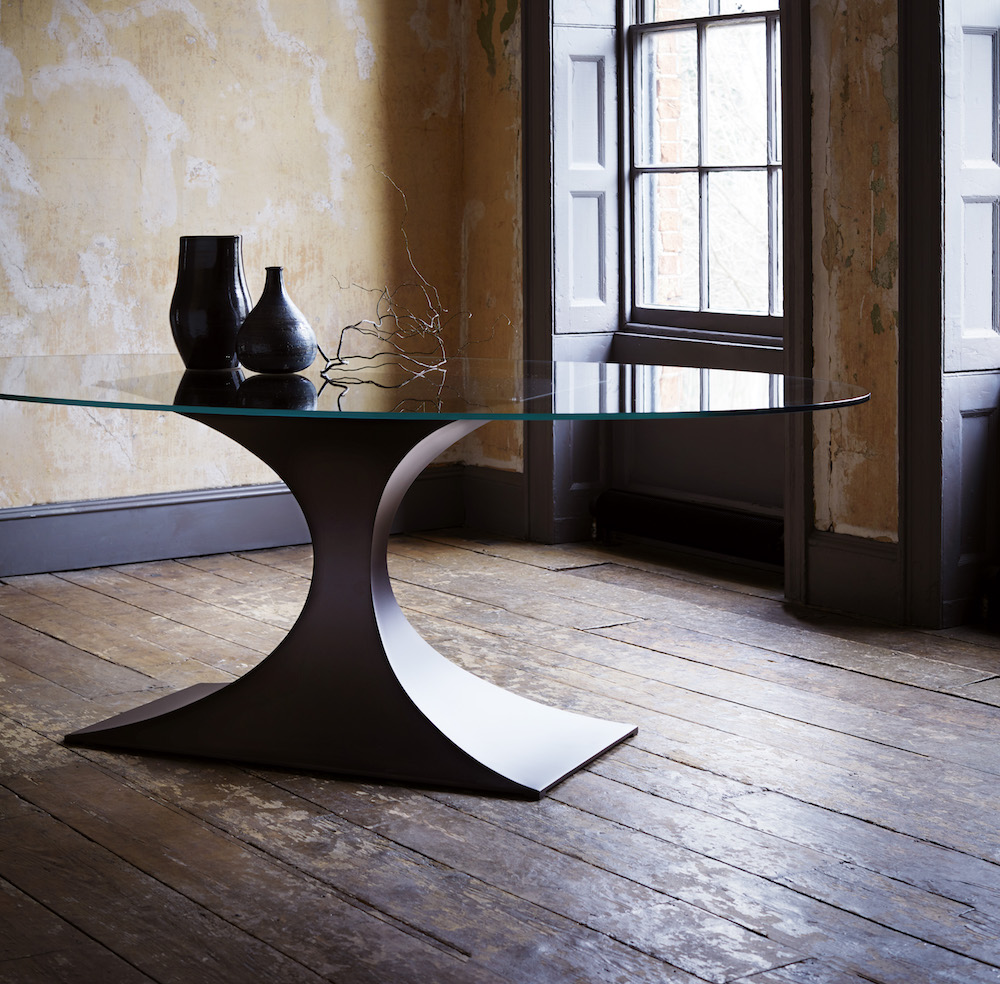 Capricorn Dining Table
Are there any designs of which you are particularly proud (and why)? 
Yes, Capricorn was one of the first of my designs. It is still our best-selling single design. It manages to be contemporary and distinctive (and some say beautiful), but it has very classical lines and proportions.
I also love the AVA table. It uses material really well – it kind of has to be made of metal. It is a table and a sculpture. It looks amazing in steel or in bronze. It is very simple to look at but difficult to make. There is something the Japanese call "Shibui", which is where objects appear to be simple but they include subtle and complex details. Complexity in simplicity is something that appeals to me very much. AVA is like this – it's easy on the eye and rewards a second look.
Finally my first cabinet Odessa deserves a mention. I'm proud of the lines and proportion, as well as the mix of unusual materials. Again, it is a very simple motif but incredibly complex to make – especially with inlaid polished bronze.
You are well known within the interiors industry, how hard was it to establish yourself when you started?
I worked hard. I started a furniture business without knowing anything about furniture or business. I took chances, followed my nose, and I took opportunities when they came my way. I probably did a lot of stupid things too… and there were times when I could have given up.
But I discovered interior designers existed, and spent quite a lot of time and effort in making small brochures and postcards which I would mail out to them. I rang people up, I lent furniture, I did what I could. And I realised the value of marketing, and presentation.
How would you describe your personal style?
Relaxed and casual but hopefully always well put together. I have quite a collection of trainers.
You have been based in the Chelsea Design Quarter for a number of years, how do you feel the area has changed since you first arrived?
I have been here for 10 years now, moving initially from east London. Back then the area was much more industrial. It has certainly become much more polished and of course much more interiors focused.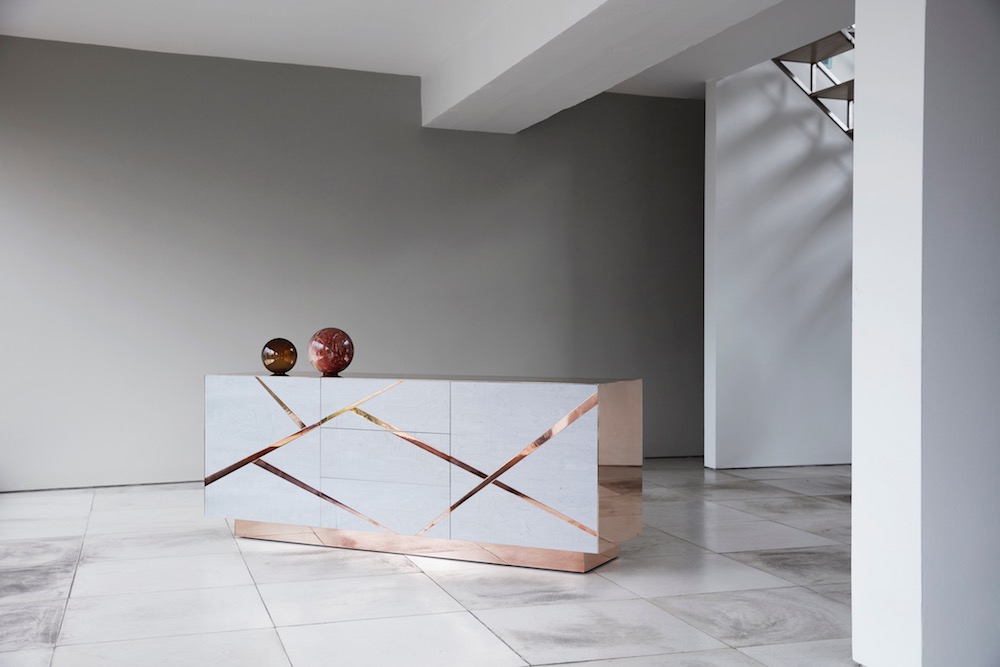 Odessa Cabinet
What do you see as the biggest challenges currently facing the interiors industry?
Well I think the consumer is increasingly trying to bypass the interior designer –  because we all have access to everything now, right? We are seeing more confident consumers – perhaps because inspiration is everywhere, particularly on social media.
Also, often the designer is trying to execute the client's vision. However the client often has a 'look' in mind, potentially limiting designers' freedom to be distinctive and original.
Of course there is also the issue of maintaining the ethics of design and your individual aesthetic when everything is so readily shared now – something we'll be discussing on the 26th!
Are there any trends or styles that you think are due to make a come back?
Geometry, florals, chintz, and popping colours.
On reflection each decade has a defining look, how do you think people will describe the current style of interiors in years to come?
Well, there has been a lot of grey! I would also say that minimalism has been a strong and enduring trend for a long time now.
What does the future hold for Tom Faulkner (the man, and the brand!)?
The brand is making good headway in the USA, which is becoming an important market for us. We are represented in 5 or 6 cities, and one day I would perhaps like to manufacture both in the US and the UK.
As for me, I'm currently taking some time out in New York to re-charge my creative batteries, and to find some time to think as well as design. I'll also be promoting the brand in the US, and networking with the showrooms who represent us here.
I want to continue to design, but I'm looking to put a stronger emphasis on the sculptural and the more unusual.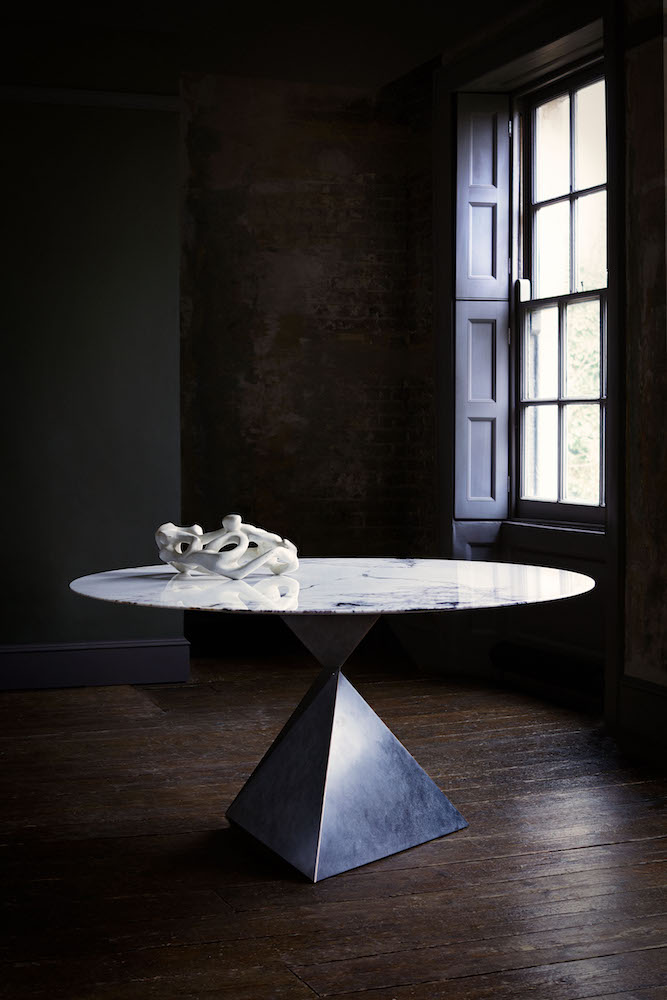 Ava Dining Table
Thank you for your time Tom.  We are looking forward to your tour on Monday!