Q&A with Sophie Paterson
Internationally renowned interior designer Sophie Paterson set up Sophie Paterson Interiors in 2008.  Her London based studio works internationally – including projects in continental Europe and the USA.
In addition to her thriving interior design business Sophie collaborates with a number of well known brands such as The White Company, Cambria Stone and Harrods.   She has also developed a huge following on social media – offering people a glimpse into the busy life of an interior & product designer, wife and mother to the gorgeous Ava. 
Sophie is well known to the members of Chelsea Design Quarter and we are delighted to welcome her as the next designer in our Top 5 Picks series.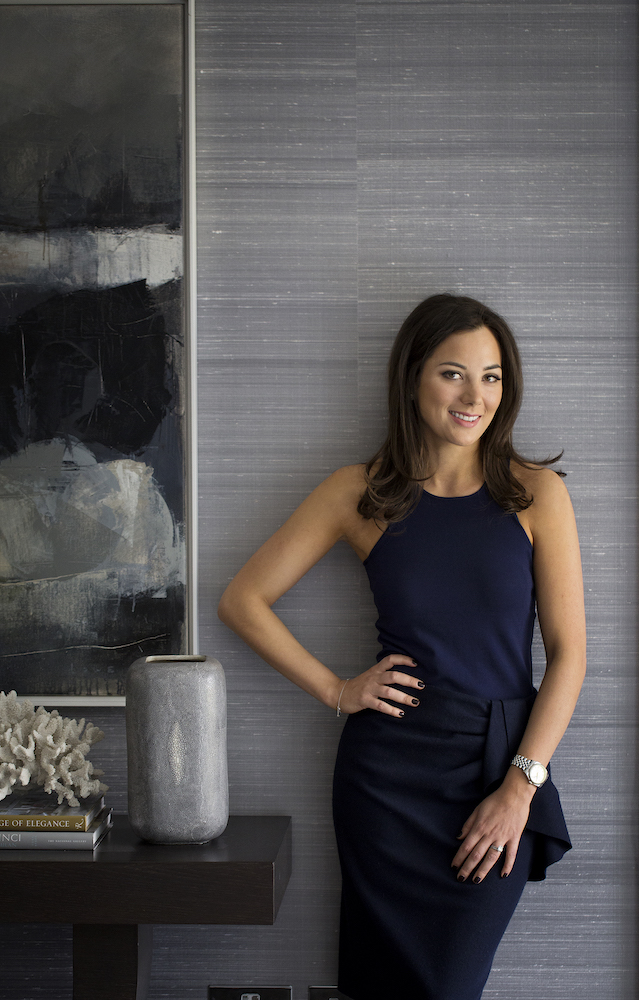 Sophie, thank you for taking the time to talk with us.  Firstly – tell us a little about your background and how you came to interior design?
I set up my company Sophie Paterson Interiors 10 years ago following a stint working exclusively on the interiors for a London developer. I've always loved interior design for as long as I can remember- right from the age of 7 I was constantly rearranging my and my sisters bedrooms, and at age 16 I did work experience at Zoffany and Cole and Son in the Chelsea Harbour Design Centre.
I took design at higher level for my International Baccalaureate but then steered away from interiors at university as I was scared it was too much of a niche industry and, if I'm honest, scared about putting myself out there in an arena that I was so passionate about and, that I wasn't sure if I'd be successful at, so I studied international management with Spanish at Bath University. Half way through the course I knew it wasn't for me but I stuck it out to get the piece of paper. I'm glad I did it as I speak fluent Spanish, but as soon as I left I knew I wanted to get back to my passion of interior design.
I took a job as an events manager for a restaurant group,  but was offered the chance to do the interiors for a developer who came to view our mews house (we were asking for his advice on whether to convert the garage into a larger kitchen). He loved how I'd  decorated the house and asked me to recreate it in his latest project.  It was incredibly scary to do something like that without the formal training but I was never afraid to teach myself- I learnt how to do scale drawings using Sketch Up and learnt from all the expert tradesmen on the job.
Being open and listening to others is a vital skill as a designer and you never stop learning from each job. Our first project together was a huge success selling for the highest price per square foot in that area and we went on to work on more projects before I set up my own company. That was 10 years ago and we are now a team of 8 interior designers and interior architects. We have 18 projects currently underway across the UK and overseas as far as the US.
Are there any stand out projects you are especially proud to have in your portfolio?
I'm proud of all of them- I only take on projects that I'm excited by and will be proud of. I'm very proud of some of the large scale projects we are currently working on like the 5000 square foot penthouse in Marylebone, the grade 2 listed 5000 square foot apartment opposite the Albert Hall and the 7000 square foot townhouse is Boston.
Are there any interior design projects that you would either love to have done, or would like to do?
I'd like to do a beach property, more work on the Middle East, a rustic cottage and a ski chalet.
You have a hugely impressive 230k followers on Instagram, how have you grown such a following, and is it almost a job in itself to manage your social media profile on top of your main interior design business? 
I do it all myself. Some weeks better than others. It's not planned or scheduled I just post whatever in doing or thinking about in that moment. You have to keep it real and it should be the business owner or someone in the business to keep it interesting and genuine. Sometimes I'm really busy and I think 'oh I need to post something' but generally I take a photo and instantly know when I want to share it. I try to post once a day and then more on insta stories.
Do you think social media and a strong online presence are important for developing a business?
Hugely. I think everyone now accepts the importance of social media- a lot of people tried to resist joining at first but it is so beneficial for business (if not your personal life!!) I try to get a balance by not pressuring myself to reply to every comment and message- that would be a full time job for 3 people let alone one! For us social media has been incredible for securing projects across the world, getting collaborations with amazing brands and connecting with likeminded people. I've made some great friends that have crossed over into real life. I recently hosted a dinner for 10 London interior designers- none of whom I would probably know as well if it weren't for social media.
How would you describe your personal style?
Pretty classic. I don't wear the latest trends I just stick to what I like and it has worked out well for me as I still have, wear and love items I bought over 10 years ago. I tend to wear a lot of blue, cream, tan and in summer printed dresses with more colour such as coral as well as blue and white.
What do you see as the biggest challenges currently facing the interiors industry?
Tricky question- I am personally finding it is a very busy period for us, we have grown steadily for the last 5 years recruiting 1 or 2 new members of staff each year but this year to meet demand I'd have to double in size. For me the challenge is knowing which projects to say yes to and which to politely decline- you can't do it all and I want to be personally involved in each project. I'm not sure if we are in a lucky bubble because of our reach through Instagram or if that is an industry trend. I hope it lasts!
Are there any trends or styles that you think are due to make a come back?
I think interiors are becoming more and more understated. I love the current trend for crittal glass that I think is here to stay for a long time.
On reflection each decade has a defining look, how do you think people will describe the current style of interiors in years to come?
I don't think this decade can be summed up- there is so much variety now as it is a global industry and influences coming from all over the world.
What does the future hold for Sophie Paterson (the woman, and the brand!)?
I'd like to keep doing what I'm doing, enjoying it, creating projects our team can be proud of and ensuring I maintain a good work/ life balance. I don't want global domination! I'm too happy as I am!
Thank you Sophie, we look forward to revealing your picks next week!