Q&A with Hugo Rawlins & Lucinda George of Rawlins George PR & Marketing
Rawlins George PR & Marketing was founded in 2011 by Hugo Rawlins and Lucinda George. With a combined experience of over 30 years in PR and marketing they are specialists in the interiors sector.
Based in Chelsea Harbour their small, dynamic and highly energetic team is passionate about interiors.  They love the brands they work with and say that they choose their clients as much as their clients choose them.
We sat down with Hugo and Lucinda to ask them about their backgrounds, Rawlins George's latest news and what might be on the horizon.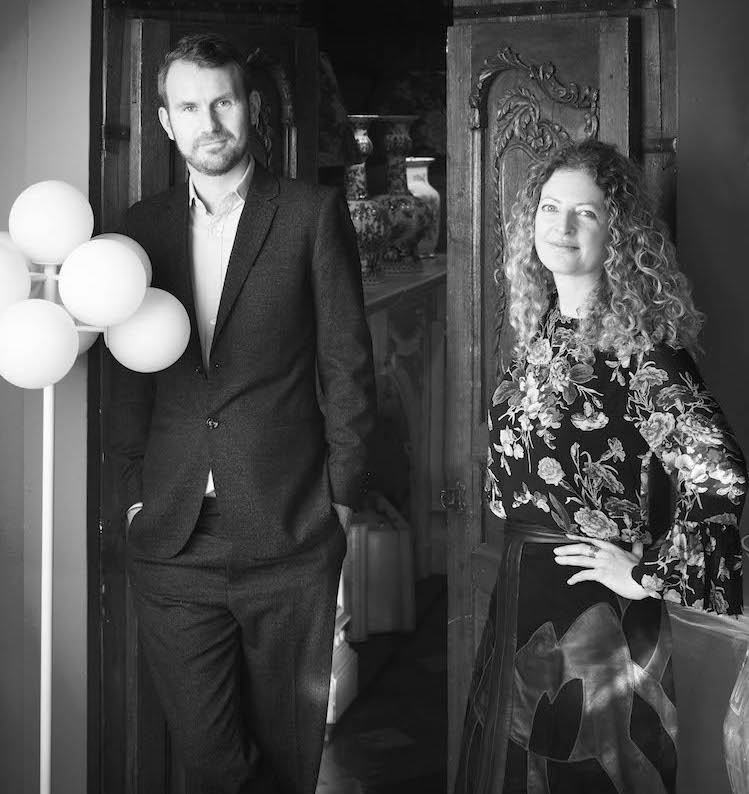 Hugo and Lucinda, thank you for taking the time to talk with us today.  Firstly – why don't you tell us a little about your background and how you came to form Rawlins George?
Hugo: "My passion for interiors started during an internship at Halpern PR, nearly over 20 years ago. During the placement I was offered a job and jumped at the opportunity to work with brands such as: Andrew Martin, Lalique, Pierre Frey, Joanna Wood, Taylor Howes and many more. After 6 years at Halpern I moved to an interiors specialist PR company for a few years. I then decided that I wanted to try an in-house role and went to Lombok in 2006 to join forces with Lucinda."
Lucinda: "My PR journey started over 24 years ago with Shandwick Communications.  From there I moved to BBC Worldwide where I gained more experience in branding and events before joining luxury linen specialists The White House as their in-house PR and marketing manager.  I was then in-house for Lombok for six years, starting as PR and Marketing manager and subsequently becoming Marketing and Brand Director.  It was when developing the marketing and PR team that Hugo joined me as PR manager. Our paths had crossed many years earlier when one of his clients was involved in an event I was organising so I knew exactly who he was when his CV popped into my inbox!
I then left Lombok and went freelance which I did for nearly two years before Hugo also went freelance, taking Lombok as his first client.  We then started to help each other with our client accounts and pitching. It was at this point that we decided the natural next step was to create a business together."
Can you tell us a bit about your clients, particularly those that are located in Chelsea Design Quarter (CDQ)?
We specialise in mid to high-end interiors, working with both product suppliers and interior designers. Our location in Chelsea Harbour is ideal for the clients we have in CDQ.  It's wonderful for us to be able to 'pop by' whenever we like and once we have a journalist in the area, it makes sense to make the most of their time by taking them to as many of our clients' showrooms as relevant.  We know the area well and it's been exciting to see how it's changed over the last 20+ years. We've been working with Guinevere for over 5 years, Waterworks for 2.5 years, Crucial Trading for 1.5 years and are thrilled to have recently added Eggersmann Design to our portfolio.
PR has changed quite a bit over the years, what in your opinion has been the greatest change?
Not withstanding that we no longer post out transparencies (!), social media has become a key medium for us to communicate our clients' news to our press contacts and the end-users. However, we still see print as being an important medium, particularly in the luxury market, working in harmony alongside online exposure.
How do you select/find clients?
Most of our clients have been through word-of-mouth although some we initially met through social media and the relationships grew from there.  We don't proactively look for clients as we like things to grow more organically.  There's nothing worse than a 'pushy PR' when it comes to generating relationships and business!
The 'fit' is most important to us – in terms of both the brand and the people behind it.  We love what we do, and we don't want to compromise that by working for a company (whether services or products) that we can't talk about passionately.
How big is the team at Rawlins George? 
We have one full time PR and Marketing assistant who recently joined the team and works across all of our client accounts.  In addition, we have a part time freelancer who's primarily helping us with social media and marketing.  We also have our 'hairy assistant' – Pogo the Border Terrier – who's currently on her summer vacation.
What's been your most successful PR launch or campaign to date?
We offer marketing and brand communication services to our clients in addition to more 'traditional' PR so no two client accounts are ever the same.  We like to measure our successes based on the network we generate for our clients, the growth in brand recognition and ultimately an increase in their sales.
What has been your biggest lesson learned since setting up Rawlins George?
Always trust your gut instinct.
What does the future hold for Rawlins George?
To continue to enjoy doing what we do, growing the business slowly and organically whilst retaining our 'boutique' style of agency.  What's most important to us is that we don't end up just 'running a company', taking us away from what we love most – working with interesting people and finding different ways and mediums to help generate awareness of their incredible brands.
We want to see the relationships between our CDQ clients grow further, whether that be through collaborations, events or simply utilising each other's services. The CDQ community has gone from strength-to-strength in the past few years, creating new and exciting opportunities for not only us, but also for all of our clients.