Q&A with Deirdre Dyson
Deirdre Dyson is the founder her eponymous carpet and rug company, based from a studio gallery in the heart of the Chelsea Design Quarter.  She started her career in fine art before moving into floor coverings.  She is also the Author of "Walking on Art" which explores contemporary carpet design from a practitioners point of view.   We took some time to sit down with her to discuss how she moved from art into interiors, how her style has developed over the years and the inspiration behind her latest collection.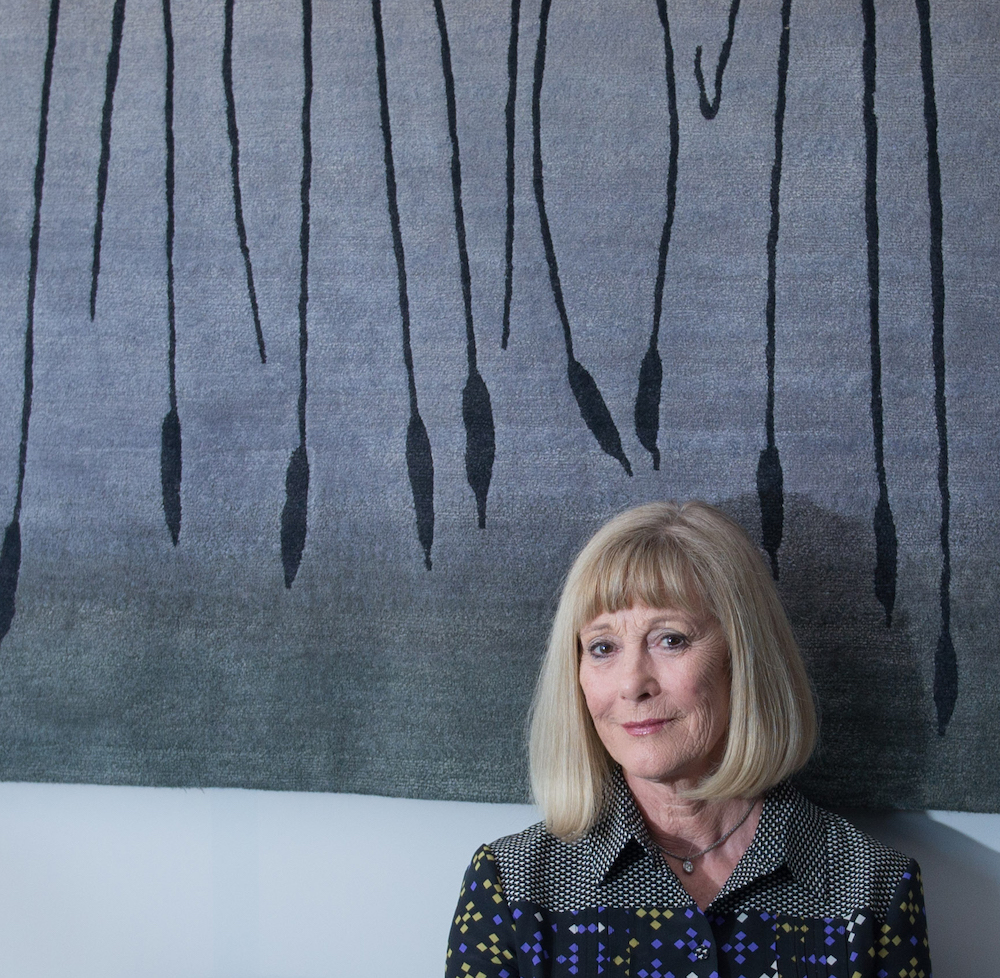 Deirdre, thank you for taking the time to talk with us.  You started out in fine art, how and why did you make the transition into carpets and rugs?
I am still a fine artist and work with commissions.  I was invited by a carpet company to design some contemporary carpets for them.  I thought that I could easily do both. This led to more work and eventually the business became mine.  I still find it a challenge to balance both, but the contrast between the solitude of my studio at home in the country and the buzz and team work in London is perfect for me.
Where did you train?
I trained at The Byam Shaw (where I met my husband) and Wimbledon College of Art.
How much of an influence do you think your background in fine art plays in your design process?
My art and design training are the key to my carpets but added to a natural ability particularly with colour.
Are there any designs of which you are particularly proud?
The ones I am most proud of are those which presented a serious challenge with the making.  Breaking new ground with my Nepalese hand crafts people with a modern approach is so rewarding.
You are well known within the interiors industry, how hard was it to establish yourself when you started?
I took over the original showroom to start with which gave me a good shop window, it has taken years of finding ways to reach people with my bespoke approach.  I wanted the business to be a small and dedicated studio working with the client for a perfect result. I have discovered that building a business is just as creative as painting a painting. Every detail must be beautiful from gallery to stationery.
Tell us a bit more about the inspiration behind your new HORIZONS collection which was recently was unveiled at Maison et Objet?
All the carpets in my gallery are showcase pieces the same size to fit my display rack.  As a result, many think that I only make rugs but in fact I make any size and tufted contract work too.  It was time to show what I can do on a large scale so the collection for 2018 was all about thinking BIG – The Sea and the Sky.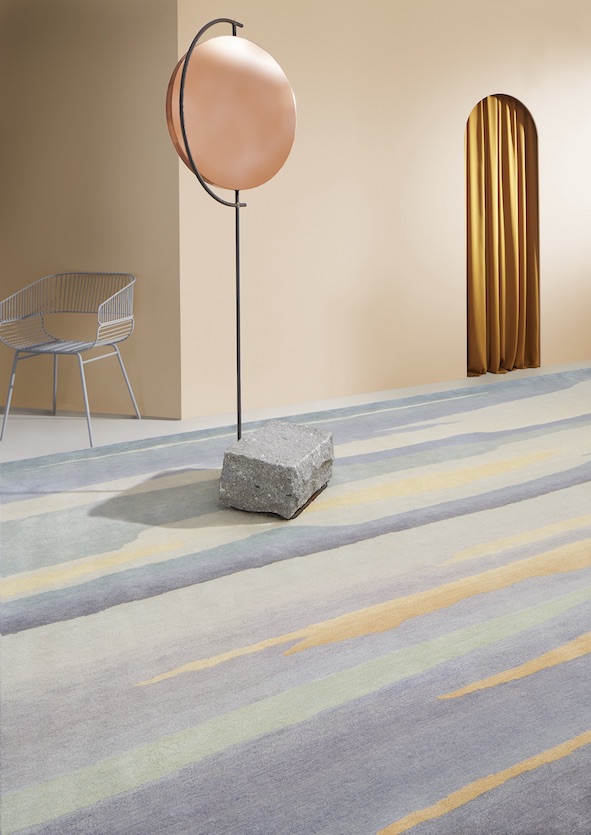 SKYSCAPE
Where are your carpets and rugs manufactured? 
The carpets I am know for are not manufactured, they are hand made in Nepal on a traditional loom making 100 stitches to the size of a postage stamp.  The skill is incredible.  I also have hand tufting done in the UK plus contract machine work.
How often do you need to visit your manufacturer?
I have built really good personal relationships with my suppliers and visited their work places.  Now I can manage all communications with phone and computer.
How would you describe your personal style?
I can't really answer this as I am always searching for a new way forward and a new challenge.  Part of my signature is never to do repeat patterns.  I see my carpets like an art work within its own boundary.
You have been based in your showroom on the Kings Road for a number of years, how do you feel the area has changed since you first arrived?
I knew this part of the Kings Road as a source for antiques and although my carpets are contemporary they also work with antiques and classic furniture.  The area has quietly become much more contemporary and all about the home. Chelsea Harbour around the corner has brought more interest to the area and the concept of CDQ has been a great team idea for us all to be part of.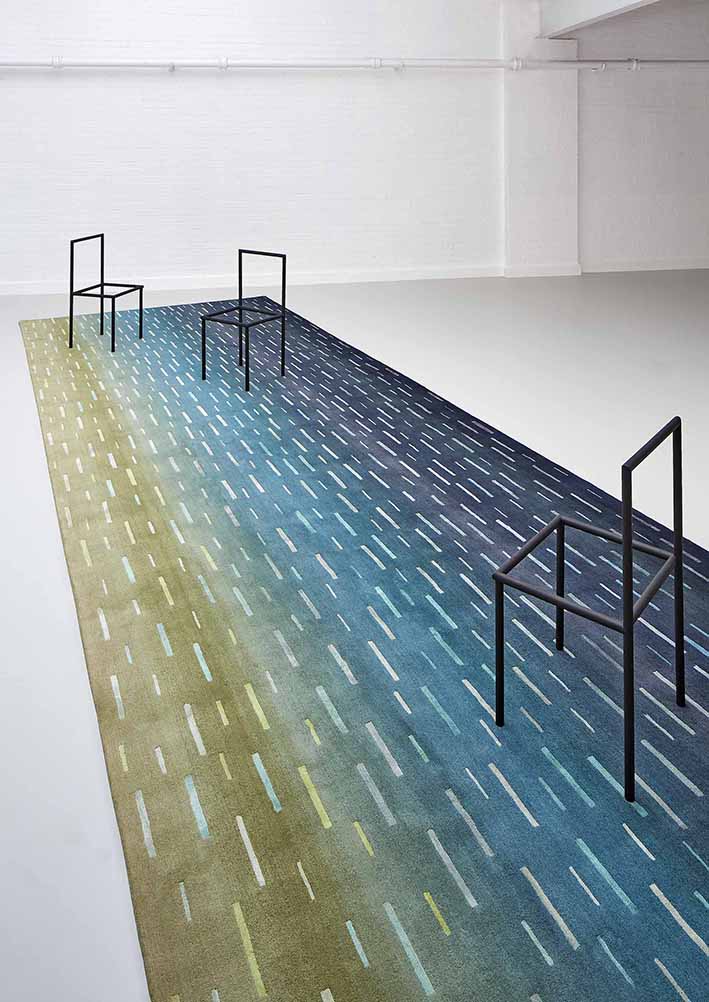 SEASCAPE
What do you see as the biggest challenges currently facing the interiors industry?
Only recently have I realised what a close knit community the world of Interior Design is. In the past we have worked away in our own little areas with familiar clients and fellow designers and steady growth. Now, with the onset of social media, networking has exploded and everyone knows everyone. The avenues for expansion and exploration within the world market are enormous and my international orders are growing fast. I think perhaps the challenge for me will be to always put uniqueness at the heart of what I do. You can't make a handmade carpet faster!! I suppose the overall challenge for the industry is that it should always put substance above hype.
Are there any trends or styles that you think are due to make a come back?
I have no idea about future trends or styles although I do seem to know what colour might be popular next.  I try to avoid them as there is a danger of everything looking the same and interior design becoming more like the fashion industry.  My carpets are heirloom quality and expensive. The designs need to be contemporary and classic too.
On reflection each decade has a defining look, how do you think people will describe the current style of interiors in years to come?
Time will tell but this decade is much more about colour, comfort and even drama. This is a natural reaction from the previous minimalism period.  We are craving texture and contrast.
What does the future hold for Deirdre Dyson?
Our future is going to be more collaborations with other companies and larger International recognition. More importantly –  exciting designing!
Thank you Deirdre for your time and for giving us such a great insight into your creative process and the business.
For further information and to view the full range of products available visit Deirdre Dyson, 554 Kings Road, London, SW6 2DZ or www.deirdredyson.com.