Q&A with Brian Woulfe
Brian Woulfe is an award winning interior designer who founded his studio Designed By Woulfe in 2008.  He has worked on residential and commercial projects from London to Sydney via New York and Thailand.  Often to be found with @chowmeinthechowchow by his side Brian is a well respected designer who is shortlisted for 8 at The International Design & Architecture Awards 2018.
Brian is well known to the members of Chelsea Design Quarter and we are delighted to welcome Brian as the next designer in our Top 5 Picks series.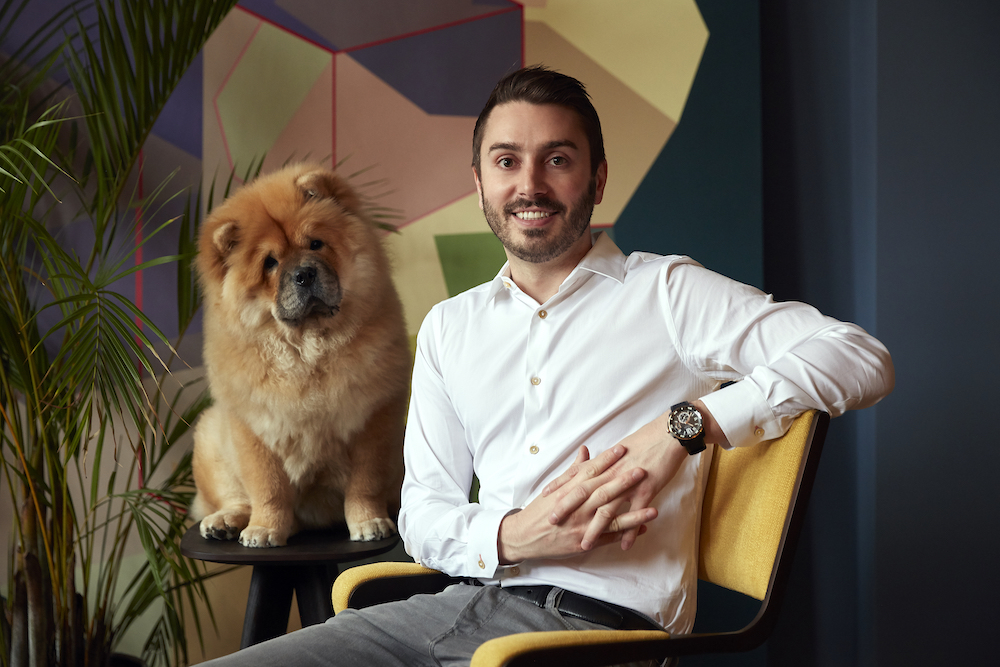 Brian & Chow Mein
Brian, thank you for taking the time to talk with us.  Firstly – tell us a little about your background and how you came to interior design?
I started Designed by Woulfe as a result of my desire to safeguard my client's personalities in their own homes whilst also bringing new and unique elements to create the perfect balance. I have always been creative, and was previously a concert pianist and had my own classical record label. I had helped out with designs on various small projects, but it was when I moved to Thailand that I landed my first big project with a developer and it sky rocketed from there.
Are there any stand out projects you are especially proud to have in your portfolio?
The incredible cliff-side luxury villas I worked on in Asia are certainly my most stand-out projects. They have large indoor and outdoor spaces which really allowed me to play around with context, art (one of my great passions) and scale. It was also an amazing opportunity to bring the interiors into play with the exterior spaces, as they both form key parts of the living space.
Are there any interior design projects that you would either love to have done, or would like to do?
I would love to design Prince Harry and Meghan Markle's house. I would fuse traditional design with a modern twist to incorporate both of their styles and backgrounds. Having Chow Mein means I also know exactly what a dog owner requires from a property, so would add in clever tricks to keep everyone's tails wagging!
You have a personal Instagram account, as well as one for your business.  How important do you think it is to keep the two separate? 
I like to keep my work life and personal life separate. Of course, there will be some natural cross over, but I like to ensure each audience sees relevant and interesting posts. So, for example, my @dbw_interiors account is very interiors and design focus, it follows my day to day life, how I choose products for projects, events I have attended and brands I would recommend using. By contrast my personal account is more about my passions external to designing and interiors, plus plenty of Chow Mein!
Do you think social media and a strong online presence are important for developing a business?
Of course. Having an online presence puts you in direct contact with your clients and potential future clients. It's a method of direct marketing and is an important part of any strategy for any business – big or small!
How would you describe your personal style?
My personal style is definitely playful. I love balancing interesting and quirky pieces with luxury items, and this follows through in everything I do from interiors to fashion!
What do you see as the biggest challenges currently facing the interiors industry?
It breaks my heart when I see a beautiful design piece totally copied and resold at a lower price. Product designers and brands invest so much in research and development, using their design ingenuity and intuition to create iconic pieces and seeing them repeatedly 'knocked-off' is a disappointing reality of the industry.
Are there any trends or styles that you think are due to make a come back?
The notion of forging a collection or art or objet d'art is definitely making a return. From fine art pieces to Lalique glass, people are collecting unique items to create stand out focal points in their homes. I think we will see more of this throughout this year and into 2019.
How did you choose your Top 5 Picks?
Choosing the top 5 was actually quite a difficult process, because the breadth of product and design creativity available in Chelsea Design Quarter is incredible. For me these 5 just highlight that as a design district the quality is second to none.
On reflection each decade has a defining look, how do you think people will describe the current style of interiors in years to come?
 I think people will look back on this decade and remember it for the ability for today's designers to fuse old and new. Mixing antique pieces with high street buys, to create eclectic and playful scheme is now the norm, and I think this decade is better for it.
What does the future hold for Brian Woulfe (the man, and the brand!)?
 This year is all about continuing the growth of Designed by Woulfe. Listed buildings, holiday villas and more overseas projects are all on the cards for 2018. I will be focusing on expanding my portfolio in the US too, plus I plan on spending some quality time with my partner and Chow Mein in amongst it all too!
Thank you Brian.  We look forward to your picks unfurling as next week progresses!