'Designed at Talisman' for London Design Festival 2017
Talisman London are making the most of their impressive showroom space by giving eight of today's leading interior designers, florists and artists a room each for their exhibition 'Designed at Talisman'.  The designers have been given carte blanche to use an array of antiques, contemporary furniture, lighting and murals to transform their room in the showroom, which is converted art deco petrol station.   Read more about the designers and their unique rooms here.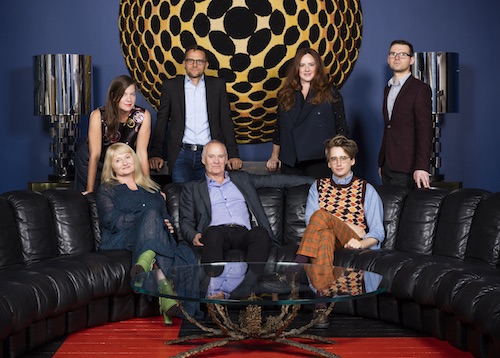 Standing from Left: Eleanora Cunietti,  Maurizio Pellizzoni for Drummonds, Natalia Miyar and Martyn White Seated from left:  Audrey Carden, Ken Bolan (founder of Talisman) and Luke Edward Hall
The exhibition will be a must see during London Design Festival, and on Monday 18th September from 11am – 12noon, Henrietta Thompson editor-at-large of Wallpaper* and Telegraph Luxury design columnist, will host a panel talk at Talisman with Ken Bolan, founder of Talisman and several of the designers from the exhibition.  There will be limited spaces and tickets are required.  Please e-mail: rsvp@talismanlondon.com for your ticket.
This spectacular exhibition runs from 15th September to 5th October.
Talisman, 79-91 New King's Road London SW6 4SQ
+44(0) 207 731 4686
www.talismanlondon.com